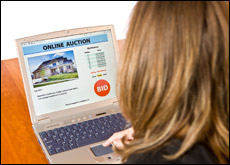 Today we are excited to have Joseph Givens as our guest blogger.  Joseph has been in the real estate business for over 15 years and has recently turned to writing to share his knowledge with a broader audience. – The KCM Crew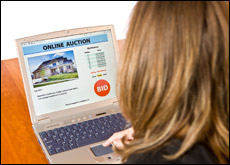 The housing market has been through a lot of changes in recent years. Economic and social factors continue to shape the way the housing market functions. Recently, an interesting development in the housing market has emerged: online real estate auctions. The growing popularity of these online marketplaces could potentially transform the way real estate is bought and sold.
Online Real Estate Auctions
Although some things vary depending on the particular auction site, there are some basic commonalities of most online real estate auctions.
Much like their offline counterparts, these auctions often involve selling foreclosed homes. However, the number of auction sites offering to buy and sell non-distressed properties is growing as well. Unlike traditional foreclosure auctions, the entire bidding process is done online rather than at a courthouse or hotel ballroom.
As with traditional auctions, all sales in online auctions are typically final. However, if the sale involves a foreclosure, depending on the state, there may be a redemption period where the original owner could possibly purchase the rights to the property back (rendering the auction purchase void).
Types of Properties Available Through Online Auctions
Many home auction sites predominantly involve selling homes that have been foreclosed on by the bank. However, many sites have also developed into online marketplaces where both buyers and sellers can exchange a great variety of property types, including:
Commercial – Office buildings, multi-family, hotels, industrial
Residential – Non-distressed owner-occupiers, non-distressed mid-market homes
Non-distressed luxury homes
These are just a few examples of the types of properties that can be bought or sold online through an auction site.
Online Auction Process
Again, the online auction process may vary depending on the specific site, but the general process will be the same. The first step in the auction process is to register for the auction site on which you will be bidding, which is usually free.
Most auction sites will provide for a pre-auction bidding period. During this period it is possible to place a (usually limited) number of bids before the auction begins. If a pre-auction bid is sufficient and meets the seller's expectations, you can purchase the property before it ever reaches auction.
After the pre-auction period ends, the online auction begins. Online auctions are similar to traditional auctions except the bidding is done from the convenience of your own home or office. Most auctions include minimum bid increments and have set ending dates which can be slightly extended in the case of aggressive last-minute bidding.
If you are the winning bidder, most sites will send you a confirmation email that is shortly followed up by a phone call from a site representative. Unlike traditional auctions where the winner may have to produce the required funds within hours of winning, online auction sites typically only require a deposit upfront.
The potential for online real estate auctions as the future of the housing market lies in their transparency, their level playing field and their convenience. The ability to bid from the comfort of home coupled with the flexibility of payment options upfront makes buying or selling real estate online an attractive option for prospective buyers and sellers. Also, the way auctions level the playing field by providing the average person the same opportunity to bid for a property as a large institution has added to their popularity. If these online real estate marketplaces continue to grow and develop, there is a strong possibility that they could truly be the future of how real estate is bought and sold in the housing market.
We believe every family should feel confident when buying & selling a home. KCM helps real estate professionals reach these families & enables the agent to simply & effectively explain a complex housing market. Take a 14-Day Free Trial of our monthly membership to see how we can help you!
---
https://files.keepingcurrentmatters.com/wp-content/uploads/2013/10/07192921/Online-Housing-Auction.jpg
165
230
The KCM Crew
https://www.keepingcurrentmatters.com/wp-content/uploads/2017/01/KCMBannerNoWebsiteDarkLarge.png
The KCM Crew
2013-10-17 07:00:24
2013-10-03 10:09:49
Online Auctions: Future of the Housing Market?