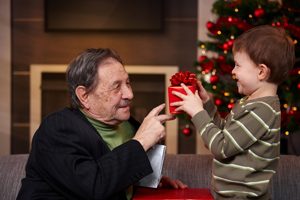 Today we have Nikki Buckelew as our guest blogger.  Nikki is considered a leading authority on seniors real estate and housing. – The KCM Crew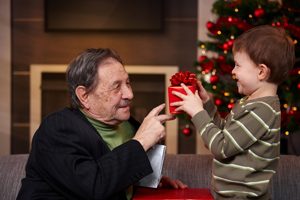 As the holidays approach, families will be gathering all across the country to share meals, exchange gifts, and take part in activities and traditions passed down through the generations.
And while this time of year is typically reserved for celebration and remembrance, it is often a time for serious conversations and decision making for those with elder parents and relatives.
Common Situations:
"My mom always bakes the Holiday pies. Last year she left out the sugar and we all just laughed, but this year she almost burned the house down when she forgot to take them out of the oven. It's time for her to consider moving, but we don't really know where to start. We are going to encourage her to go with us to look at assisted living communities while we have time off from work." – Marcie L.
"This has been a tough year for all of us. Mom died after battling cancer for eight months.  Following two minor fender benders, Dad was then diagnosed with macular degeneration leaving him without the ability to drive. My siblings and I know we need to talk with Dad about his ability to live at home alone, but none of us know where to begin when it comes his housing options." – Jim H.
"While we are in town for Thanksgiving this year, we are going to ask our mother to move in with us. Even though we aren't sure if that is the best arrangement, we don't know what else to do since her health is declining and she needs more daily care. Having her closer to us will help since we still have kids and jobs requiring us to better prioritize our time. Selling her home of 52 years and going through all her things feels pretty overwhelming to us so we can only imagine how she will feel." Joan B.
These are common sentiments shared by baby boomers caring for aging parents and relatives as we move into the winter months and often they don't know who to call for support. Senior living communities and placement services, such as A Place for Mom, also report an increase in inquiries over the holidays.
Be the Expert
REALTORS® may find that this is an excellent opportunity to reach out to their circles of influence to reconnect and offer support and guidance during the holiday season. We have provided you with a couple of scripts to open a dialog and offer support to those dealing with eldercare issues.
Hello, Mary, this is Joan with XYZ Realty. I am calling to wish you a happy holiday season and to let you know that I am available to you and your family or friends dealing with eldercare issues over the holidays. It has been brought to my attention that many families will be having conversations with elder parents this time of year about their need to move or better prepare their homes to age safely in place. I want to be a resource for you if you have questions about local senior living options, trusted home repair contractors, or senior service providers. As a REALTOR, I have a lot of connections and so please don't hesitate to call on me even if it's not about buying or selling property. OK? [Thank you, Joan]. Again, have a wonderful holiday and all the best to you and your family.
Hello, John, this is Joan with XYZ Realty. Just a quick call to wish you and your family a happy holiday season. Could I ask a quick favor? [yes]. Thank you. I would like to ask that you keep your ears and eyes open for anyone that may be dealing with eldercare issues over the holidays. I want to provide the gift of support to anyone who may need some guidance or resources related to senior housing options or home maintenance or repair projects for aging parents or relatives. My experience is that this time of year many families are having hard conversations and may need a little support from local professionals. [Oh that is very nice. I will do that.]. Thank you, John. And again, have a happy holiday and let me know if I can be of service to you in any way in the coming months.
Naturally these scripts must come from the heart and when they do, they will create meaningful connections with your past customers, clients, family and friends. While the conversations will also often lead to prospective client opportunities, the first goal is to come from a place of contribution and be a gift to those who need you most.
Happy Holidays! 
---
https://files.keepingcurrentmatters.com/wp-content/uploads/2013/12/07192611/Grandson-Grandpa.jpg
200
300
The KCM Crew
https://assets.keepingcurrentmatters.com/wp-content/uploads/2017/01/KCMBannerNoWebsiteDarkLarge.png
The KCM Crew
2013-12-04 07:00:08
2013-11-26 10:30:27
Serious Housing Conversations Happen Over the Holidays