We are excited to have Gary Acosta as our guest blogger today! Gary is a 20-year veteran of the mortgage banking industry and the co-founder and CEO of the National Association of Hispanic Real Estate Professionals (NAHREP). – The KCM Crew
"We come in peace…but we have you surrounded".
Cheech Marin, referring to the massive population growth of Latinos in America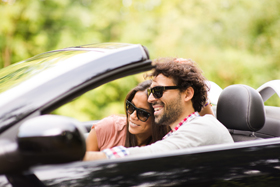 Ever since the 1980's people have predicted that Latinos would be the "next big thing." Most of those predictions have panned out. There are a lot of us here, so the population and household formation numbers have met or exceeded those early estimates. From a business standpoint, Spanish language television has fared extremely well, but in terms of overall economic and political advancement; it has never really felt like things were materializing like many of us had hoped.
In part one of my blog series, I explained why I believe the Latino phenomenon is changing in a big way and introduced my concept of the Nuevo Latinos. I shared some of the positive trends I have observed in my own circle and with a number of prominent Latino leaders. I also explained how these well­?known individuals are guiding the Latino masses to greater heights and possibilities. In part two I will dig deeper in defining exactly what makes a Nuevo Latino and further illustrate why they are such a transformational force.
What makes someone a Nuevo Latino?
A Nuevo Latino is a state of mind and is my own characterization for successful and assimilated American Latinos who love their culture and who have a basic understanding of the exceptional political and economic power that Latinos have today.
Let me break it down to a few bullets:
Nuevo Latinos love their heritage and openly enjoy many of the aspects of Latin culture such as food, music, entertainment and style.
They are equally comfortable in both Latino and non?Latino environments and frequently move between both worlds.
Nuevo Latinos are not exclusive to any particular national origin or geography, though most reside in a major city.
Most are bilingual, however, many do not speak Spanish fluently.
Many, but not all, Nuevo Latinos participate in some form of Hispanic advocacy.

Most importantly, Nuevo Latinos are ambitious and opportunistic

. They want to succeed in a BIG way. They understand the power of their Latinism and are comfortable capitalizing on it to advance their goals and careers.
Nuevo Latinos have the best of all worlds and they KNOW IT. They're the ones at 5?star restaurants casually chatting­?it?up with the Spanish?speaking busboys or shuffling into a hotel lobby with Marc Anthony's latest hit blaring in their headphones. My friends at NAHREP are like this. They own businesses, love being Latino­?American and are ready to conquer the world.
Eva Longoria is a great example of a Nuevo Latino. Her mainstream success and political advocacy distinguishes her. As almost everyone knows, Eva hit the big­?time as one of the stars of the hit prime?time soap Desperate Housewives and quickly became one of the most well known celebrities in contemporary pop culture. In recent years, Eva has been recognized for her work in Latino related causes and earned a masters degree in Chicano Studies. The two time "Hottest Woman in the World" (according to Maxim Magazine) flaunts her Latinism without fear of prejudice or of Hollywood typecasting. She places no limits on herself or her career and is a modern role model for millions of young Latinos who are searching for their own path to success and happiness.
Chef Douglas Rodriguez is another. I have great respect for the man that first coined the term "Nuevo Latino" when he described the innovative cuisine he created that helped spark the celebrity chef phenomena. Chef Rodriguez is a mentor and former teacher to many of the top chefs in the world including: Aaron Sanchez from the television show "Chopped" and reining Iron Chef Jose Garces. More than anything else, however, Chef Rodriguez is almost singlehandedly responsible for elevating Latin cuisine to the elite levels of fine dining in the top culinary circles across America.
The Nuevo Latinos are moving the image and influence of successful Latinos from the neighborhood to the mainstream. The power of this shift has the capacity to drive our economy and transform our political landscape – and it has only just begun to take shape.
---
https://files.keepingcurrentmatters.com/wp-content/uploads/2014/01/07192334/iStock_000026869057Small.jpg
187
280
The KCM Crew
https://assets.keepingcurrentmatters.com/wp-content/uploads/2017/01/KCMBannerNoWebsiteDarkLarge.png
The KCM Crew
2014-01-30 07:00:39
2014-01-30 09:33:59
Nuevo Latinos: "A Commitment to Culture and Success"