Some Highlights:
The Federal Housing Finance Agency (FHFA) recently released their latest Quarterly Home Price Index report.
In the report, home prices are compared both regionally and by state.
Based on the latest numbers, if you plan on relocating to another state, waiting to move may end up costing you more!
Alaska, Delaware, West Virginia & Wyoming were the only states where home prices are lower than they were last year.
The success of the housing market is strongly tied to the consumer's confidence in the overall economy. For that reason, we believe 2017 will be a great year for real estate. Here is just a touch of the news coverage on the subject.
If your house no longer fits your needs and you are planning on buying a luxury home, now is a great time to do so! We recently shared data from Trulia's Market Mismatch Study which showed that in today's premium home market, buyers are in control.
Self-made millionaire David Bach was quoted in a CNBC article explaining that "the single biggest mistake millennials are making" is not purchasing a home because buying real estate is "an escalator to wealth."
There are some people who have not purchased homes because they are uncomfortable taking on the obligation of a mortgage. Everyone should realize that, unless you are living with your parents rent-free, you are paying a mortgage - either yours or your landlord's.
Some Highlights:The concept of Supply & Demand is a simple one. The best time to sell something is when the supply of that item is low & the demand for that item is high!
Anything under a 6-month supply is a Seller's Market!
There has not been a 6-months inventory supply since August 2012!
Buyer Demand continues to outpace Seller Supply!
CoreLogic recently released a report entitled, United States Residential Foreclosure Crisis: 10 Years Later, in which they examined the years leading up to the crisis all the way through to present day.
Mortgage interest rates have risen over the last few months and projections are that they will continue their upswing throughout 2017. What impact will this have on the housing market? Here is what the experts are saying:
A study by Edelman Berland reveals that 33% of homeowners who are contemplating selling their houses in the near future are planning to scale down. Let's look at a few reasons why this might make sense for many homeowners, as the majority of the country is currently experiencing a seller's market.
Here are four great reasons to consider buying a home today instead of waiting.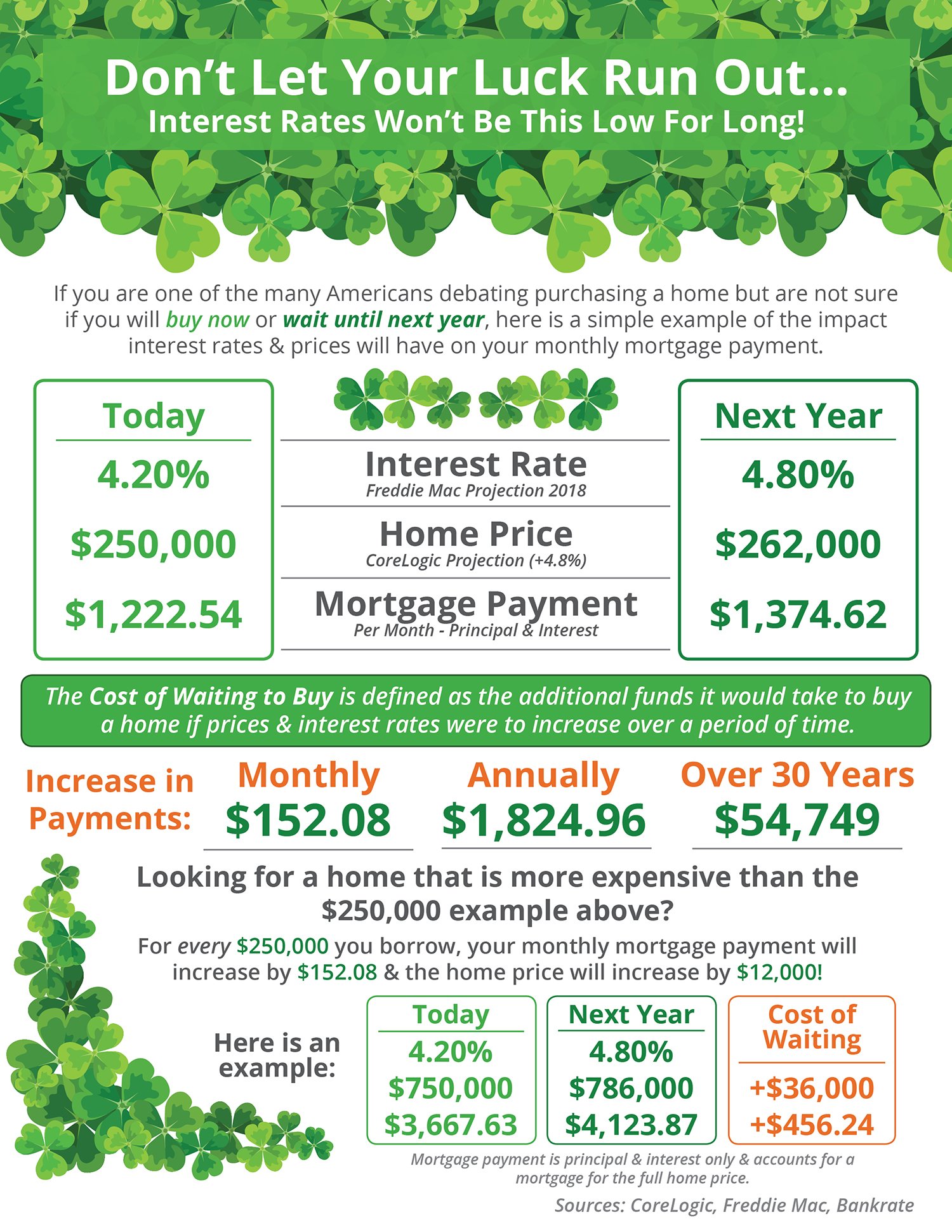 Some Highlights:
The "Cost of Waiting to Buy" is defined as the additional funds it would take to buy a home if prices and interest rates were to increase over a period of time.
Freddie Mac predicts that interest rates will increase to 4.8% by this time next year, while home prices are predicted to appreciate by 4.8% according to CoreLogic.
Waiting until next year to buy could cost you thousands of dollars a year for the life of your mortgage!
Home values have risen dramatically over the last twelve months. The latest Existing Home Sales Report from the National Association of Realtors puts the annual increase in the median existing-home price at 7.1%. CoreLogic, in their most recent Home Price Insights Report, reveals that national home prices have increased by 6.9% year-over-year.
The inventory of existing homes for sale in today's market was recently reported to be at a 3.6-month supply according to the National Association of Realtors latest Existing Home Sales Report. Inventory is now 7.1% lower than this time last year, marking the 20th consecutive month of year-over-year drops.
Mortgage interest rates, as reported by Freddie Mac, have increased over the last several weeks. Freddie Mac, along with Fannie Mae, the Mortgage Bankers Association and the National Association of Realtors, is calling for mortgage rates to continue to rise over the next four quarters.
Every homeowner wants to make sure they get the best price when selling their home. But how do you guarantee that you receive maximum value for your house? Here are two keys to ensuring you get the highest price possible.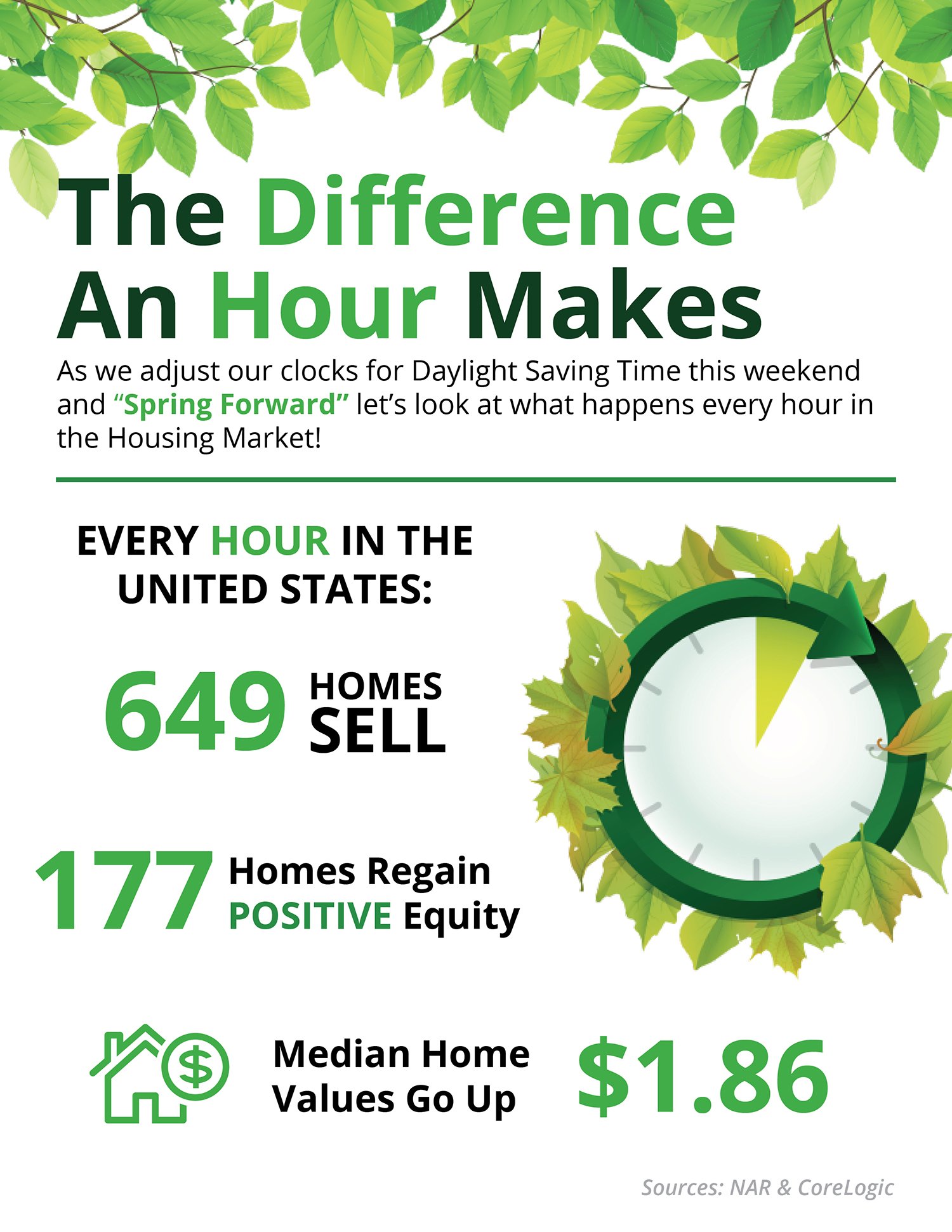 Some Highlights:
Don't forget to set your clocks forward this Sunday, March 12th at 2:00 AM EST in observance of Daylight Savings Time.
Unless of course, you are a resident of Arizona or Hawaii!
Every hour in the United States: 649 homes are sold, 177 homes regain equity (meaning they are no longer underwater on their mortgage), and the median home price rises $1.86!
In many areas of the country, there are not enough homes for sale to satisfy the number of buyers looking to purchase their dream homes. Experts have long proposed that a ramp-up in new, single-family home construction would be one of the many ways to overcome this inventory shortage.
Just like our clocks this weekend in the majority of the country, the housing market will soon "spring forward!" Similar to tension in a spring, the lack of inventory available for sale in the market right now is what is holding back the market.
That headline might be a little aggressive. However, as the data on the 2017 housing market begins to roll in, we can definitely say one thing: If you are considering selling, IT IS TIME TO LIST YOUR HOME!
Over the next five years, home prices are expected to appreciate 3.22% per year on average and to grow by 17.3% cumulatively, according to Pulsenomics' most recent Home Price Expectation Survey.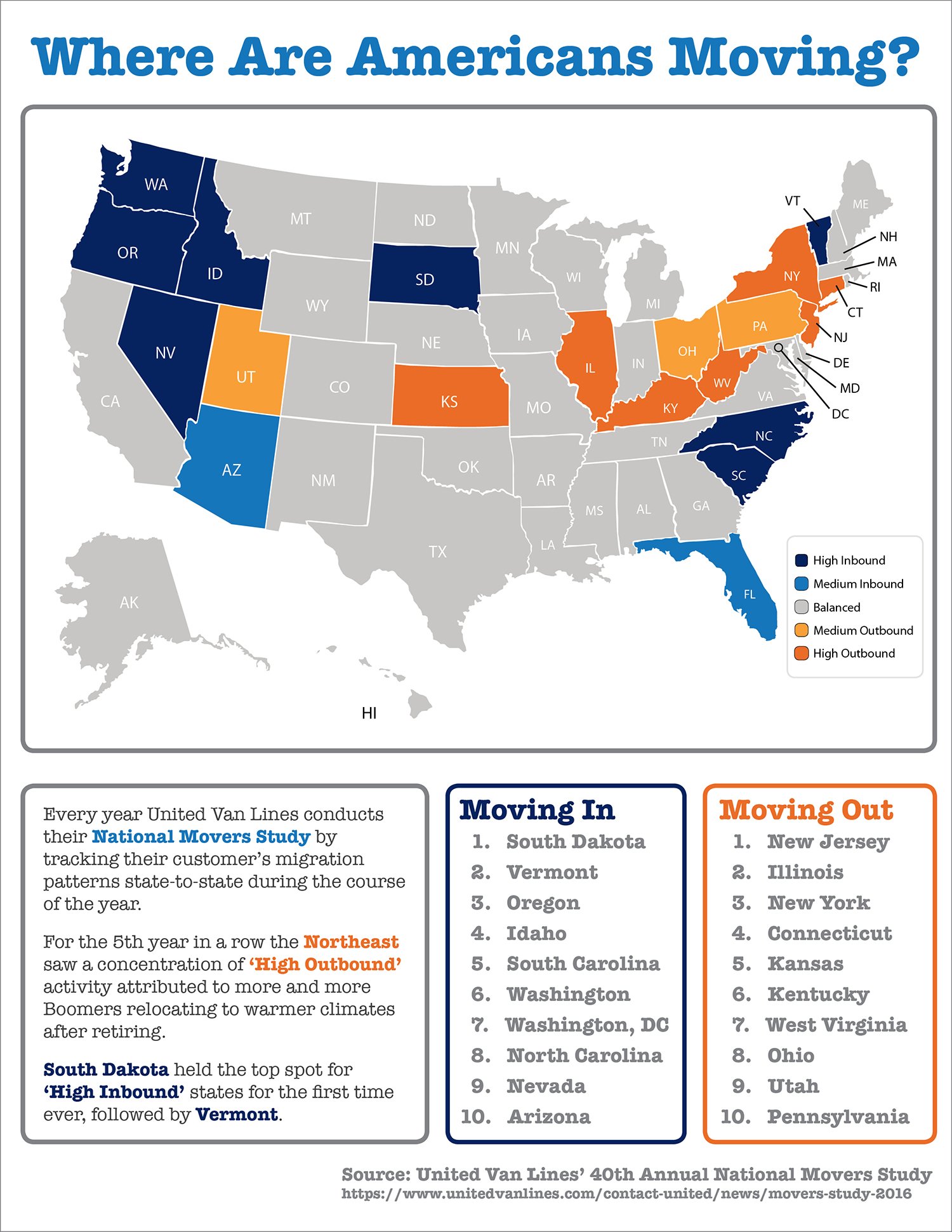 Some Highlights:
For the 5th year in a row, the Northeast saw a concentration of "High Outbound" activity.
For the first time ever, South Dakota held the top spot for "High Inbound" states.
Much of America's outbound activity can be attributed to Boomers relocating to warmer climates after retiring.
There is no doubt that historically low mortgage interest rates were a major impetus to housing recovery over the last several years. However, many industry experts are showing concern about the possible effect that the rising rates will have moving forward.
According to a recent survey conducted by ClosingCorp, over half of all homebuyers are surprised by the closing costs required to obtain their mortgage.