When it comes to talking about millennials, there are many stereotypes out there that have influenced the way the public feels about the generation. Whether it's the assumption that millennials are irresponsible with money and would rather buy avocado toast than save for a down payment, or that millennials jump from job to job, the majority of these stereotypes paint the generation in a negative light.
Urban Institute recently released a report entitled, "Barriers to Accessing Homeownership," which revealed that "eighty percent of consumers either are unaware of how much lenders require for a down payment or believe all lenders require a down payment above 5 percent."
Every winter, families across the country decide if this will be the year that they sell their current houses and move into their dream homes.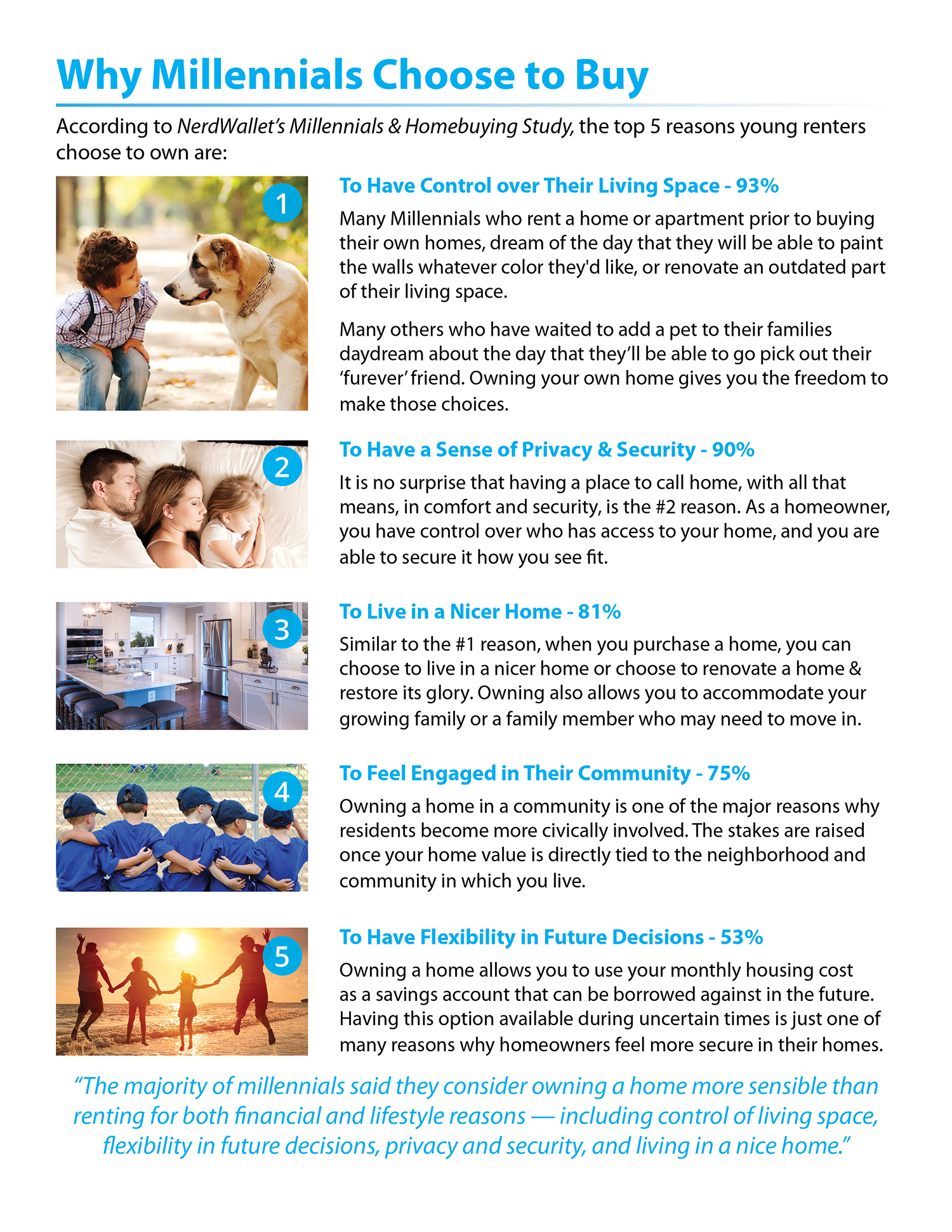 Some Highlights
"The majority of millennials said they consider owning a home more sensible than renting for both financial and lifestyle reasons — including control of living space, flexibility in future decisions, privacy and security, and living in a nice home."
The top reason millennials choose to buy is to have control over their living space, at 93%.
Many millennials who rent a home or apartment prior to buying their own homes dream of the day when they will be able to paint the walls whatever color they'd like, or renovate an outdated part of their living space.
Definitely an aggressive headline. However, as the final data on the 2017 housing market rolls in, we can definitely say one thing: If you are considering selling, IT IS TIME TO LIST YOUR HOME!
In today's housing market, where supply is very low and demand is very high, home values are increasing rapidly. Many experts are projecting that home values could appreciate by another 4% or more over the next twelve months. One major challenge in such a market is the bank appraisal.
Many people wonder whether they should hire a real estate professional to assist them in buying their dream homes or if they should first try to go through the buying process on their own. In today's market: you need an experienced professional!
According to ATTOM Data Solutions' 2018 Rental Affordability Report, "buying a median-priced home is more affordable than renting a three-bedroom property in 240 of 447 [or 54% of] U.S. counties analyzed for the report."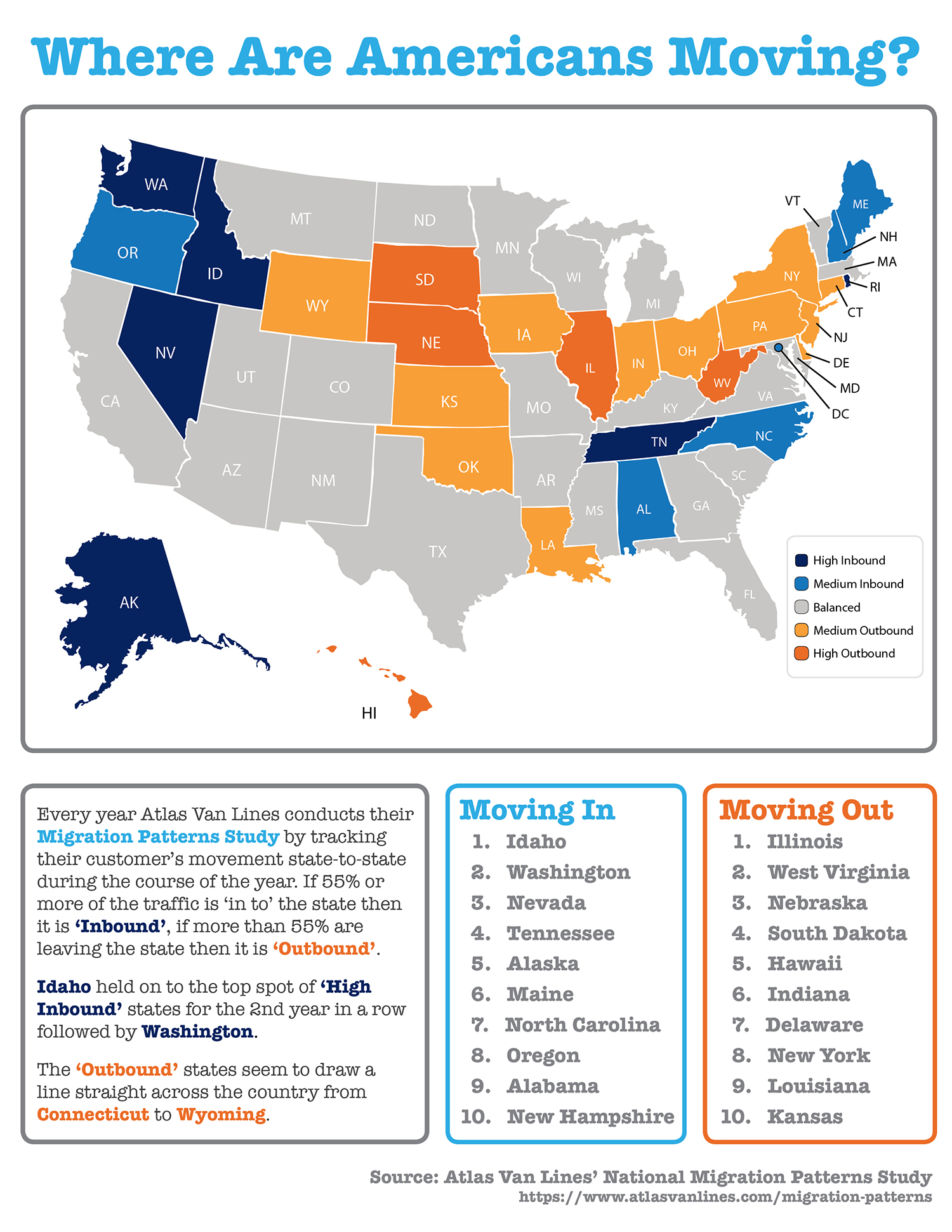 Some Highlights
Atlas Van Lines recently released the results of their annual Migration Patterns Survey in which they tracked their customer's movement from state-to-state over the course of 2017.
Idaho held on to the top spot of 'high inbound' states for the 2nd year in a row followed by Washington.
The 'outbound' states seem to draw a line straight across the country from Connecticut to Wyoming.
Every month, CoreLogic releases its Home Price Insights Report. In that report, they forecast where they believe residential real estate prices will be in twelve months.
According to the National Association of Realtors' latest Realtors Confidence Index, 61% of first-time homebuyers purchased their homes with down payments below 6% from October 2016 through November 2017.
There are many people sitting on the sidelines trying to decide if they should purchase a home or sign a rental lease. Some might wonder if it makes sense to purchase a house before they are married and have a family, others might think they are too young, and still, others might think their current income would never enable them to qualify for a mortgage.
It is common knowledge that a great number of homes sell during the spring-buying season. For that reason, many homeowners hold off on putting their homes on the market until then. The question is whether or not that will be a good strategy this year.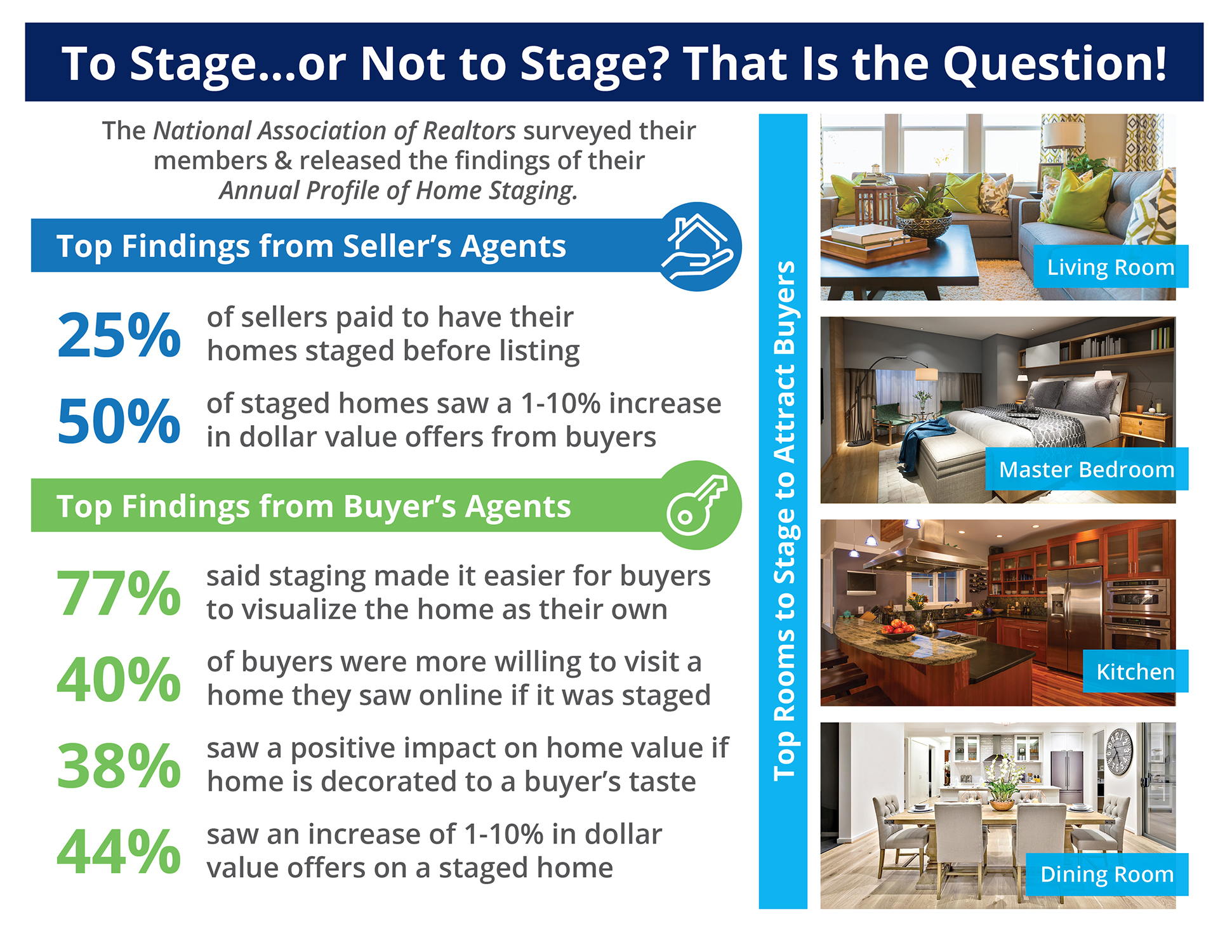 Some Highlights
The National Association of Realtors surveyed their members & released the findings of their Annual Profile of Home Staging.
50% of staged homes saw a 1-10% increase in dollar value offers from buyers.
77% of buyer's agents said staging made it easier for buyers to visualize the home as their own.
The top rooms to stage in order to attract more buyers are the living room, master bedroom, kitchen, and dining room.
Americans continue to believe that homeownership is important in achieving the American Dream. A recent survey by NeighborWorks America reported that:
According to Ellie Mae's latest Origination Report, the average FICO® Score on all closed loans dropped to 722 which is its lowest mark since April. The average includes all approved refinance and purchase loans.
The housing crisis is finally in the rear-view mirror as the real estate market moves down the road to a complete recovery. Home values are up, home sales are up, and distressed sales (foreclosures and short sales) have fallen to their lowest points in years. It seems that the market will continue to strengthen in 2018.
CoreLogic's latest Equity Report revealed that "over the past 12 months, 712,000 borrowers moved into positive equity." This is great news, as the share of homeowners with negative equity (those who owe more than their home is worth), has dropped more than 20% since the peak in Q4 of 2009 (26%) to 4.9% today.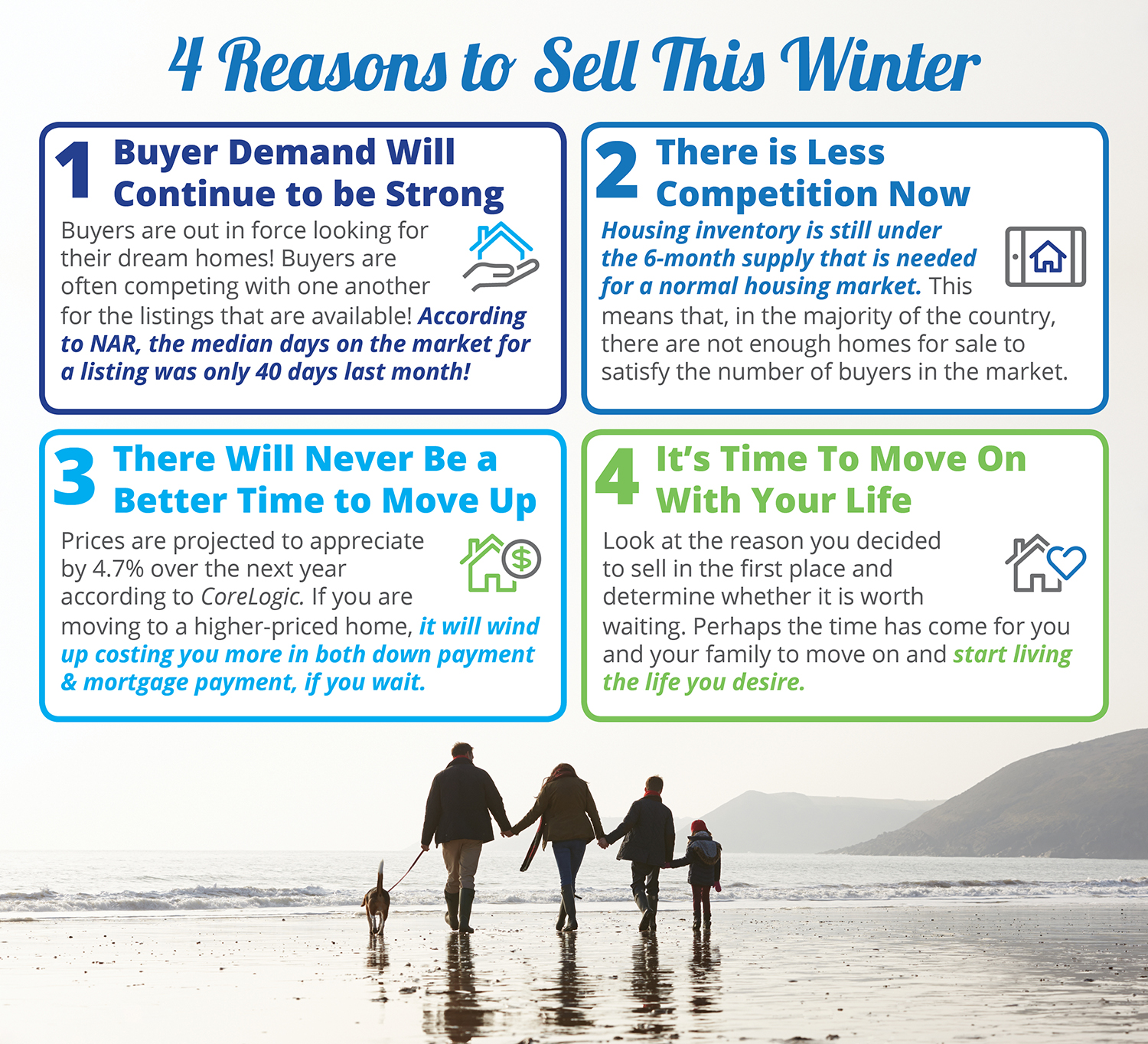 Some Highlights
Buyer demand continues to outpace the supply of homes for sale which means that buyers are often competing with one another for the few listings that are available!
Housing inventory is still under the 6-month supply needed to sustain a normal housing market.
Perhaps the time has come for you and your family to move on and start living the life you desire.
According to recently released data from the National Association of Realtors (NAR), the median amount of time a home spent on the market hit an all-time low of only three weeks in 2017.
Homeownership is a major part of the American Dream. As evidence of that, 91% of Americans believe that owning a home is either essential (43%) or important (48%) to achieving that "dream." In a market where some people may be unsure about the benefits and possibilities of buying a home, it is important that we remember this.
Over the next five years, home prices are expected to appreciate on average by 3.35% per year and to grow by 24.34% cumulatively, according to Pulsenomics' most recent Home Price Expectation Survey.

We hope 2018 is a great year for you, both personally and professionally!