3 Simple Ways to Calm Fear in Your Market
There are a lot of questions on everyone's minds right now.
That feeling of uncertainty may be driving anxiety in your market, and even worse, spreading fear that a housing crisis is on the horizon.
But even if you can't go about your business as usual, there's still one very important tool you can use to help your clients through this: communication.
By starting conversations, sharing important insights and providing market updates, you're replacing fear with facts. And when these uncertain times pass, and the market rebounds, you'll be remembered as the real estate agent who went above and beyond to help their community through this.
Here's how you can dismantle fear, be a voice of reason and keep your clients informed in these uncertain times.
If there's ever been a more important time to stay engaged with your clients, it's now.
This isn't about sales. It's about building relationships, confronting concerns and making sure your clients know you have their back.
Make calls, send emails and drive engagement by asking questions on your social media platforms.
As a real estate agent, you're a fixture in your community. By simply calling to check in on clients, sending texts or emails asking if anyone needs help or sharing important market insights, you're showing you genuinely care about their well-being.
Pro tip: make sure you're prepared to answer the tough questions by checking out our resource page for real estate agents. We'll continue adding to this so check back daily for new insights.
As the trusted advisor, your sphere of influence is looking to you to answer some tough questions, even if they aren't openly asking them.
A picture says a thousand words, and visuals are the single best way to communicate data and hard facts.
Instead of trying to explain why the housing market won't collapse, show them.
Here's how to do it:
Go to the recent blog 5 Simple Graphs Proving this is NOT Like the Last Time
Save the graphs to your desktop or phone.
Copy and paste talking points from each of the graphs or take screenshots of the different sections.
Create a new Instagram or Facebook post.
Upload a graph and insert copy from the blog into the caption.
Publish and repeat.
You can see how KCM members Billie Bourgeois and Ritu Singla did this easily in the below example.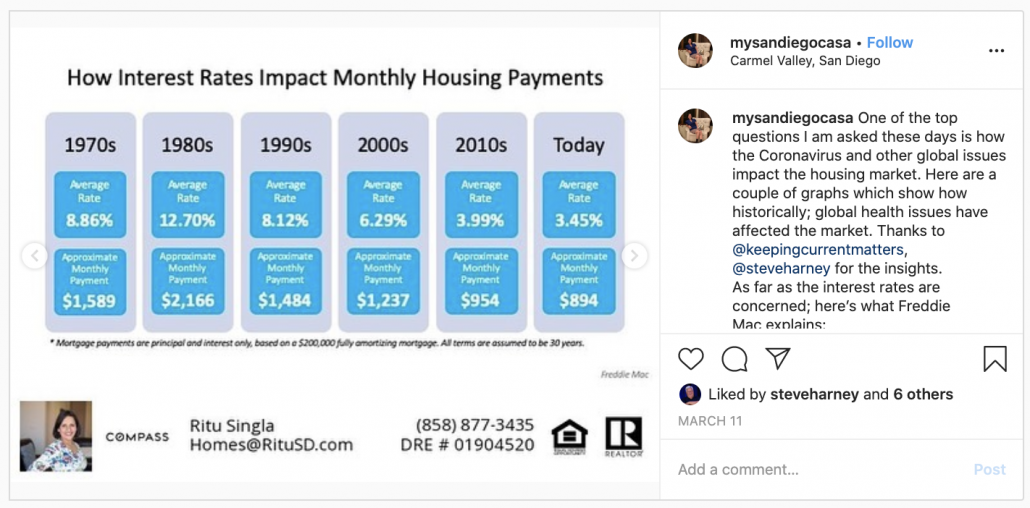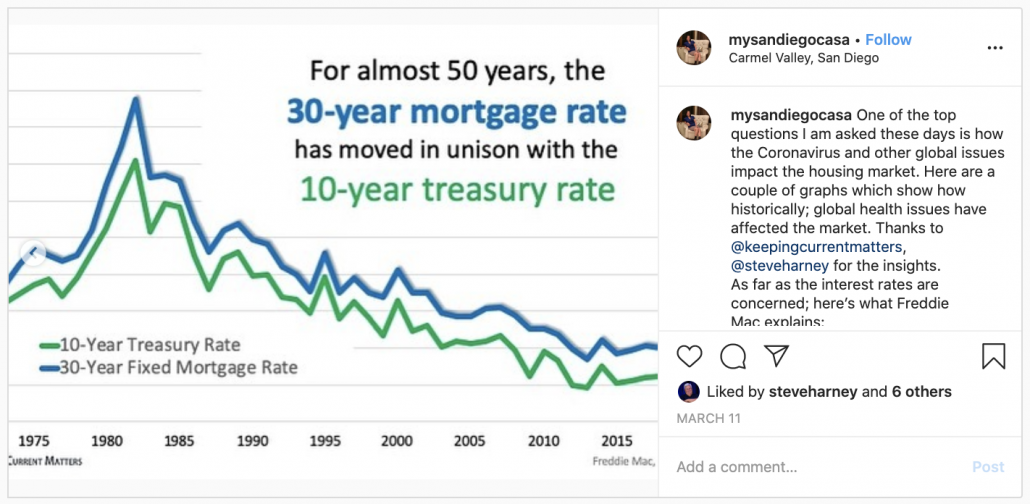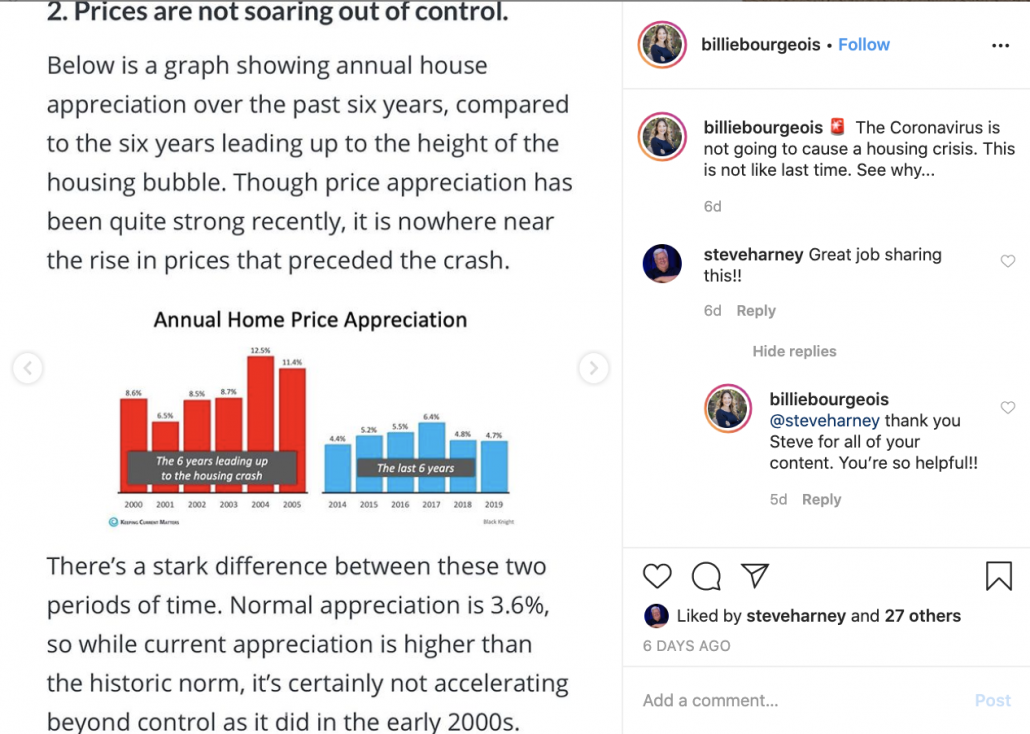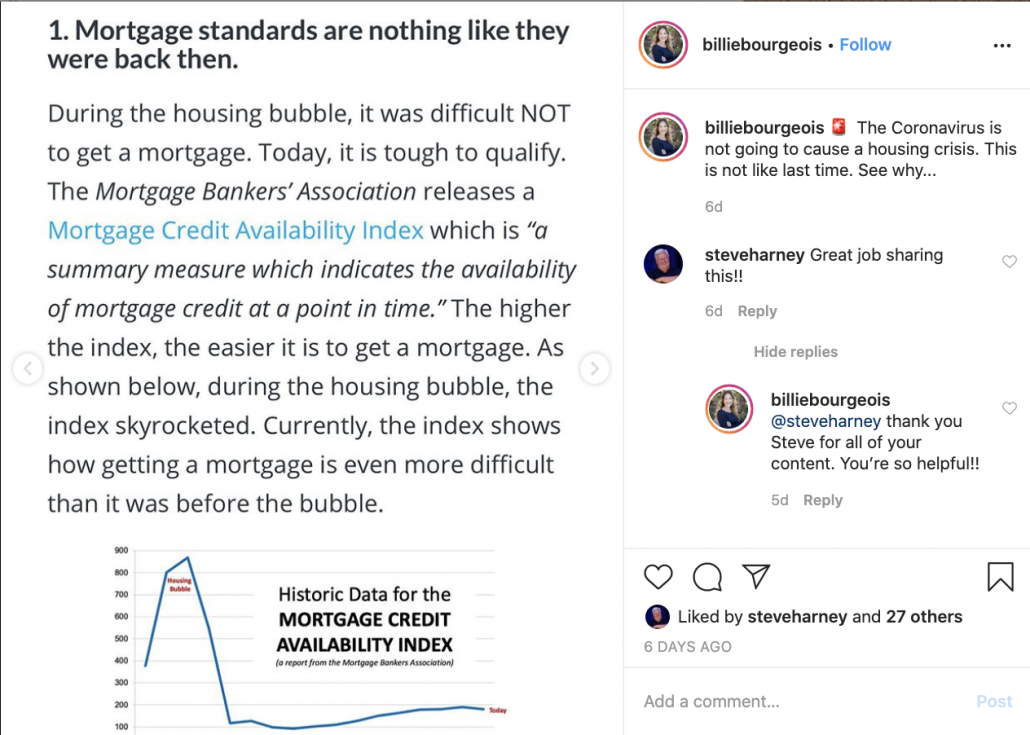 Pro tip: Make sure to tag @keepingcurrentmatters or #keepingcurrentmatters when you share on social media!
Even more so, a recent study by Obviously, a social media marketing company, found a 76% traffic increase to Instagram campaigns in the last two weeks.
"Community is more important than ever, and social media is a powerful tool in building and maintaining our connections. It's really important to us in these times that we help combat misinformation on social media," said Mae Karwowski, founder and CEO of Obviously.
This isn't the time to be camera shy. Share behind-the-scenes videos, weekly market updates and real estate insights that educate and motivate your clients.
Creating videos like these can help you connect with your followers, build an audience and correct a lot of the misinformation surrounding real estate.
Calabasas-based realtor, Holly Hatch, did a great job creating a recent market update for her followers using a KCM blog. Take a look.
With all the uncertainty surrounding today's economic volatility, people are searching for answers about where the housing market is headed.
Anxiety sparked from memories of the Great Recession is in full swing, and your clients are looking to you to calm their fears.
This is an important time to connect and correct any misinformation with research-backed facts so when everything is said and done, you standout as a real estate expert that can be trusted.
Create videos, share real estate insights and stay up-to-date with what's happening in the market by visiting our resource page daily.