There are some people that have not purchased a home because they are uncomfortable taking on the obligation of a mortgage. Everyone should realize that, unless you are living with your parents rent free, you are paying a mortgage - either yours or your landlord's.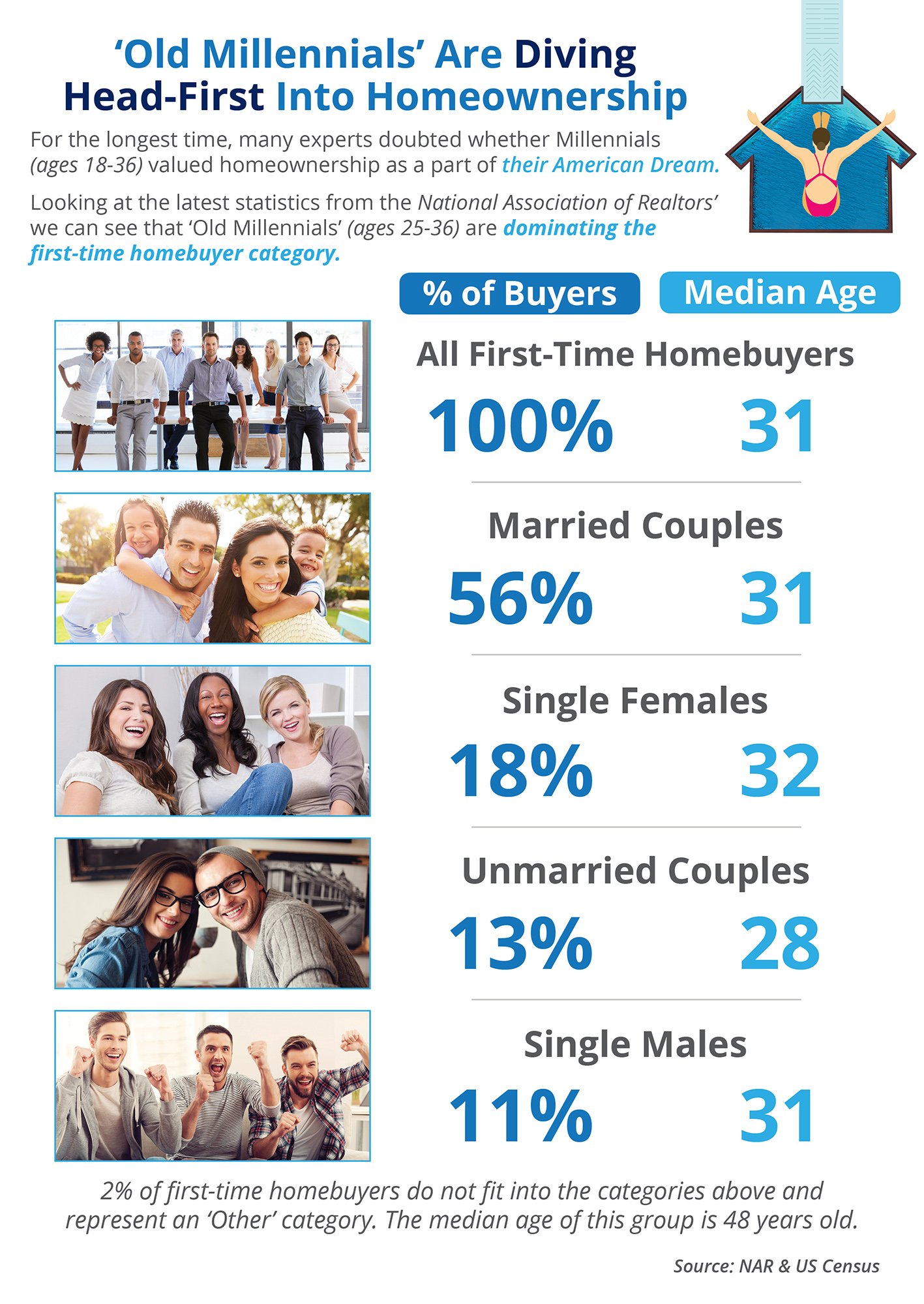 Some Highlights:
'Old Millennials' are defined as 25-36 year olds according to the US Census Bureau.
According to NAR's latest Profile of Home Buyers & Sellers, the median age of all first-time home buyers is 31 years old.
More and more 'Old Millennials' are realizing that homeownership is within their reach now!
Recent research by realtor.com examined certain red flags that caused the housing crisis in 2005, and then compared them to today's real estate market. Today, we want to concentrate on four of those red flags.
Have you ever been flipping through the channels, only to find yourself glued to the couch in an HGTV 'show hole'*? We've all been there… watching entire seasons of "Love it or List it," "Fixer Upper," "House Hunters," "Flip or Flop," "Property Brothers," and so many more, just in one sitting.
Yesterday, we shared the results of the latest Home Price Expectation Survey by Pulsenomics. One of the big takeaways from the survey is that over the next five years, home prices will appreciate 3.5% per year on average, and cumulatively will grow by around 18%.
In the latest Rent vs. Buy Report from Trulia, they explained that homeownership remains cheaper than renting with a traditional 30-year fixed rate mortgage in the 100 largest metro areas in the United States.

Some Highlights:
Interest rates have come a long way in the last 30 years.
The interest rate you secure directly impacts your monthly payment and the amount of house that you can afford if you plan to stay within a certain budget.
Interest rates are at their lowest in years… RIGHT NOW!
If buying your first home, or moving up to the home of your dreams is in your future, now may be the time to act!
No matter what shape or size your living space is, the concept and feeling of home can mean different things to different people. Whether it's a certain scent or a favorite chair, the emotional reasons why we choose to buy our own home are, more often than not, the more powerful or compelling ones.
Many people wonder whether they should hire a real estate professional to assist them in buying their dream home or if they should first try to go it on their own. In today's market: you need an experienced professional!
According to Bankrate's latest Financial Security Index Poll, Americans who have money to set aside for the next 10 years would rather invest in real estate than any other type of investment.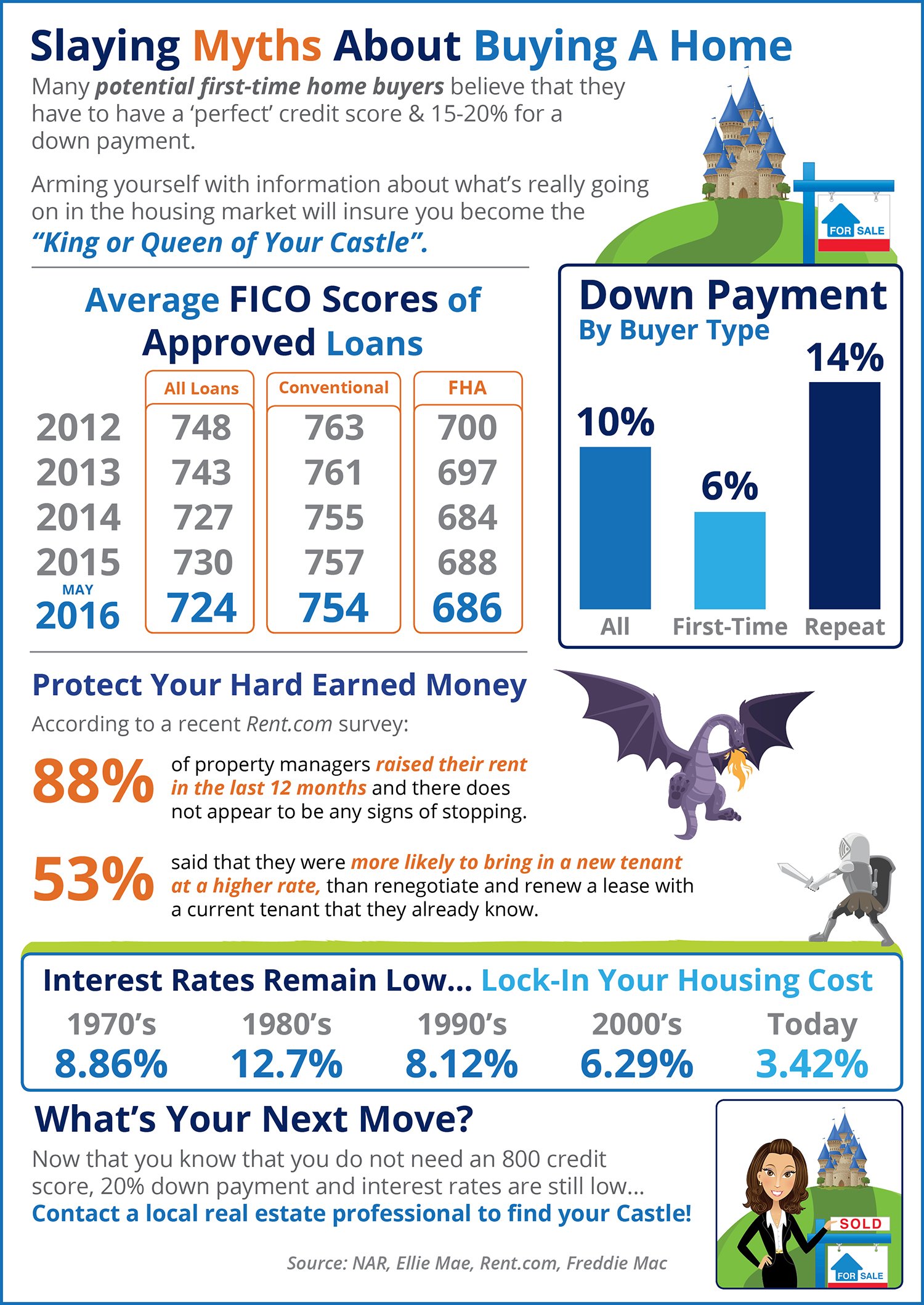 Some Highlights:
Interest Rates are still below historic numbers.
88% of property managers raised their rent in the last 12 months!
Credit score requirements to be approved for a mortgage continue to fall.
The Consumer Price Index (CPI) was released by the Labor Department last week. An analysis by Market Watch revealed the cost of rent was 3.8% higher than a year ago for the second straight month in June. That's the strongest yearly price gain since 2007.
Every three years, the Federal Reserve conducts a Survey of Consumer Finances in which they collect data across all economic and social groups. The latest survey, which includes data from 2010-2013, reports that a homeowner's net worth is 36 times greater than that of a renter ($194,500 vs. $5,400).
If you are debating purchasing a home right now, you are probably getting a lot of advice. Though your friends and family will have your best interest at heart, they may not be fully aware of your needs and what is currently happening in the real estate market.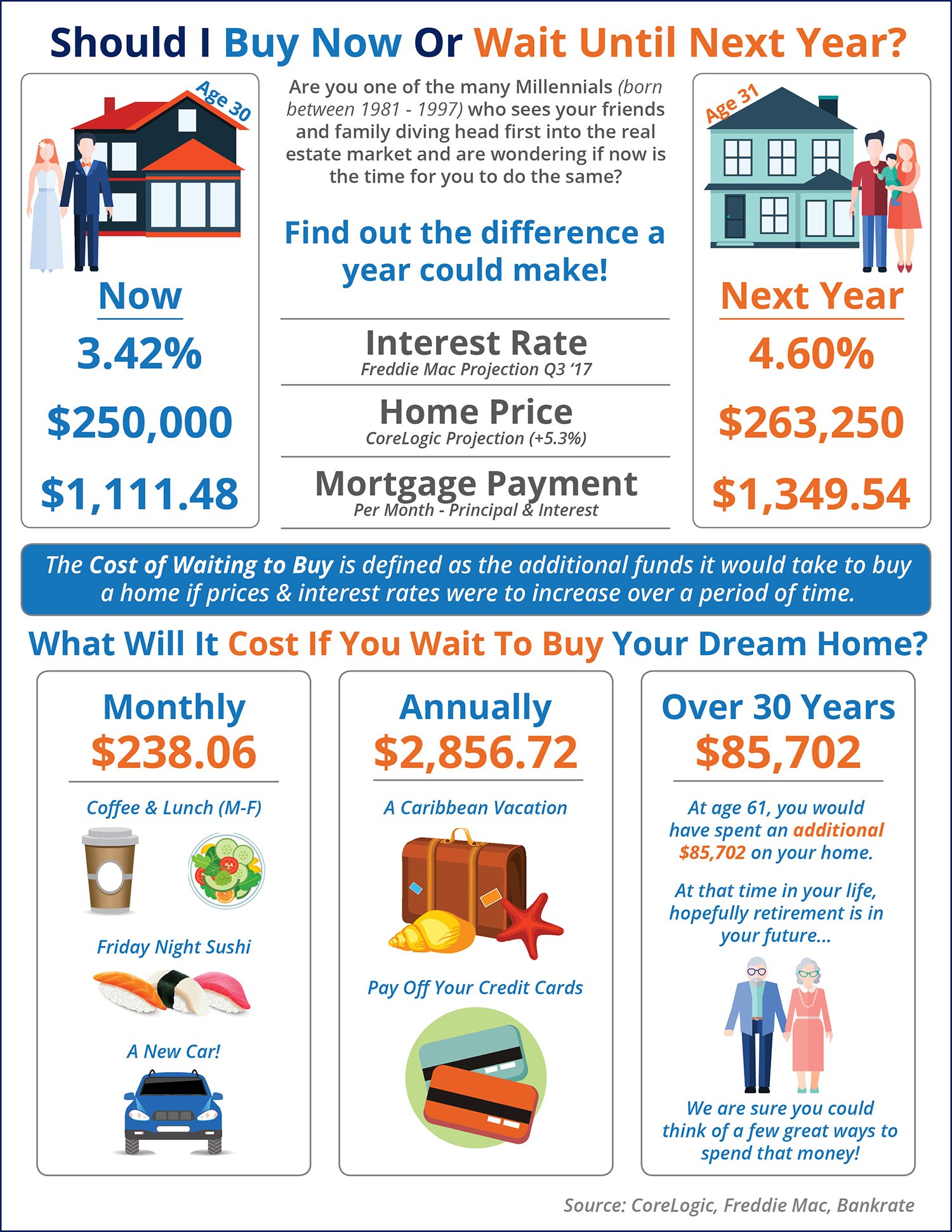 Some Highlights:
The Cost of Waiting to Buy is defined as the additional funds it would take to buy a home if prices & interest rates were to increase over a period of time.
Freddie Mac predicts interest rates to rise to 4.6% by next year.
CoreLogic predicts home prices to appreciate by 5.3% over the next 12 months.
If you are ready and willing to buy your dream home, find out if you are able to!
Whether you are considering the purchase of your first home or trading up to the home your family frequently fantasizes about, there are three crucial questions you must know the answer to:
The widespread myth that perfect credit and large down payments are necessary to buy a home are holding many potential home buyers on the sidelines. According to Ellie Mae's latest Origination Report, the average FICO score for all closed loans in May was 724, far lower than the 750 or 800 that many buyers believe to be true.
The most recent Housing Pulse Survey released by the National Association of Realtors revealed that the two major reasons Americans prefer owning their own home instead of renting are:
As a seller, you will be most concerned with the 'short term price' – where home values are headed over the next six months. As a buyer, you must be concerned not with price but instead with the 'long term cost' of the home.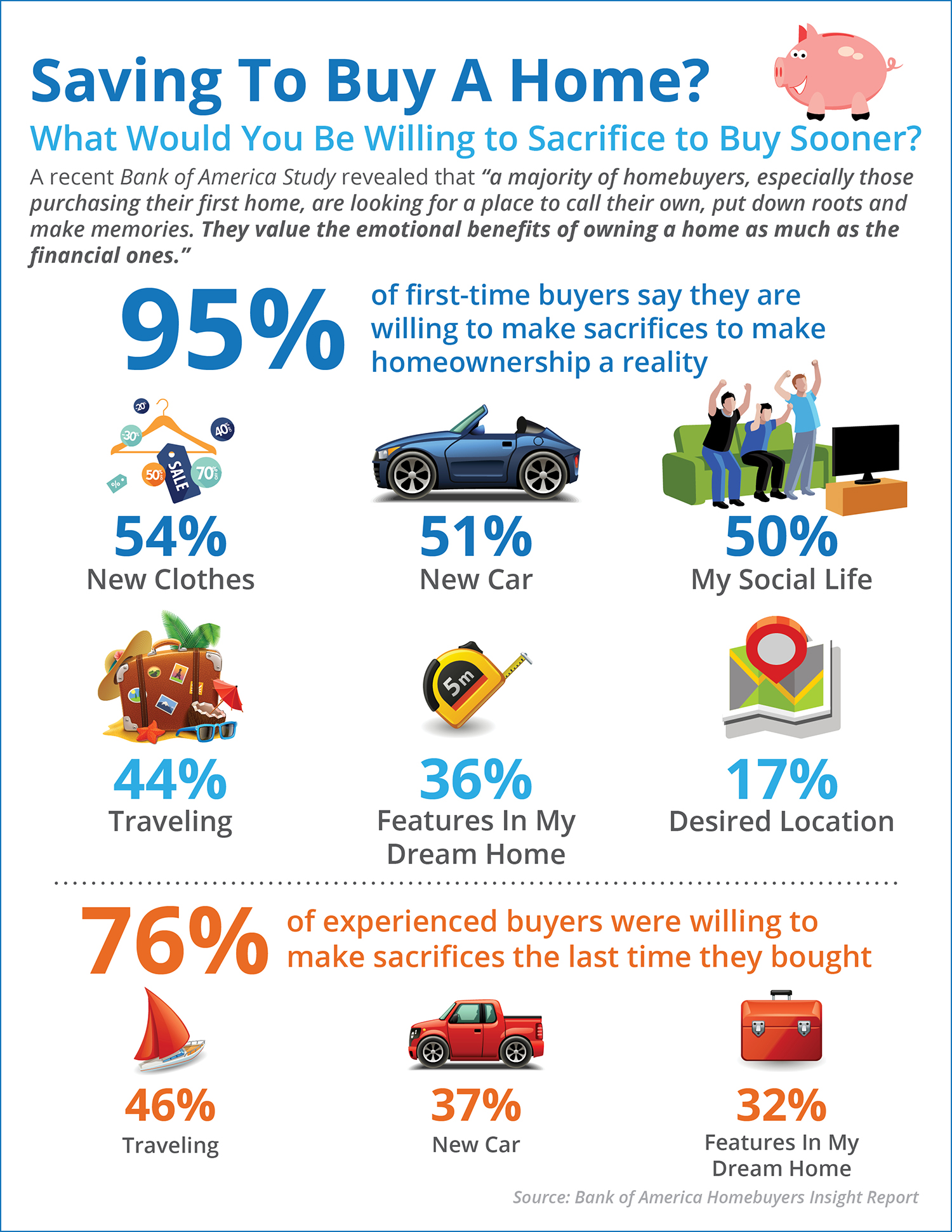 Some Highlights:
95% of first-time homebuyers are willing to sacrifice to make homeownership a reality.
The top thing that buyers sacrifice are new clothes at 54%.
Even repeat or experienced buyers say they sacrificed taking a vacation or buying a new car to buy their last home.
Summer is here! The temperature isn't the only thing heating up right now, so too is the housing market in many areas of the country! Here are four great reasons to consider buying a home today instead of waiting.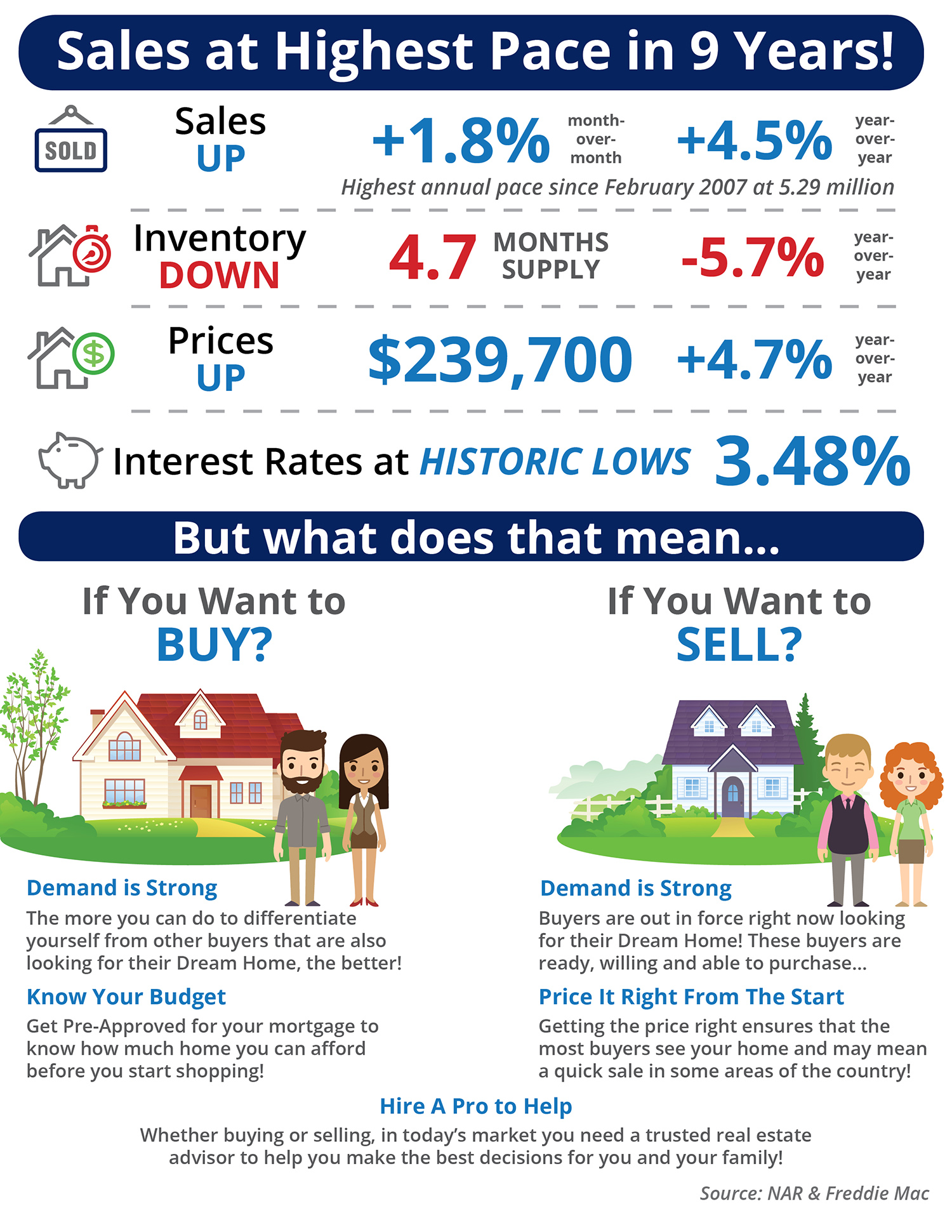 Some Highlights:
Sales of existing homes reached the highest annual pace in over 9 years at 5.29 million.
Inventory remains below the 6-month norm and prices are still on the rise.
Interest rates are at a historic low of 3.48%.
Now that much of the dust has settled and the panic has waned, let's take a look at what impact Britain's exit from the European Union may have on the U.S. housing market.
CoreLogic's latest Equity Report revealed that 92% of all mortgaged properties are now in a positive equity situation, while 74% now actually have significant equity (defined as more than 20%)! The report also revealed that 268,000 households regained equity in the first quarter of 2016 and are no longer under water.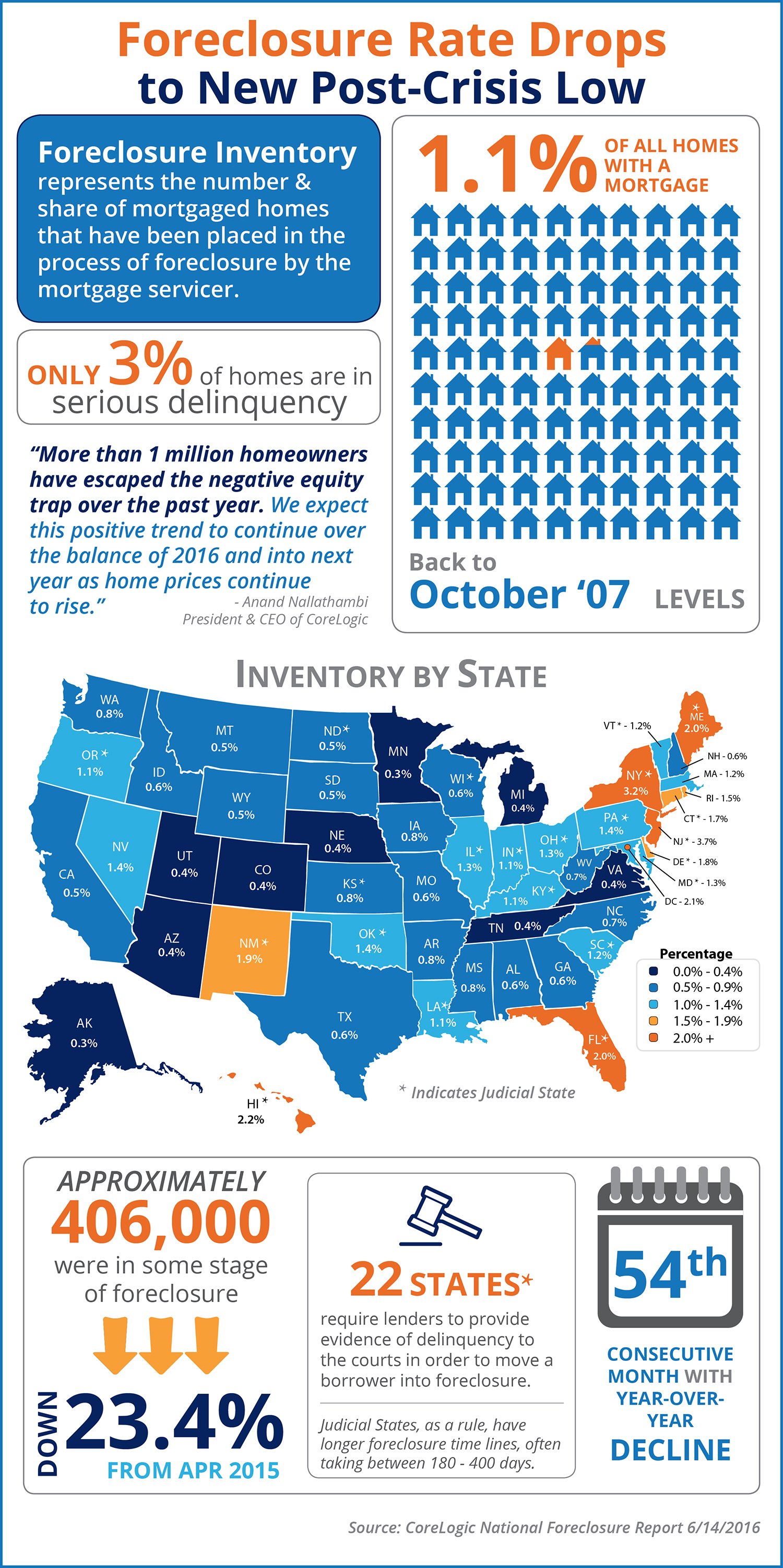 Some Highlights:
According to CoreLogic, the national foreclosure rate dropped to 1.1% of all homes with a mortgage. This is the lowest percentage experienced since October 2007.
April marked the 54th consecutive month of year-over-year declines in foreclosure inventory.
Only 3% of homes in the United States are in serious delinquency. More and more homeowners are escaping negative equity as prices rise.