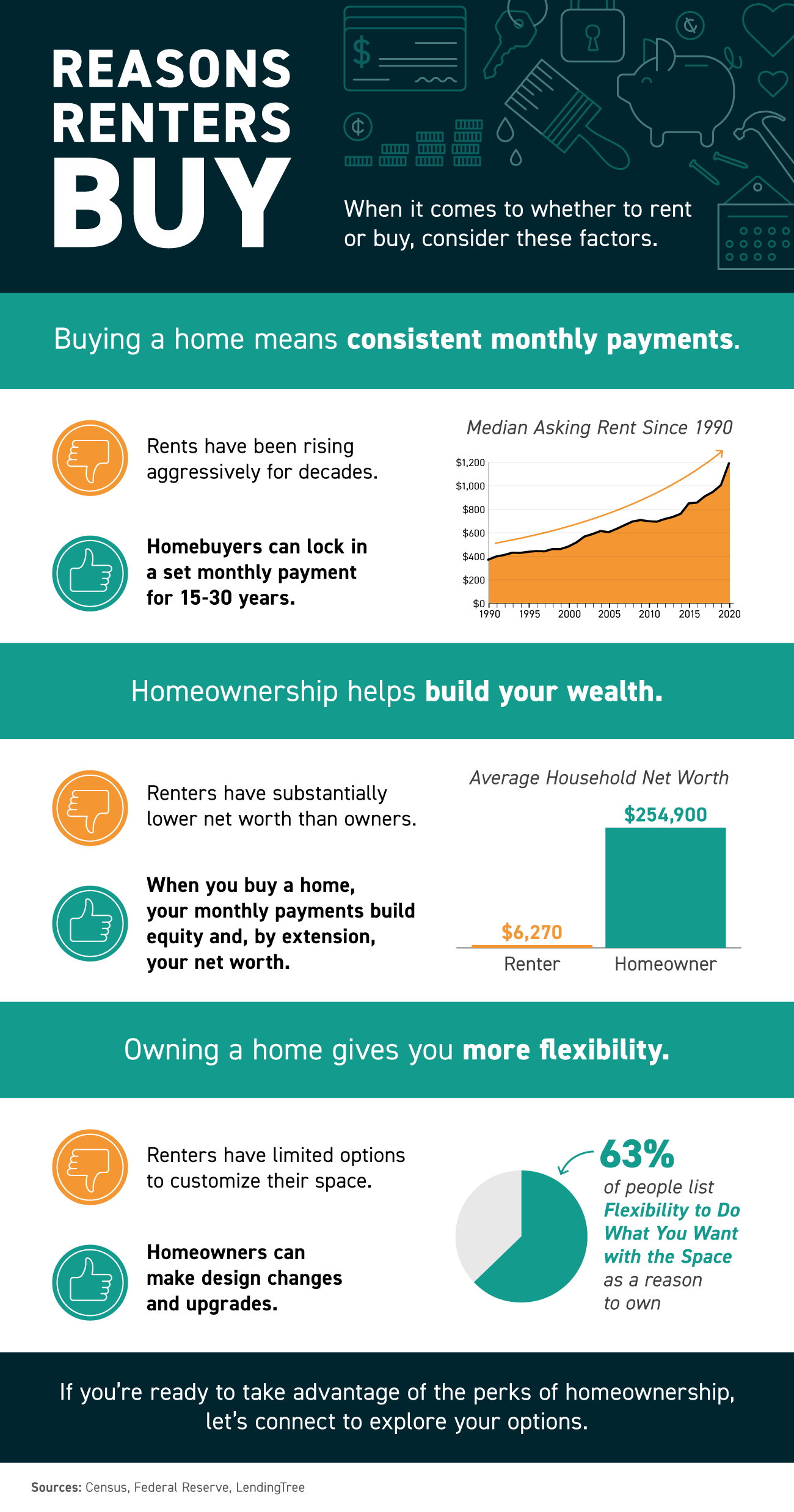 Some Highlights
When deciding whether you should rent or buy, make sure you're considering these factors.
Buying a home means consistent monthly payments. Homeownership also helps to build your wealth. And owning a home gives you greater flexibility than renting.
If you're ready to take advantage of the perks of homeownership, let's connect to explore your options.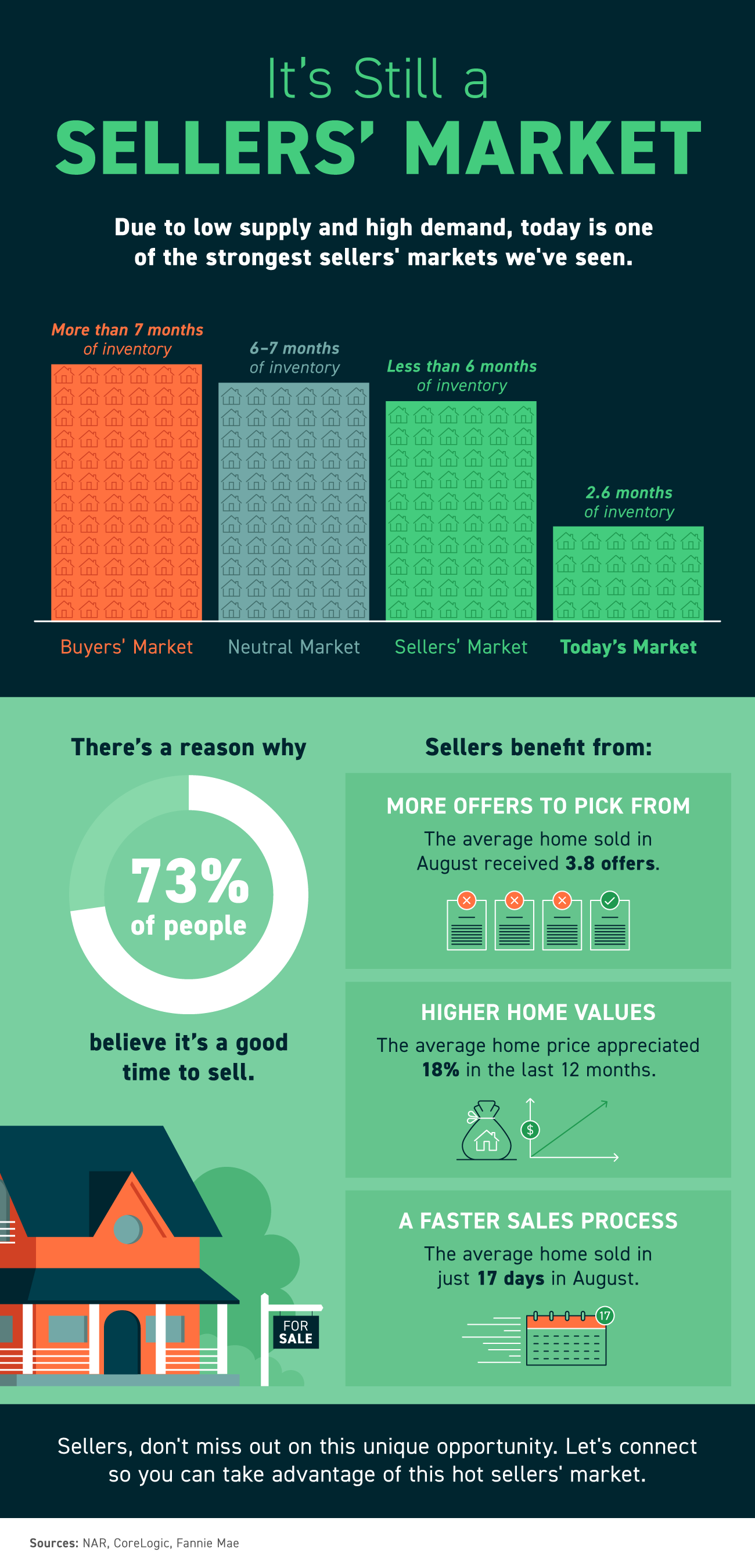 Some Highlights
Due to low supply and high demand, today is one of the strongest sellers' markets we've seen.
Sellers can benefit from more offers to pick from, higher home values, and a faster sales process. That might be why 73% of people believe it's a good time to sell.
Sellers, don't miss out on this unique opportunity. Let's connect so you can take advantage of this hot sellers' market.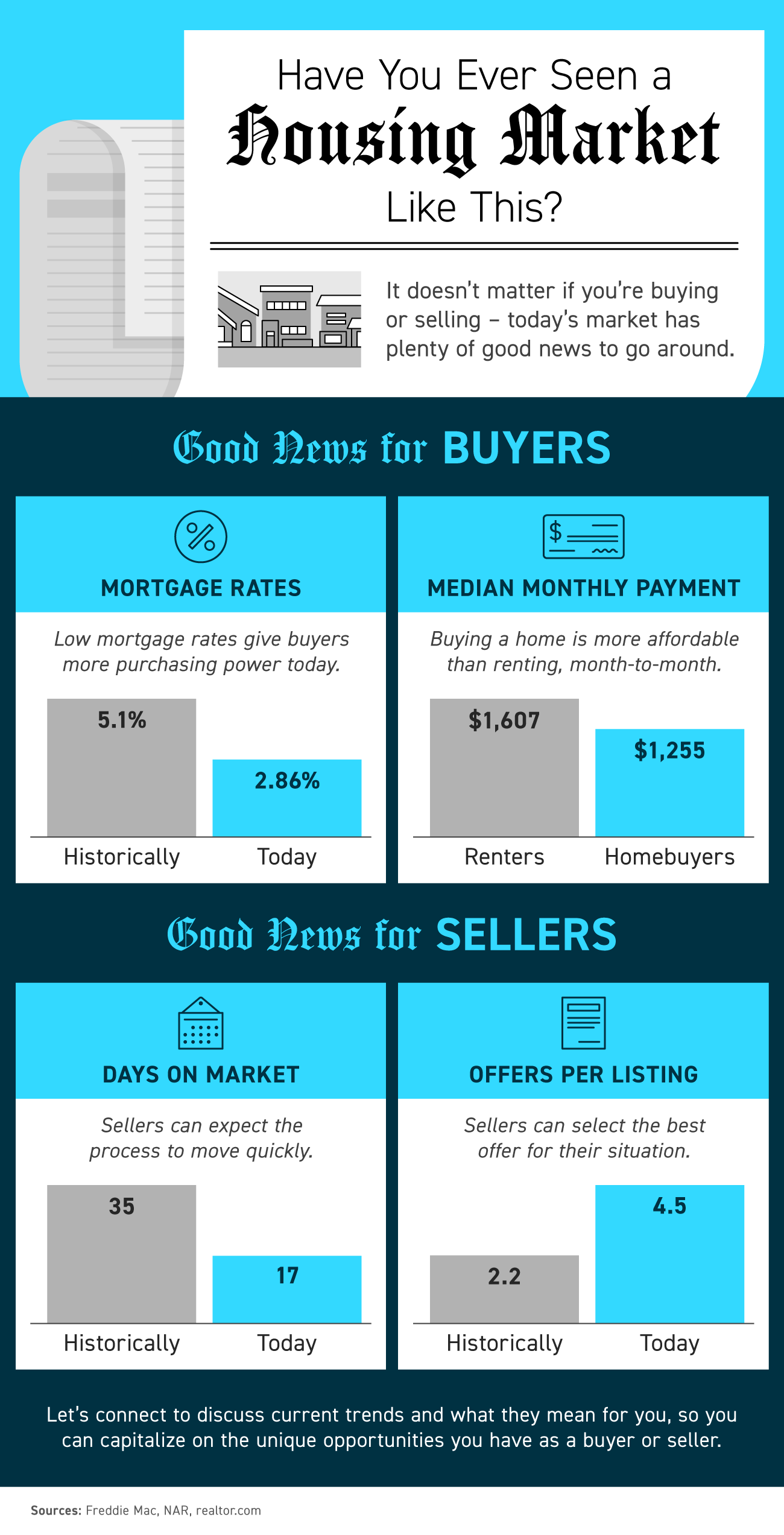 Some Highlights
Whether you're buying or selling – today's housing market has plenty of good news to go around.
Buyers can take advantage of today's mortgage rates to escape rising rents and keep monthly payments affordable. Sellers can reap the benefits of multiple offers and a fast sale.
If this sounds like good news to you, let's connect today so you can capitalize on the unique opportunity you have in today's market.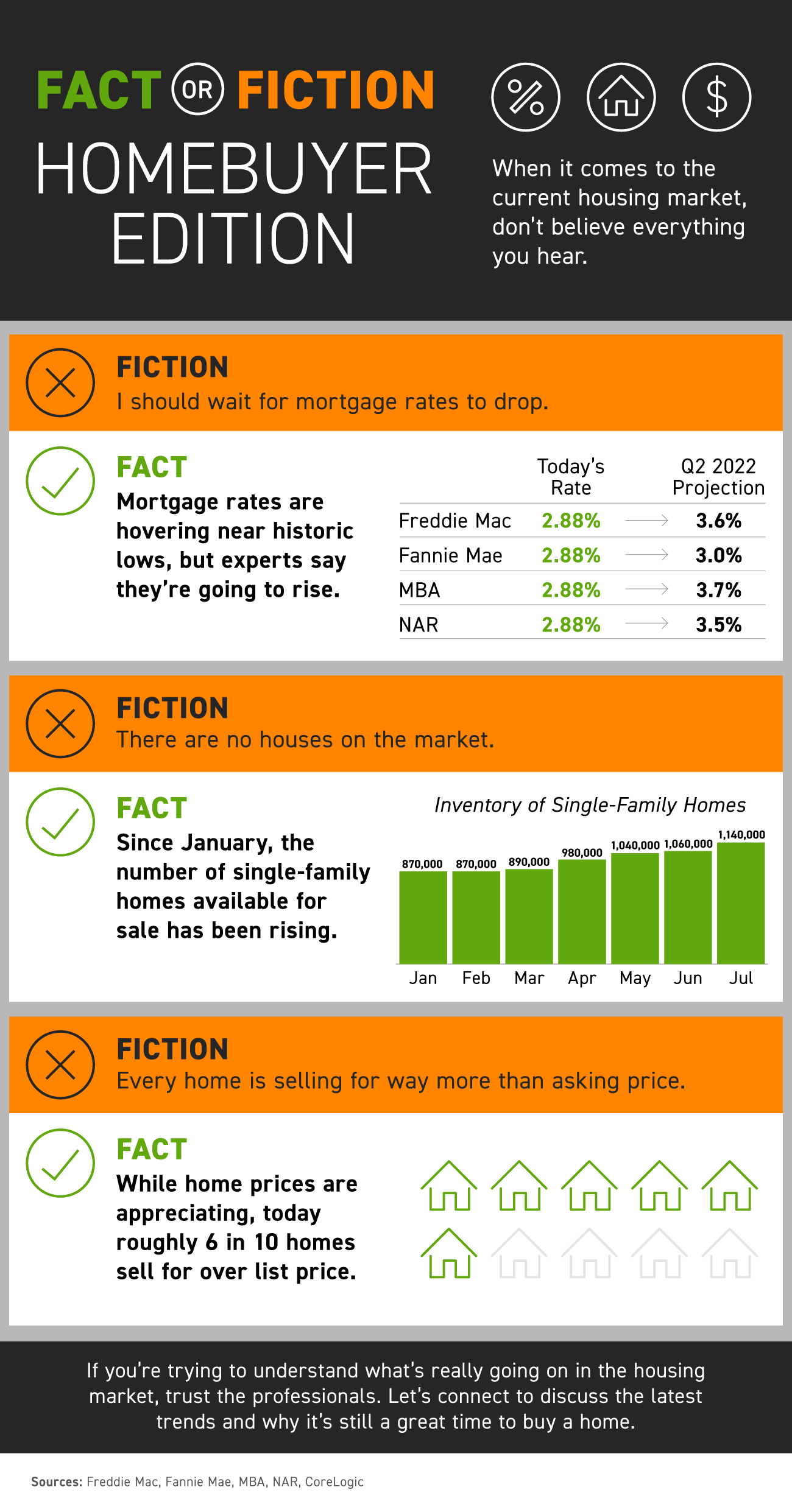 Some Highlights
When it comes to the current housing market, there are multiple misconceptions – from what the current supply of available homes looks like to how much houses are selling for.
It takes professionals who study expert opinions and data to truly understand the real estate market and separate fact from fiction.
Trust the pros. If you want to understand why it's still a good time to buy, let's connect today.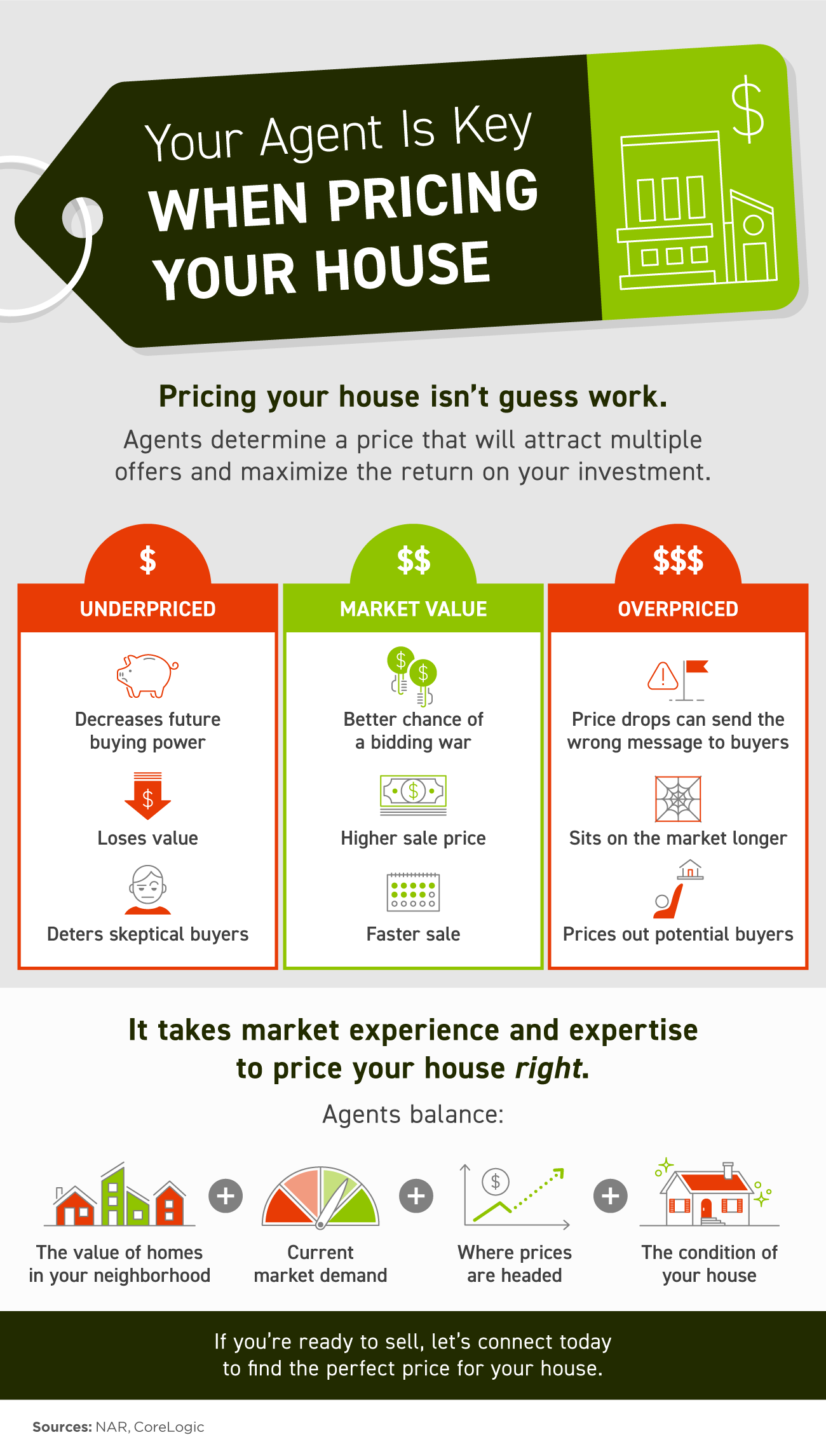 Some Highlights
Pricing your house right takes market experience and expertise.
To find the best list price, your agent balances current market demand, values of homes in your neighborhood, where prices are headed, and your home's condition.
If you're ready to sell, don't guess on the price. Let's connect today so we price your house to attract multiple offers and maximize your return on investment.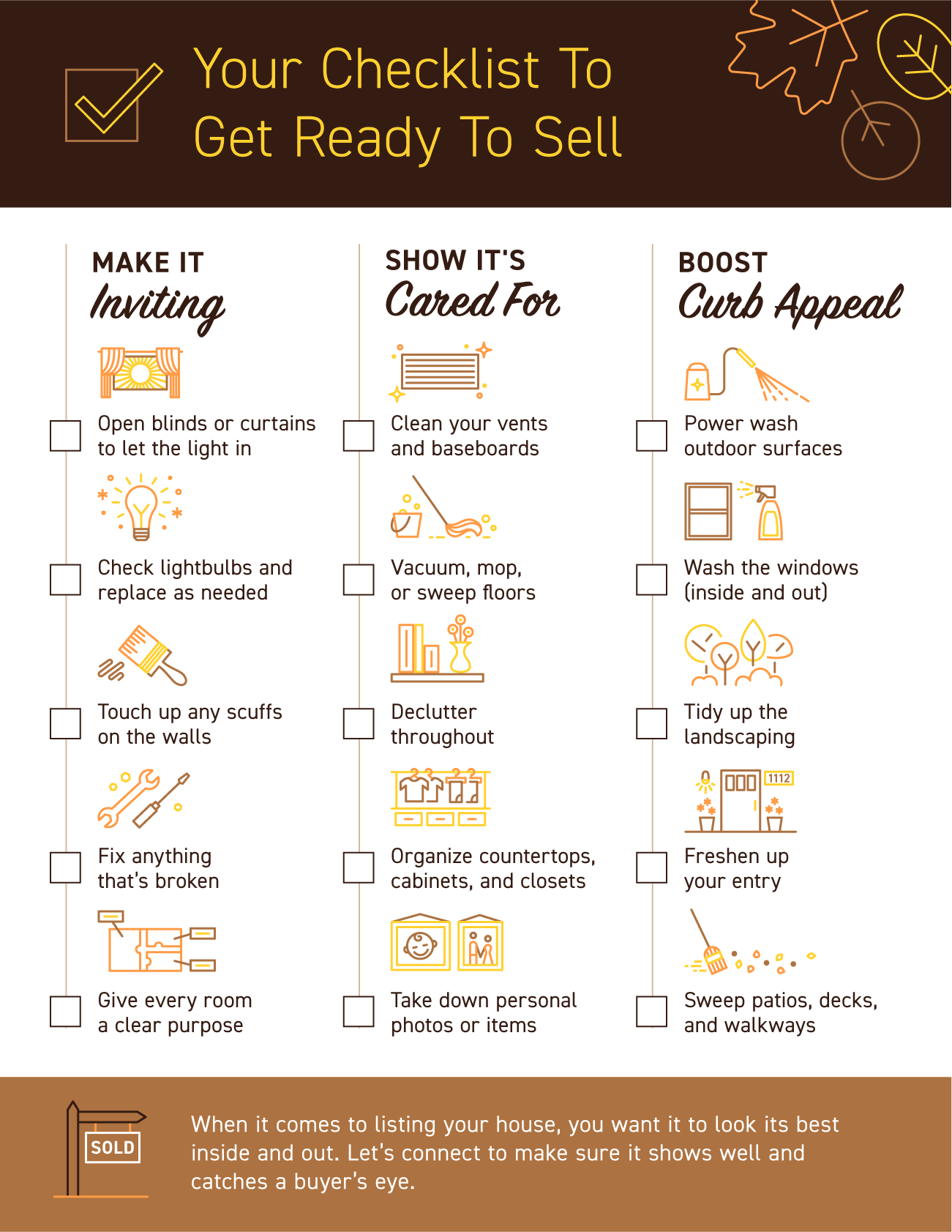 Some Highlights
When it comes to selling your house, you want it to look its best inside and out.
It's important to focus on tasks that can make it inviting, show it's cared for, and boost your curb appeal for prospective buyers.
Let's connect to make sure your house shows well and catches a buyer's eye.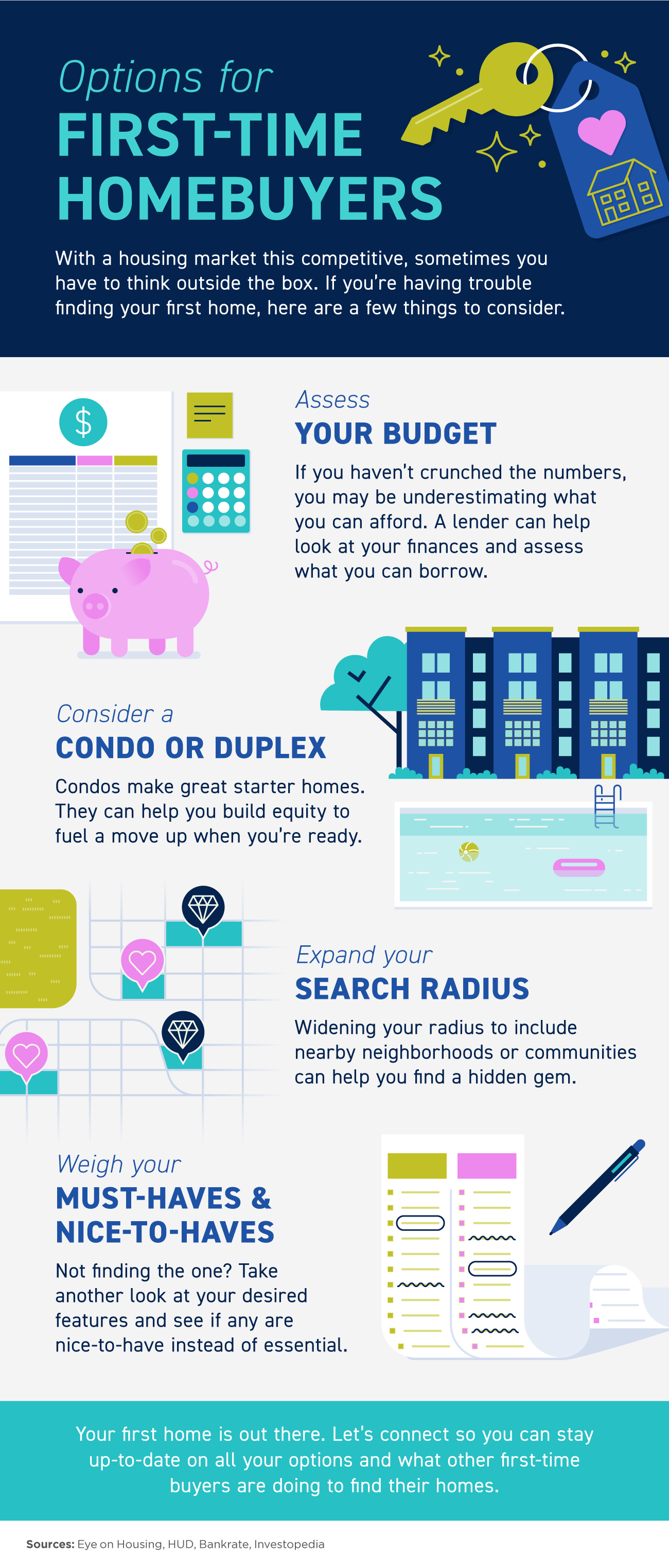 Some Highlights
With a housing market this competitive, sometimes you have to think outside the box.
Work with your trusted real estate advisors to do things like assess your budget, expand your search radius, look into other options, and determine your true needs.
If you're having trouble finding your first home, let's connect to explore your options. It's out there!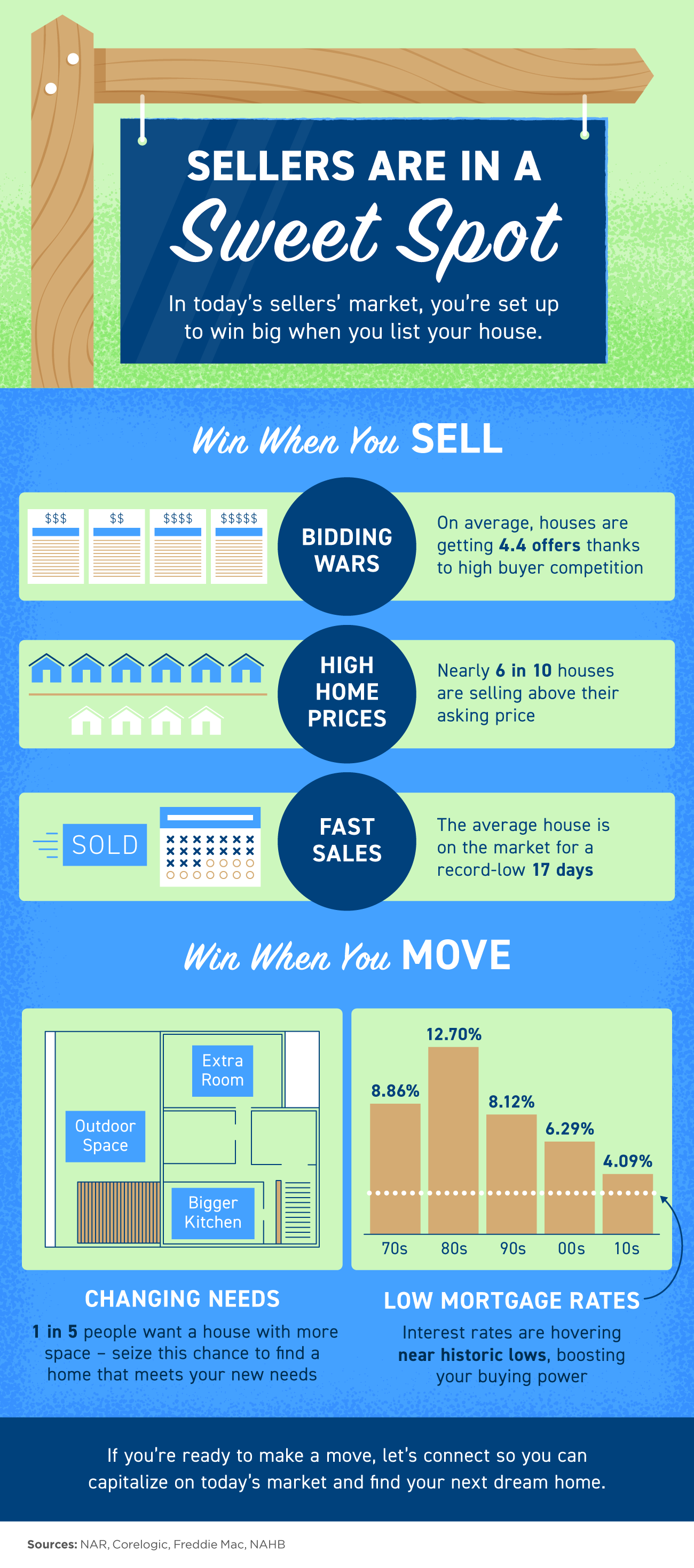 Some Highlights
In today's sellers' market, you're set up to win big when you list your house.
That's because homes are selling fast, receiving 4.4 offers on average and often selling above the asking price. Then, when you buy your next home, you'll also win by addressing your changing needs and taking advantage of near historic-low mortgage rates.
If you're ready to make a move, let's connect so you can capitalize on today's market and find your next dream home.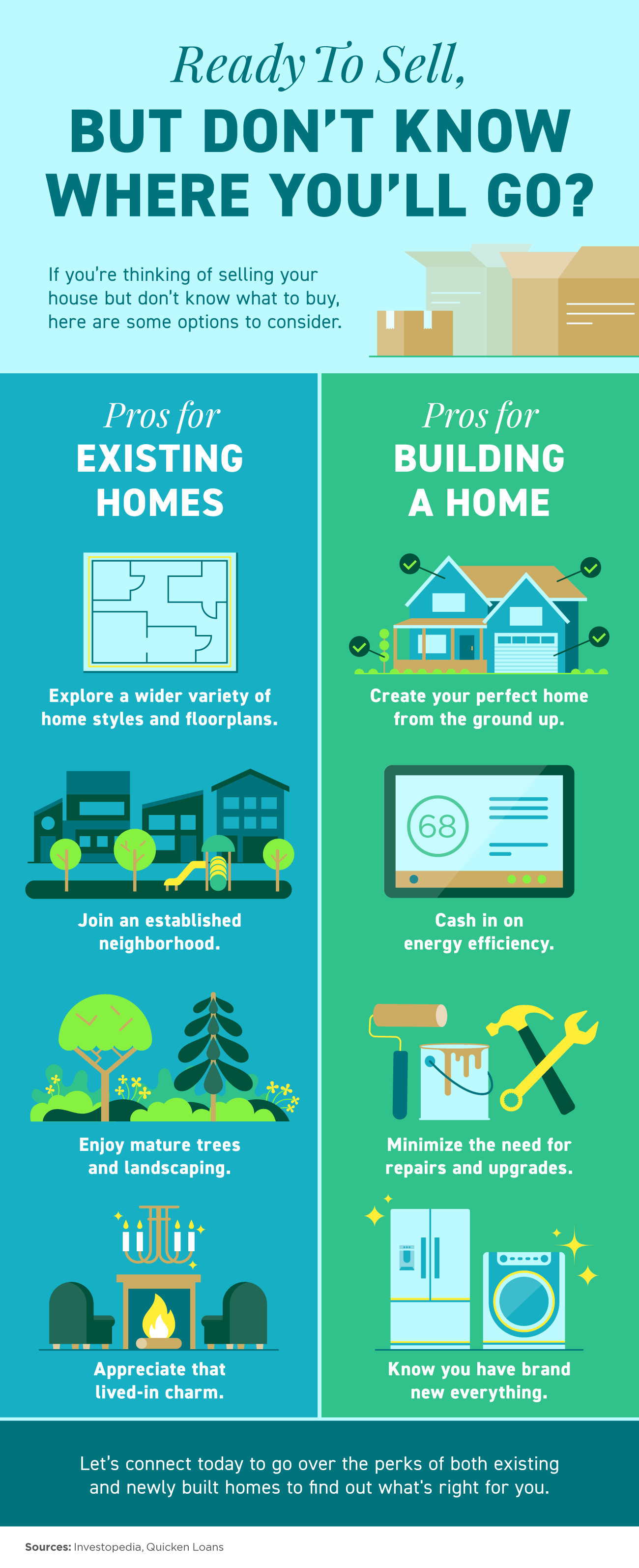 Some Highlights
If you're thinking of selling your house but don't know what you should buy, you have options.
Existing homes offer a wide variety of home styles, an established neighborhood, and lived-in charm. Meanwhile, new home construction lets you create your perfect home, cash in on energy efficiency, and minimize repairs.
Whether you're looking for newly built or existing homes, both have their perks. If you're ready to sell your house, let's connect today to go over the perks of both existing and newly built homes to find out what's right for you.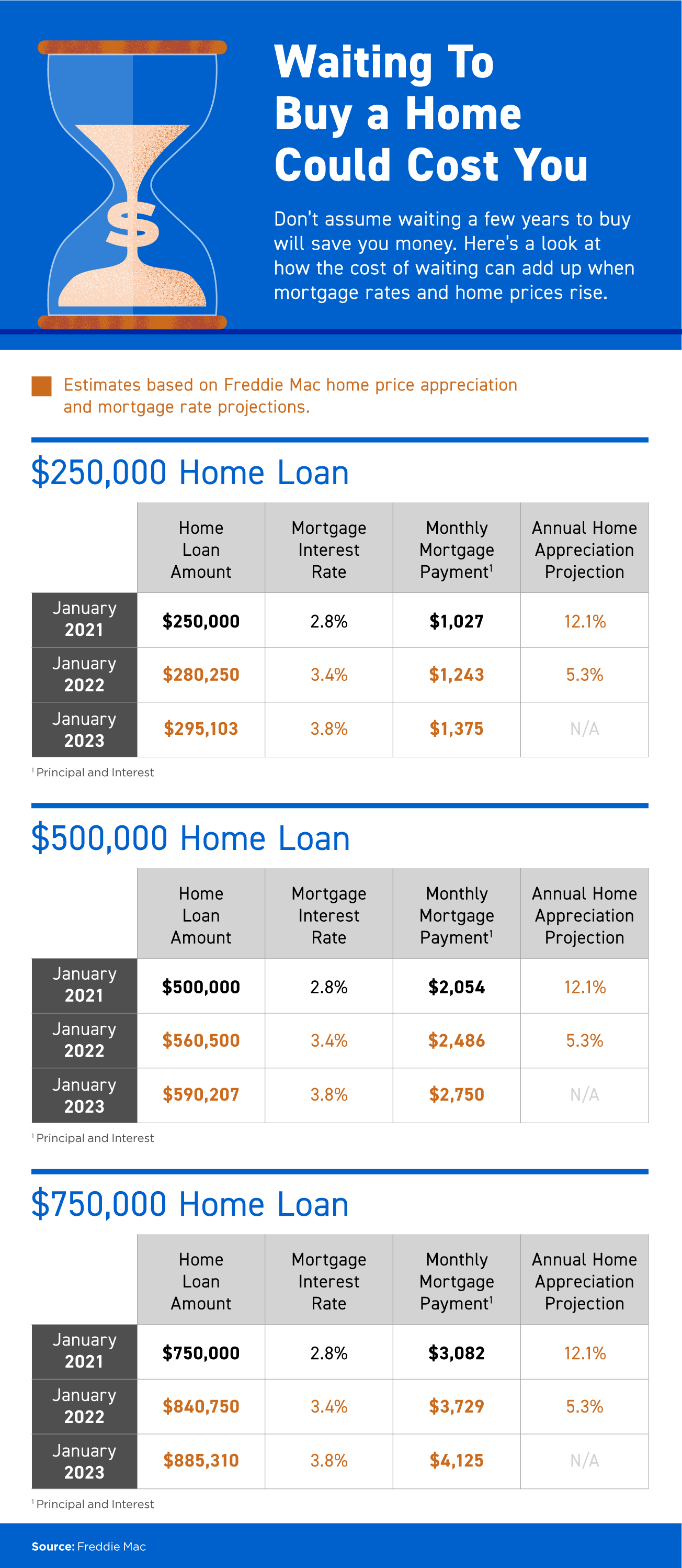 Some Highlights
If you're thinking of buying a home but wondering if waiting a few years will save you in the long run, think again.
The longer the wait, the more you'll pay, especially when mortgage rates and home prices rise. Even the slightest change in the mortgage rate can have a big impact on your buying power no matter your price point.
Don't assume waiting will save you money. Let's connect to set the ball into motion today while mortgage rates are hovering near historic lows.

Some Highlights
The language of buying and selling a home may sound scary at first, but knowing how key terms relate to today's market can help you. For example, current low mortgage rates and higher wages positively impact affordability for buyers, while home price appreciation continues to grow home equity, which sellers can use to fuel a move up.
Terms like appraisal (what lenders rely on to validate a home's value) and contingencies (which buyers can minimize to make their offer stand out) directly impact the transaction.
You don't need to be fluent in the language of the market to buy or sell. Instead, let's connect today so that we can translate the process together.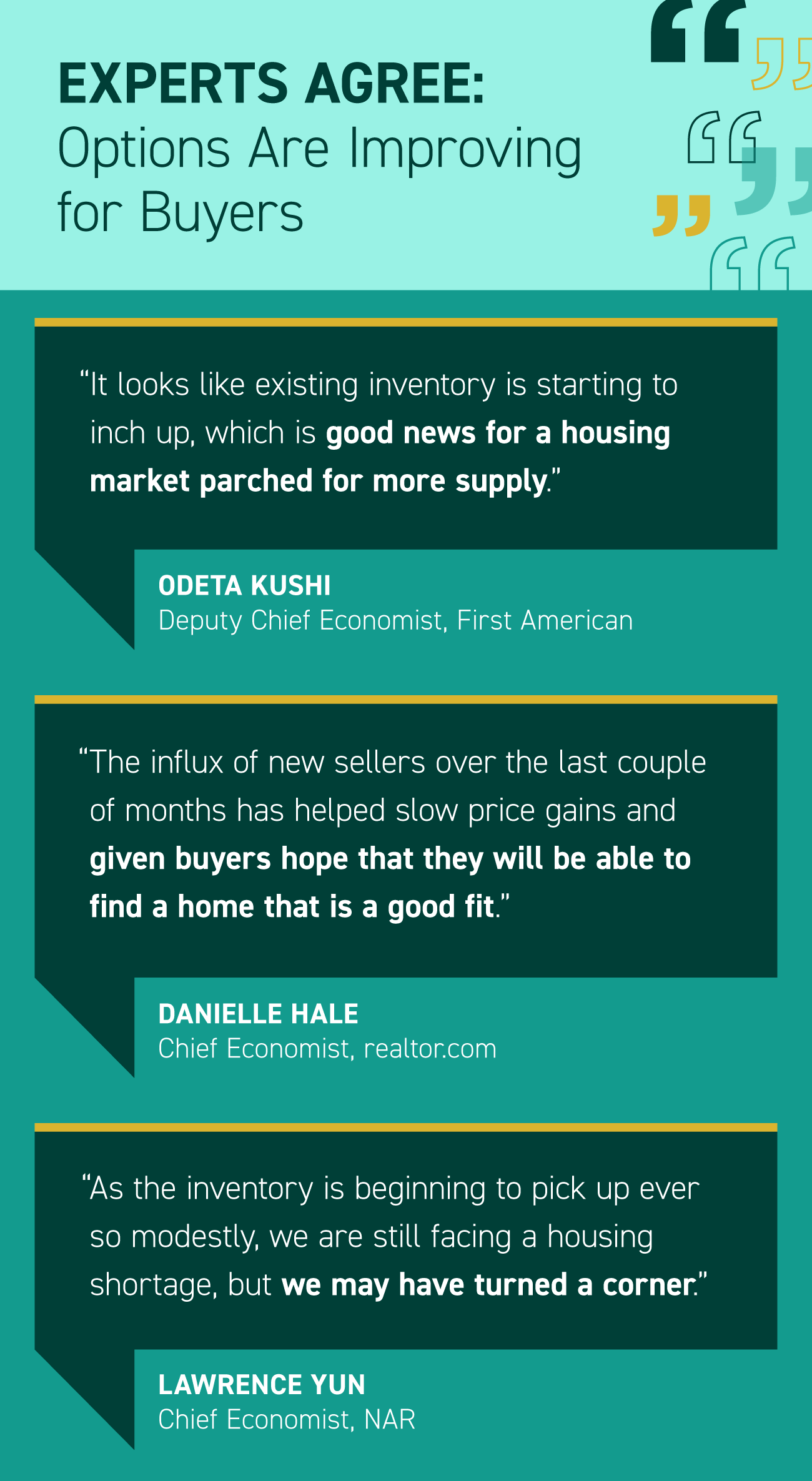 Some Highlights
Buyers hoping for more homes to choose from may be in luck as housing inventory begins to rise. Many experts agree – new sellers listing their homes is great news for buyers and the overall market.
Although the supply increases are modest, more homes means more options for buyers. A rise in inventory may also help slow the price gains we've seen recently and could be a sign of good things to come.
If you're searching for a home, rising inventory is welcome news. Let's connect today to discuss new listings in our area.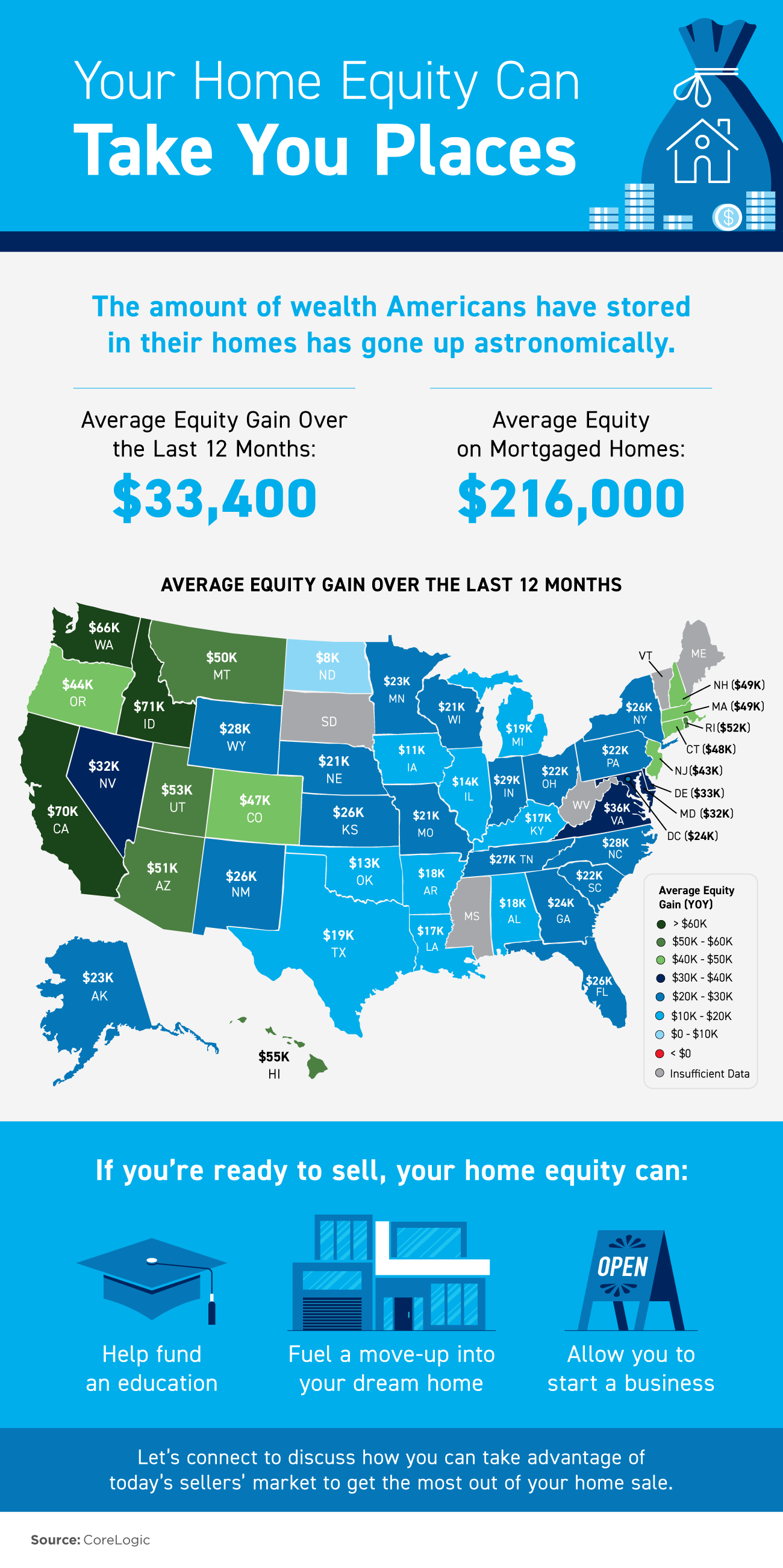 Some Highlights
The amount of wealth Americans have stored in their homes has increased astronomically.
On average, homeowners gained $33,400 in equity over the last 12 months, and the average equity on mortgaged homes is now $216,000.
When it's time to sell, your home equity can help accomplish your goals. Let's connect to discuss how you can take advantage of today's sellers' market to get the most out of your home sale.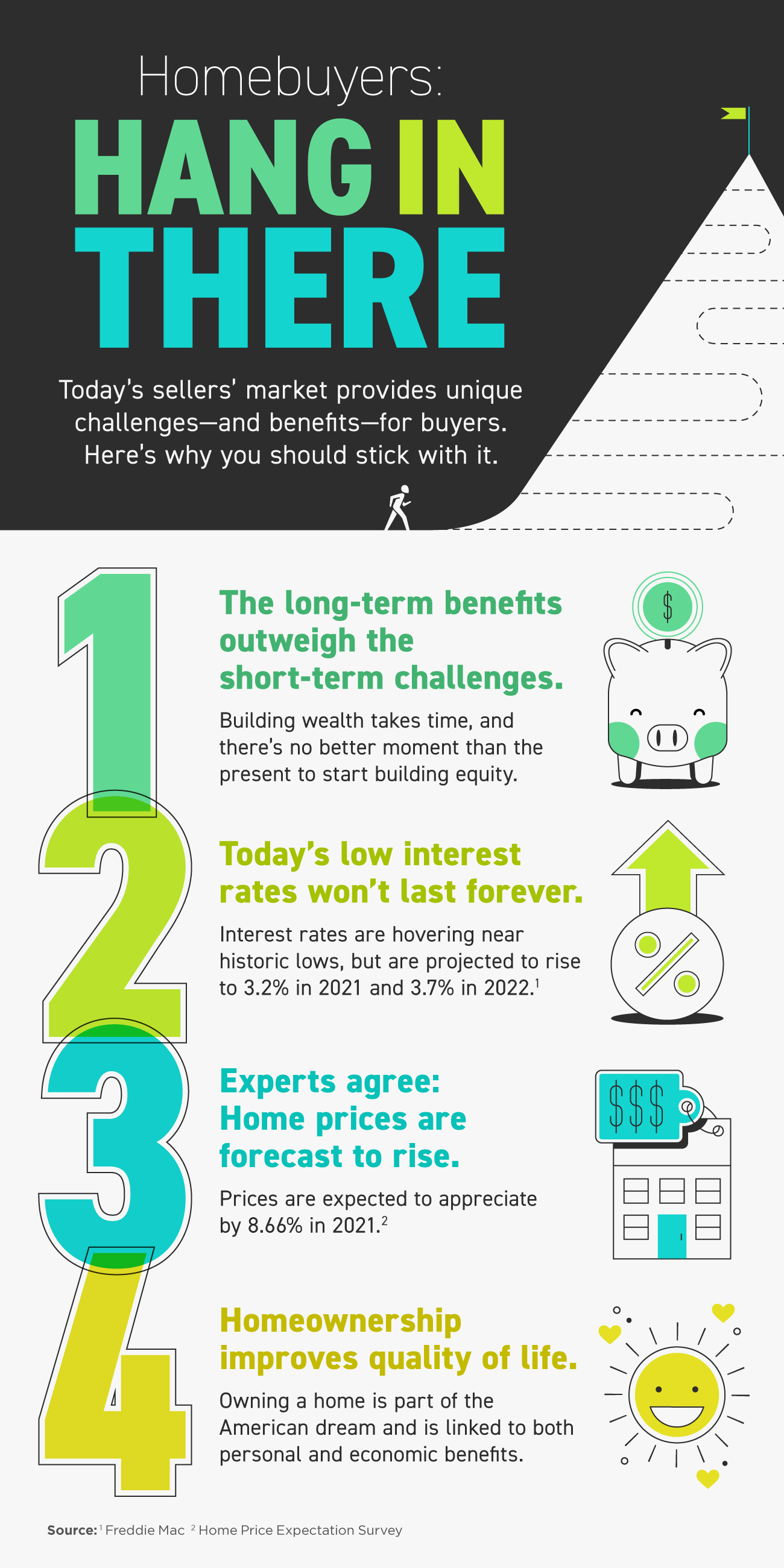 Some Highlights
Today's sellers' market provides unique challenges—and benefits—for buyers.
Current low interest rates won't last forever, and home prices are forecast to rise.
If you're a homebuyer, hang in there. Homeownership improves your quality of life, and the long-term benefits outweigh the short-term challenges.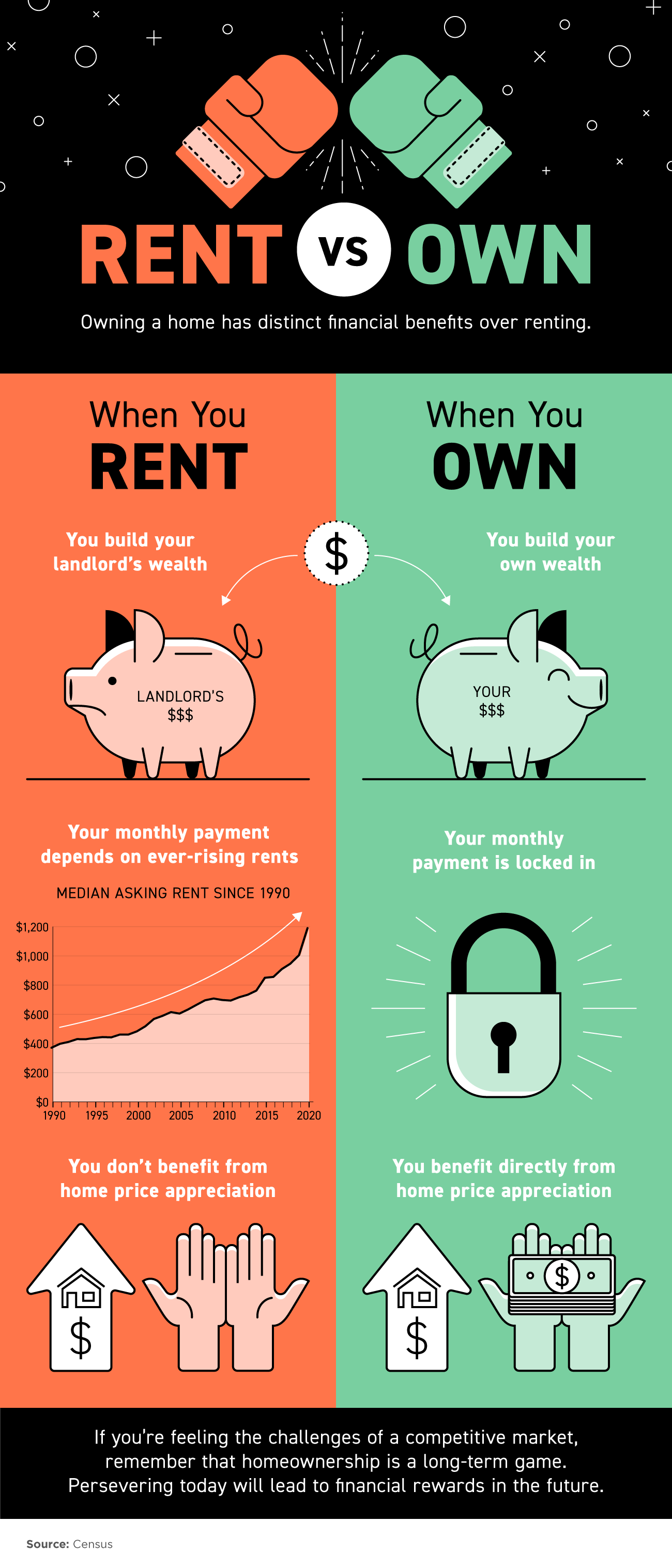 Some Highlights
When you rent, you build your landlord's wealth, your monthly payment depends on ever-rising rents, and you don't benefit from home price appreciation.
On the other hand, when you own your home, you build your own wealth, your monthly payment is locked in, and you benefit directly from home price appreciation.
If you're feeling the challenges of a competitive market, remember that homeownership is a long-term game. Persevering today will lead to financial rewards in the future.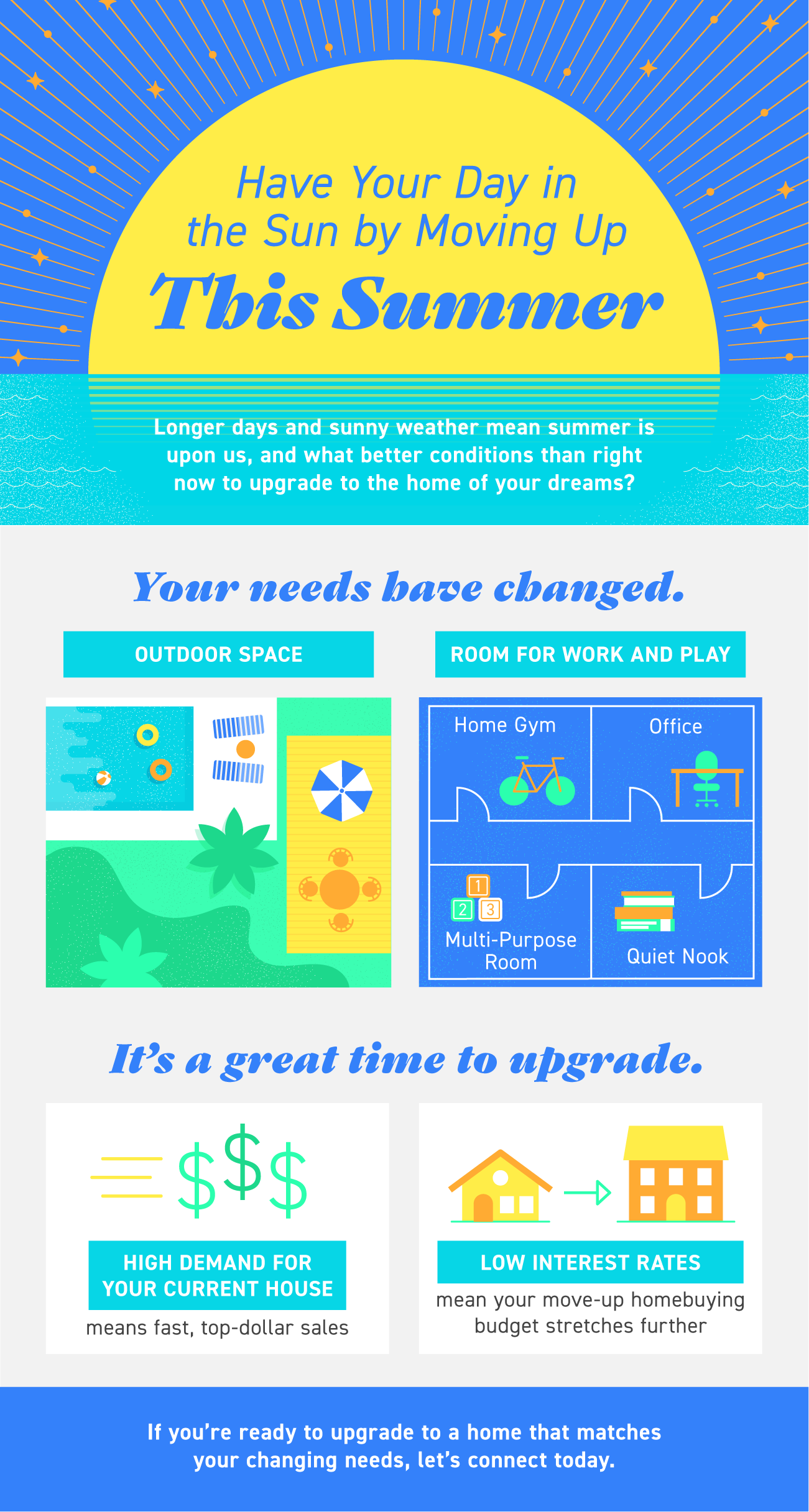 Some Highlights
Longer days and sunny weather mean summer is upon us, and what better conditions than right now to upgrade to the home of your dreams?
If your needs have changed, it's a great time to upgrade – there's likely high demand for your current house, and today's low mortgage rates can help you afford your dream home.
If you're ready to upgrade to a home that matches your changing needs, let's connect today.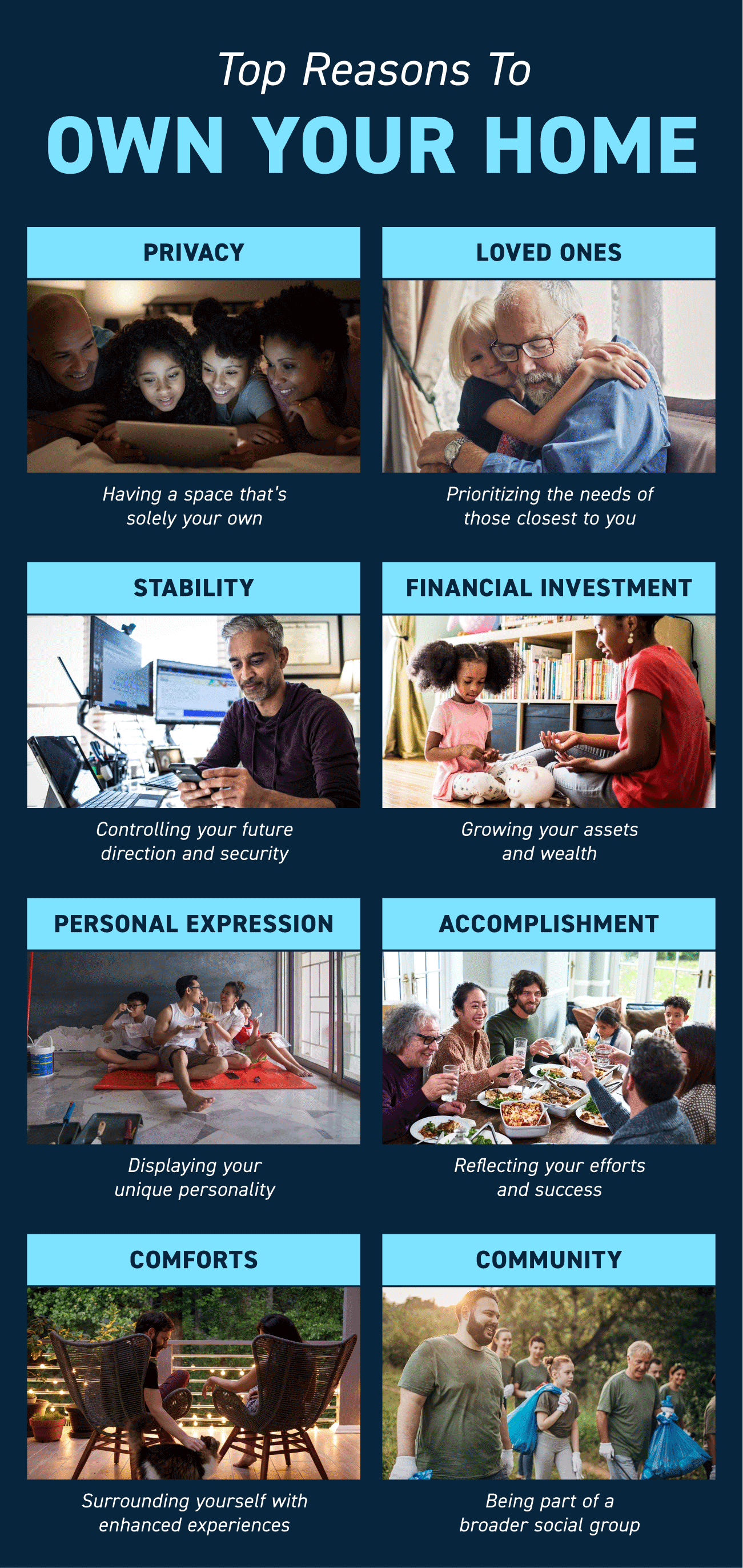 Some Highlights
June is National Homeownership Month, and it's a great time to consider the benefits of owning your own home.
If you're thinking of buying a home, it might just help you find the stability, community, and comfort you've been searching for over the past year.
Let's connect today to determine if homeownership is the right next step for you.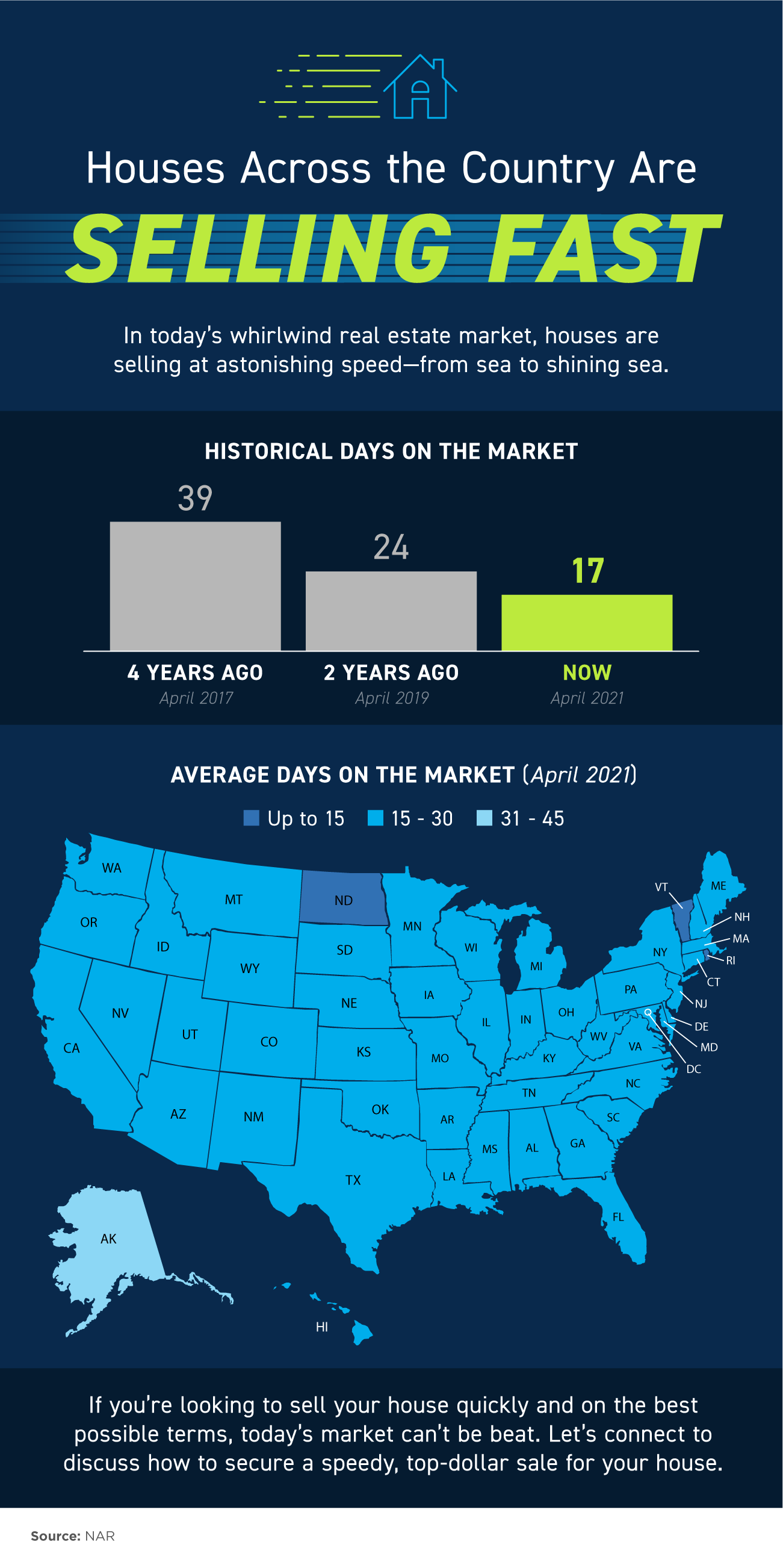 Some Highlights
In today's whirlwind real estate market, houses are selling at astonishing speed – from sea to shining sea.
Four years ago, the average house spent 39 days on the market. Two years ago, homes were on the market for about 24 days. Today, that number has dropped to just 17 short days.
If you're looking to sell your house quickly and on the best possible terms, today's market can't be beat. Let's connect to discuss how to secure a speedy, top-dollar sale for your house.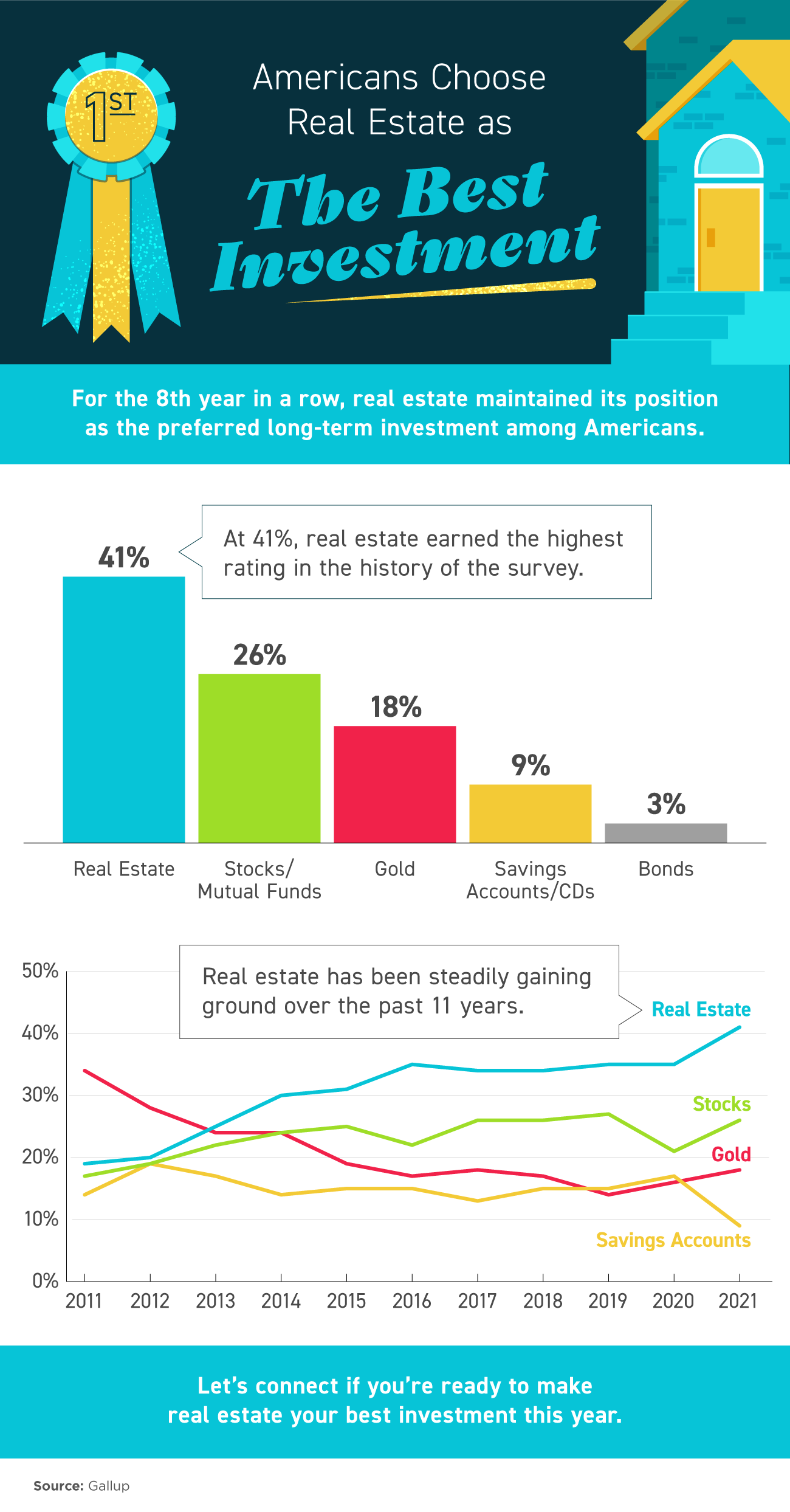 Some Highlights
For the eighth year in a row, real estate maintained its position as the preferred long-term investment among Americans.
Real estate has been gaining ground against stocks, gold, and savings accounts over the last 11 years and now stands at its highest rating in survey history.
Let's connect if you're ready to make real estate your best investment this year.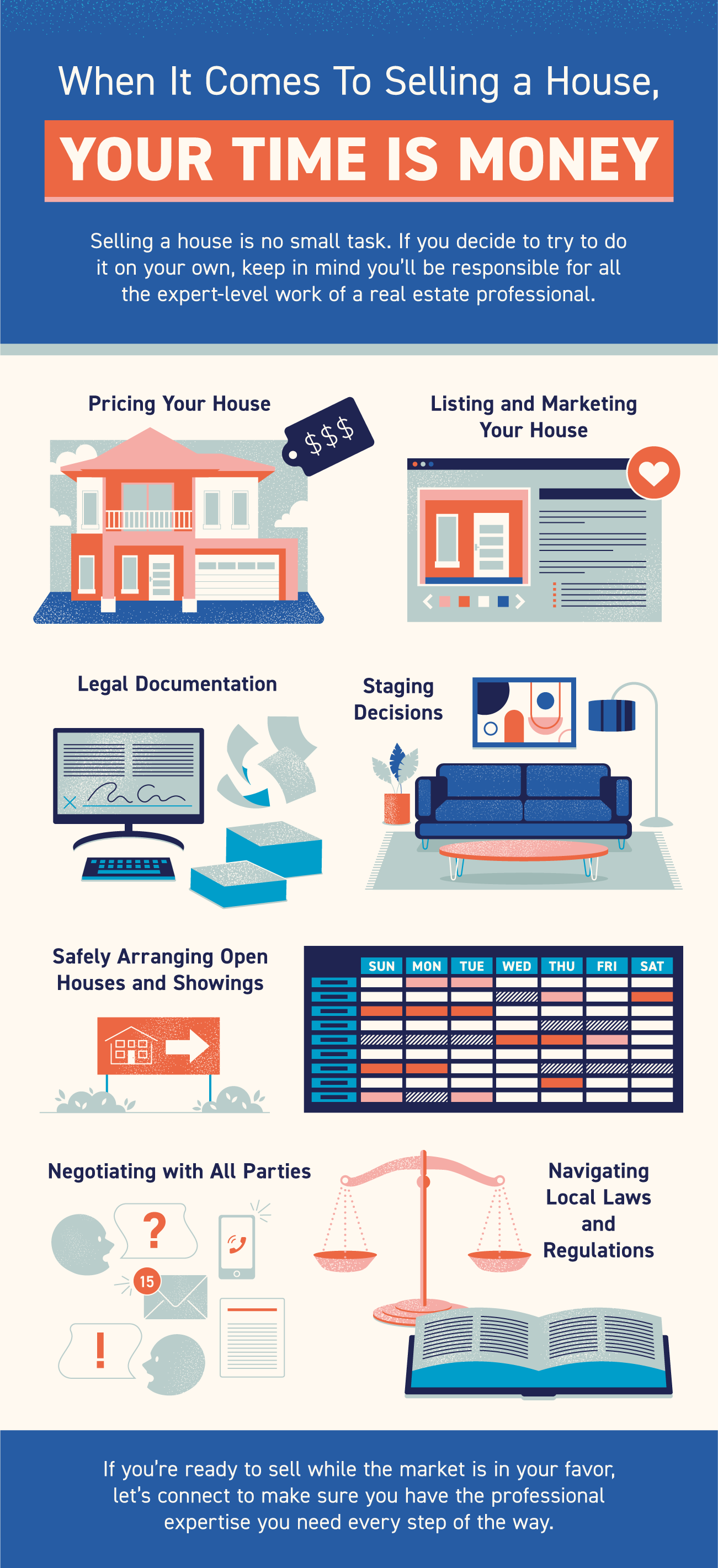 Some Highlights
Selling a house is no small task. If you decide to try to do it on your own, keep in mind you'll be responsible for all the expert-level work of a real estate professional.
The vital tasks an agent manages for you include listing and marketing your house, handling legal documentation, negotiating with all parties, and navigating local laws and regulations.
If you're ready to sell while the market is in your favor, let's connect to make sure you have the professional expertise you need every step of the way.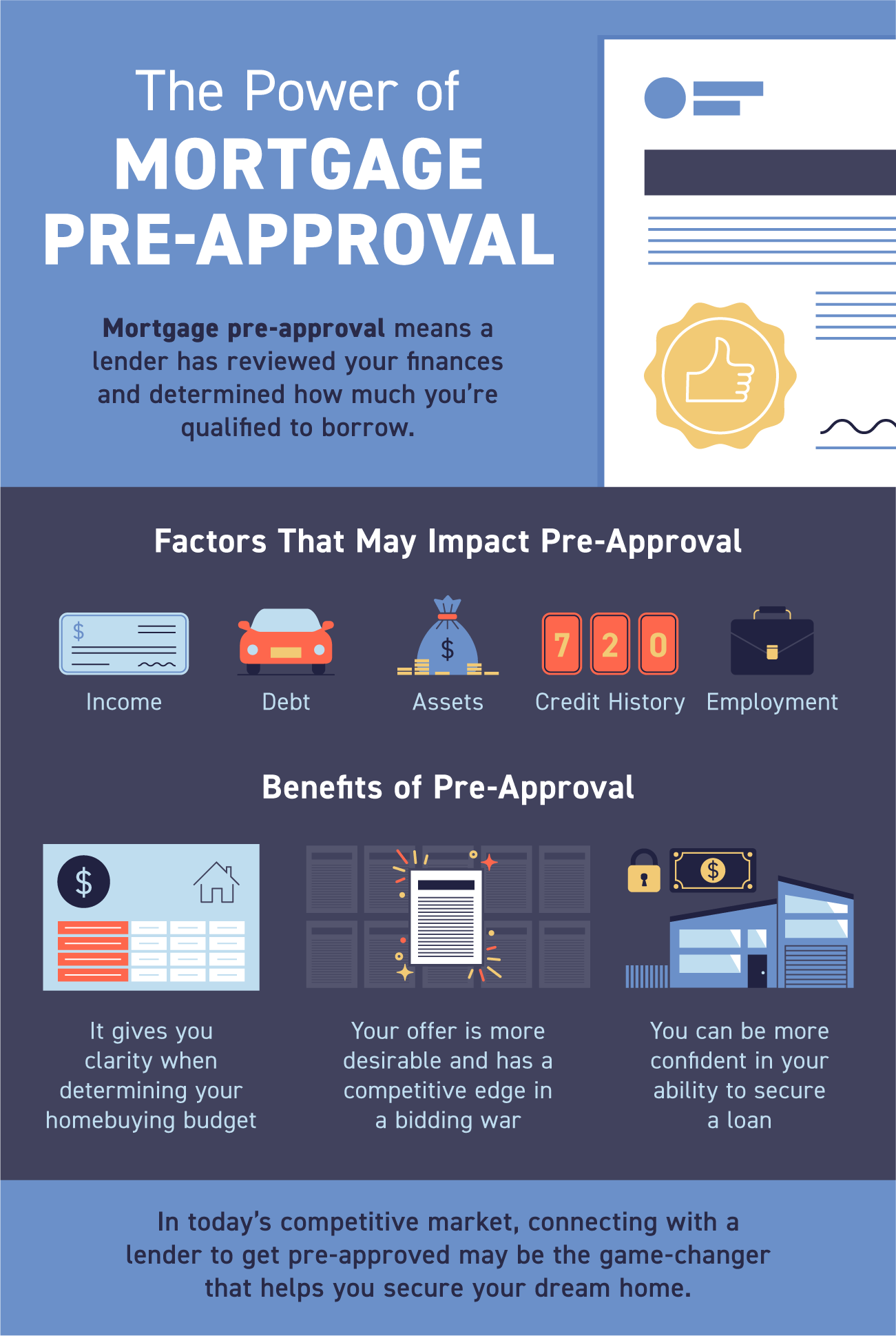 Some Highlights
Mortgage pre-approval means a lender has reviewed your finances and, based on factors like your income, debt, and credit history, determined how much you're qualified to borrow.
Being pre-approved for a loan can give you clarity while planning your homebuying budget, confidence in your ability to secure a loan, and a competitive edge in a bidding war.
In today's market, connecting with a lender to get pre-approved may be the game-changer that helps you secure your dream home.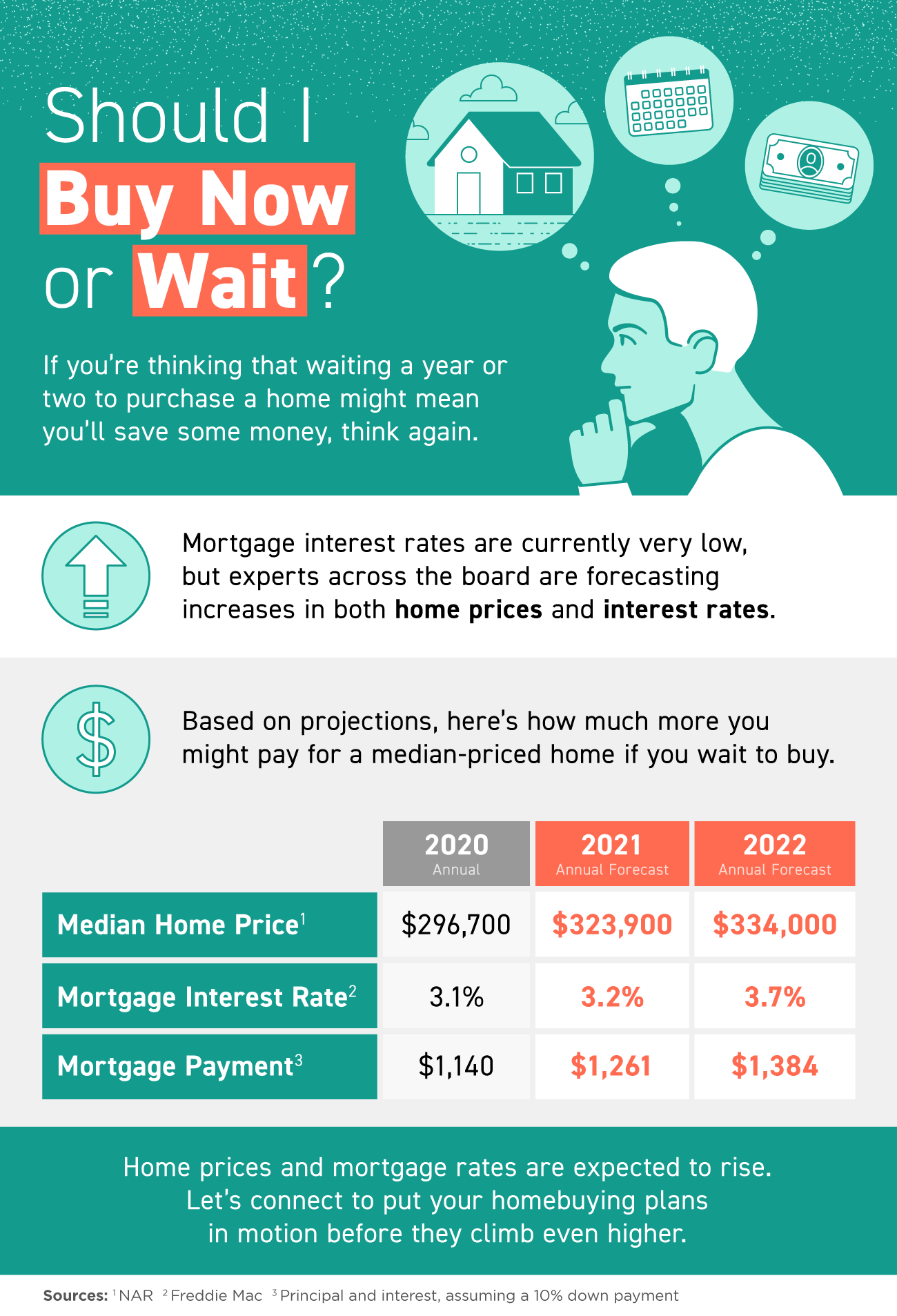 Some Highlights
If you're thinking that waiting a year or two to purchase a home might mean you'll save some money, think again.
Mortgage interest rates are currently very low, but experts across the board are forecasting increases in both home prices and interest rates.
Buying a home now means you'll spend less in the long run. Let's connect to put your homebuying plans in motion before home prices and mortgage rates climb even higher.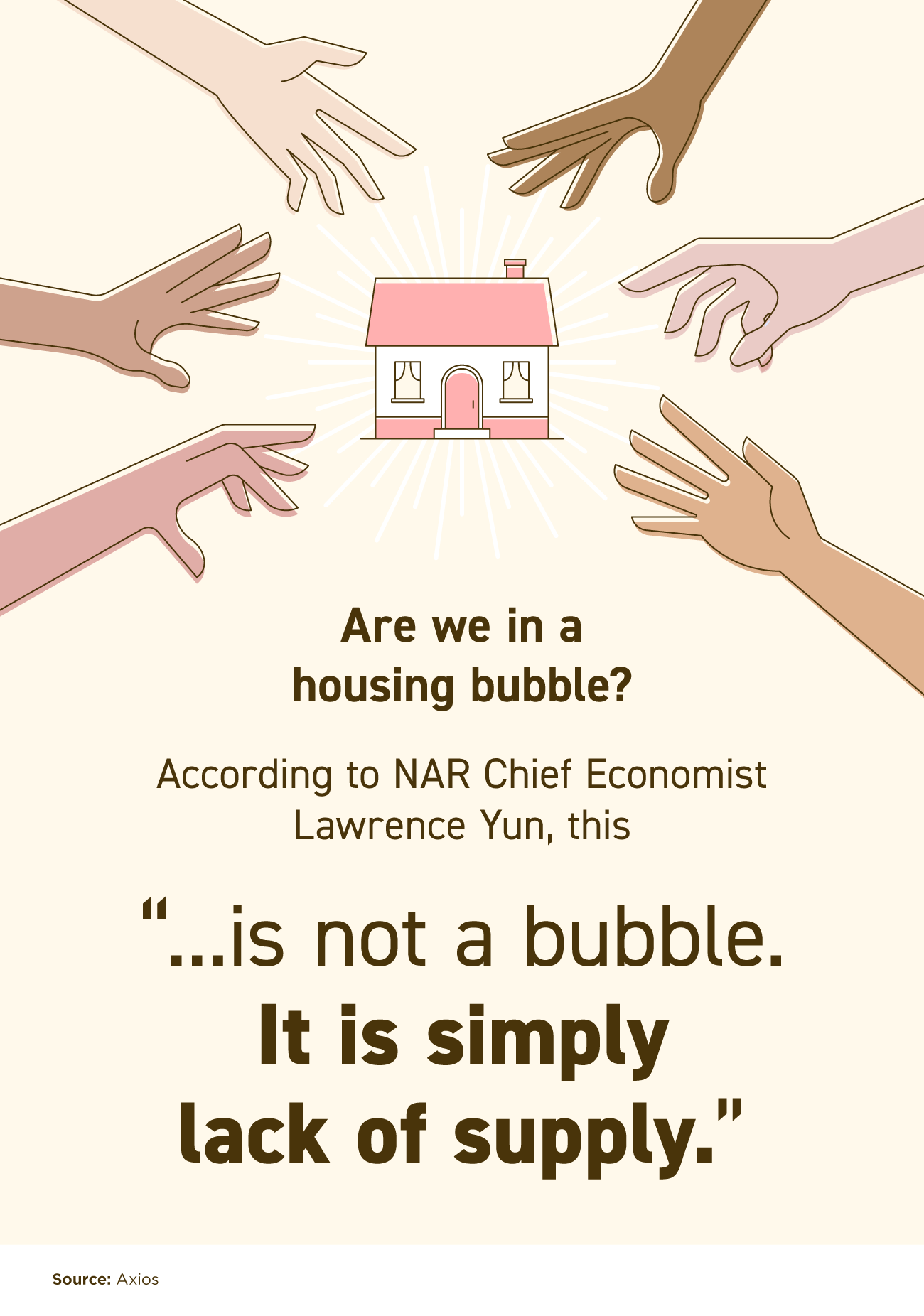 Some Highlights
In a recent article, Lawrence Yun, Chief Economist for the National Association of Realtors (NAR), discussed the state of today's housing market.
When addressing whether or not today's high buyer competition and rising home prices are evidence of a housing bubble, Yun said that this "is not a bubble. It is simply lack of supply."
Today's housing market is healthy, and rising prices are driven by real buyer demand. Let's connect to talk about the best ways to navigate such an energetic market.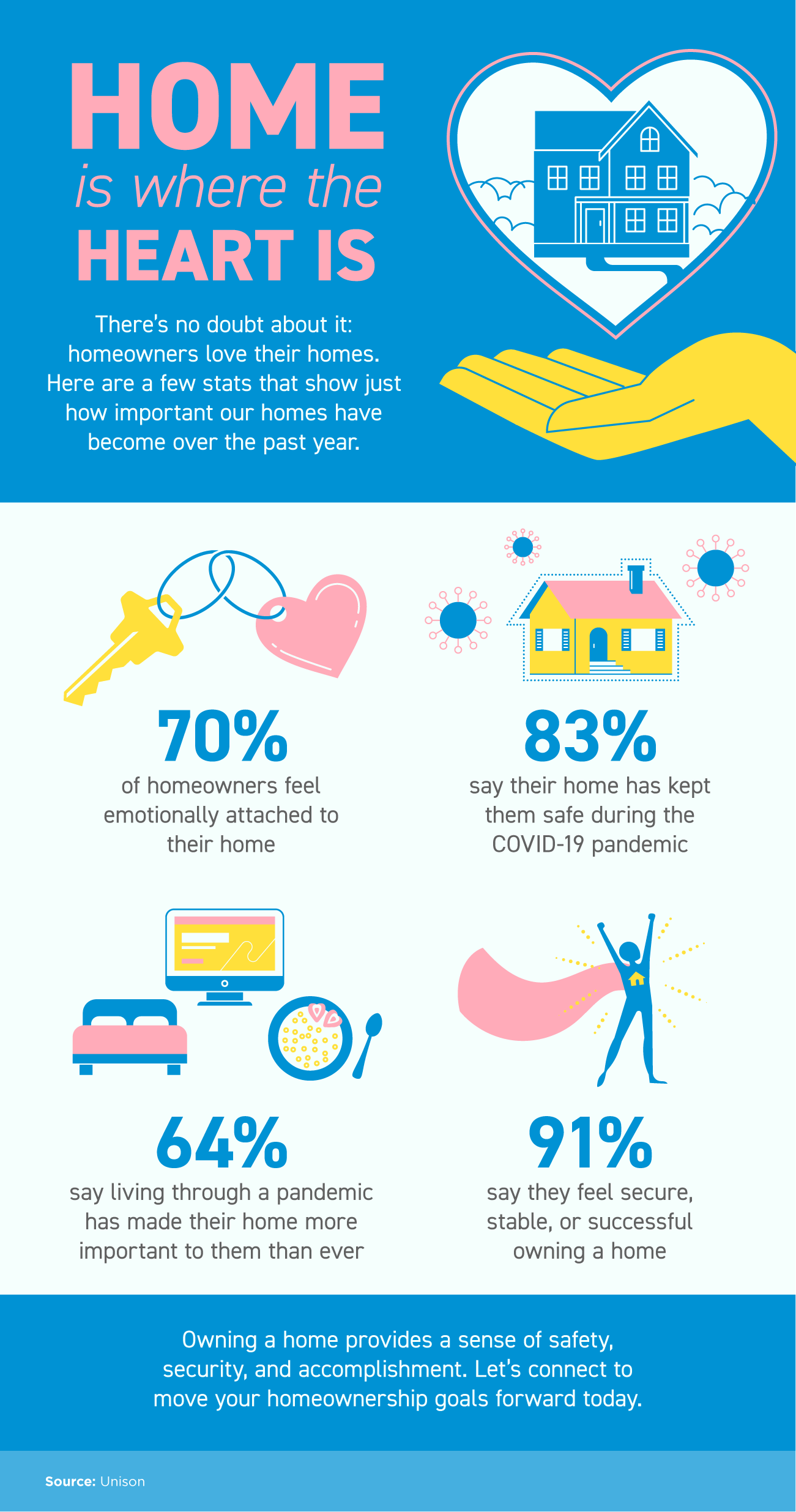 Some Highlights
There's no doubt about it: homeowners love their homes, and that feeling has become even more important over the past year.
The vast majority of homeowners say they're emotionally attached to their home and that it has kept them safe during the COVID-19 pandemic.
Owning a home provides a sense of safety, security, and accomplishment. Let's connect to move your homeownership goals forward today.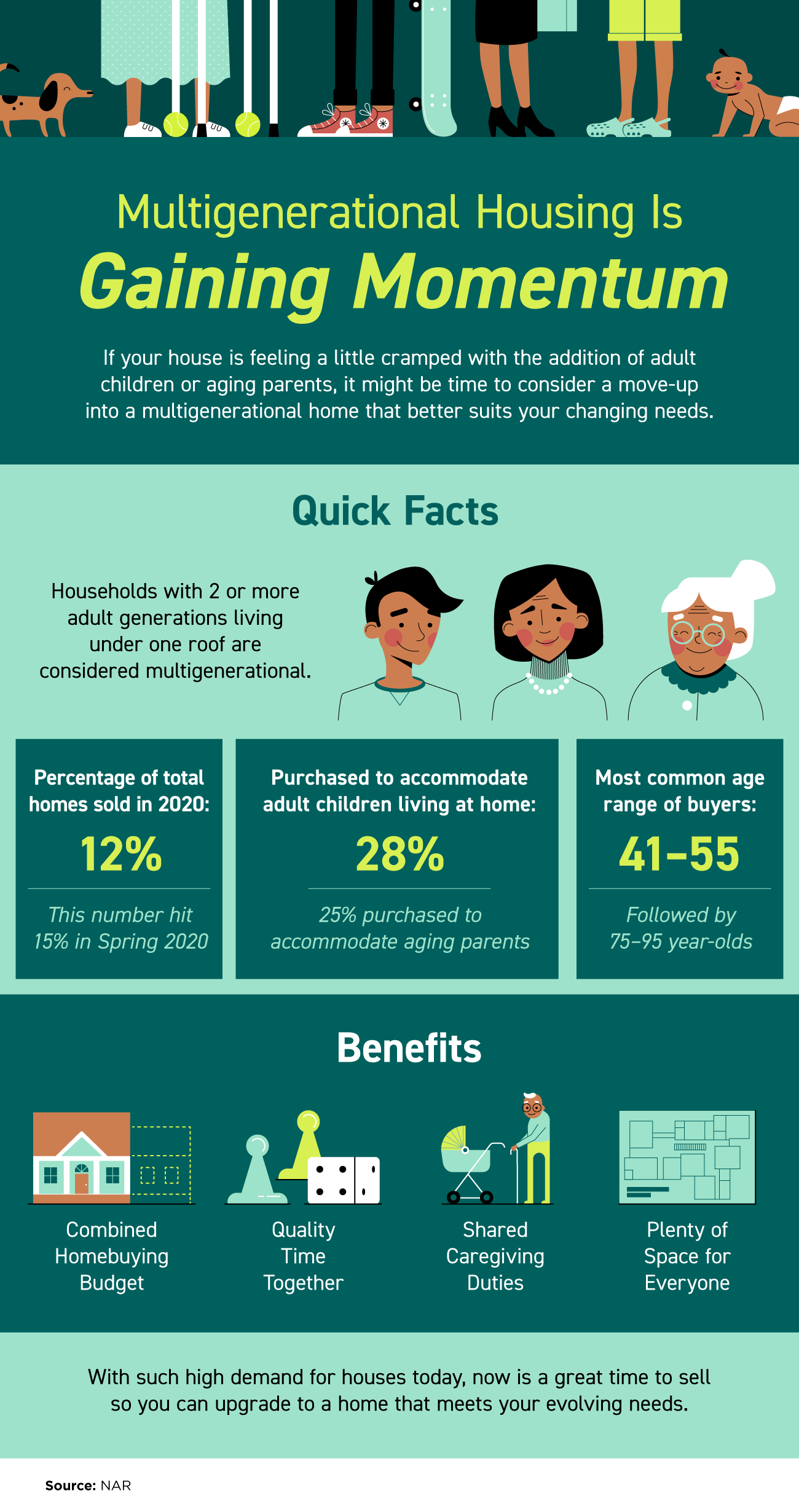 Some Highlights
If your house is feeling a little cramped with the addition of adult children or aging parents, it might be time to consider a move-up into a multigenerational home that better suits your changing needs.
With benefits that include a combined homebuying budget and shared caregiving duties, an increasing number of households are discovering the value of a multigenerational home.
With such high demand for houses today, now is a great time to sell so you can upgrade to a multigenerational home that may better suit your evolving needs.