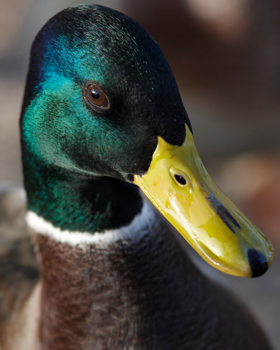 Usted puede aprender mucho solo al observar la naturaleza. El año pasado, Steve se alojaba en un hotel fabuloso en el sur de California. El y su esposa estaban almorzando en una mesa afuera  en el restaurante del hotel. Era imposible no darse cuenta de los patos que se reunieron alrededor de las mesas del restaurante buscando comida. Los pájaros esperaban que la gente se fuera y entonces ellos acudían a las mesas buscando migajas que cayeron al suelo. Hubo docenas de aves peleando por las migajas que habían quedado. Cada pato hizo lo mismo; excepto uno.
Este pato era diferente, en lugar de esperar que las parejas se vayan, este pato esperaba solamente hasta que la comida llegaba. En el momento que el personal entregaba la comida, el pato corría a la mesa y miraba a la gente que estaba a punto de comer. Sorprendentemente, cada persona inmediatamente tomaba algo de su plato y alimentaba al pato. Ellos alimentaron el pato ANTES de que ellos empezaran a comer.
El pato no se conformó con las migajas y las sobras, el comió la mejor comida del plato. El pato no peleo contra docenas de otros, él estaba solo cuando los clientes lo alimentaron.
Fue realmente increíble.
Esto nos hizo pensar en la diferencia en los agentes de bienes raíces. Algunos ponen una casa a la venta, la ponen en el MLS y esperan por lo mejor. Otros representan al comprador simplemente buscando en el MLS a ver si la casa adecuada está disponible para la venta. Ellos son como muchos de los agentes en el mercado. Ellos están esperando a que algo suceda, al igual que todos los otros patos.
Hay otros agentes que ellos mismos hacen que algo suceda. Ellos buscan diligentemente el comprador para la casa que acaban de poner a la venta. Van a tocar puerta por puerta buscando la casa perfecta para sus clientes que están soñando por una casa nueva para su familia. Ellos son como ese pato especial, no están esperando por las sobras.
En conclusión
En toda la naturaleza, algunos espera por que pasen las cosas y otros se aseguran que pasen. No se conforme con las migajas.
Acompáñenos hoy a las 2pm ET para aprender "How to Become a Rainmaker for Listing Leads!" Aprenda como hacerlo, algunos esperan a que pasen las cosas y otros  hacen que sucedan… No espere a que pase.
*este webinar es en inglés.
We believe every family should feel confident when buying & selling a home. KCM helps real estate professionals reach these families & enables the agent to simply & effectively explain a complex housing market. Take a 14-Day Free Trial of our monthly membership to see how we can help you!
---
https://files.keepingcurrentmatters.com/wp-content/uploads/2014/01/07192303/1.23-Visual.jpg
350
280
The KCM Crew
https://www.keepingcurrentmatters.com/wp-content/uploads/2017/01/KCMBannerNoWebsiteDarkLarge.png
The KCM Crew
2014-01-23 07:00:23
2014-01-23 10:29:51
Incluso un pato sabe la importancia de prospección