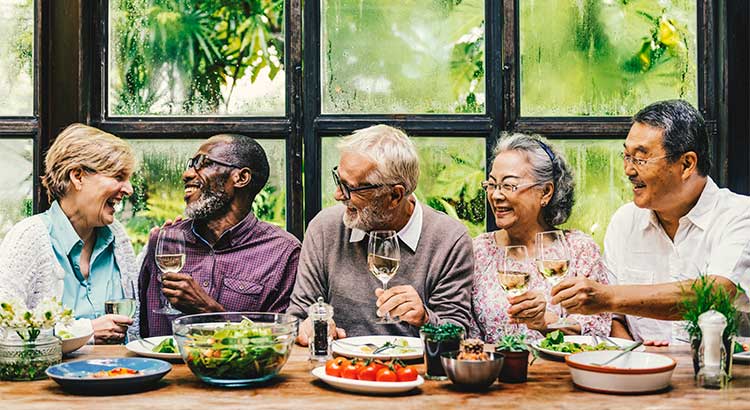 A medida que más y más 'baby boomers' entran en la edad de la jubilación, la pregunta de si vender o no su casa y mudarse, se convertirá en un tema candente. En el entorno actual del mercado de la vivienda, con un inventario bajo disponible en las categorías de viviendas de iniciación e intercambio, tiene sentido evaluar la capacidad de su hogar para adaptarse a sus necesidades en la jubilación.
Según la National Association of Exclusive Buyers Agents (Asociación nacional de agentes exclusivos para los compradores- NAEBA por sus siglas en inglés), hay 7 factores que usted debe considerar al elegir su casa para la jubilación.
1.Asequibilidad
"Puede ser bastante fácil comprar una casa hoy, pero piense a largo plazo acerca de sus costos mensuales. Representan los impuestos de la propiedad, el seguro, la cuota de la asociación de propietarios, los servicios públicos – todas las cosas que se adeudan si tiene o no una hipoteca en la propiedad".
¿Mudarse a un complejo con cuota de asociación de propietarios podría ser más barato que tener que contratar a todos los contratistas que usted necesitaría para mantener su casa, césped, etc.? ¿Bajarían significativamente sus impuestos si usted se reubicara? ¿Cuál va a ser su ingreso mensual en la jubilación?
2.Plusvalía
"Si usted tiene plusvalía en su casa actual, usted podría utilizarla en la compra de su próxima casa. Mantener una cantidad saludable de plusvalía le da una fuente de fondos de emergencia para aprovechar, a través de un préstamo sobre el valor de la propiedad o una hipoteca inversa".
La plusvalía que usted tiene en su casa actual puede ser suficiente para comprar su casa para la jubilación con una hipoteca pequeña o sin hipoteca. Los propietarios de vivienda en los Estados Unidos ganaron un promedio de más de $14,000 en plusvalía el año pasado.
3.Mantenimiento
"A medida que envejecemos, nuestra tolerancia para limpiar los canales del techo, rastrillar hojas, y palear nieve se pueden tirar por la borda. Un condominio con necesidades de bajo mantenimiento puede literalmente ser un salvavidas, si declina su salud o habilidades físicas".
Como mencionamos antes, ¿Valdría la pena un condominio con una cuota de asociación de propietarios que añada paz mental al no tener que hacer el trabajo de mantenimiento usted mismo?
4.Seguridad
"Los propietarios de viviendas mayores pueden ser objeto de estafas y robos. Vivir en una casa con funciones de seguridad, como una casa con una verja controlada, acceso sólo para residentes y un sistema de seguridad pueden dar paz mental".
Tan aterrador como esa idea puede sonar, cualquier seguridad adicional y un par extra de ojos que le cuiden, siempre añadirán paz mental.
5.Mascotas
"¡Alquilar no funcionara si el perro no puede venir también! La compañía de las mascotas puede proporcionar beneficios emocionales y físicos".
Evalúe todas sus opciones cuando se trata de llevar a su amigo 'pelusiempre' con usted a su nuevo hogar. ¿Habrá la necesidad de depósitos adicionales si usted está alquilando o en un condominio? ¿Está el patio cercado? ¿A qué distancia está usted de su veterinario favorito?
6.Movilidad
"Nadie quiere imaginarse en una silla de ruedas o un andador, pero el diseño de la casa debe de ser capaz de adaptarse a la movilidad limitada".
60 son los nuevos 40, ¿Verdad? Las personas están viviendo más tiempo y son más activos en la jubilación, pero eso no significa que más adelante usted no necesitará que su casa sea más accesible. Instalar pasamanos y asegurarse que sus pasillos y puertas sean lo suficiente amplios puede ser una buena razón para buscar por una casa que fue construida para satisfacer estas necesidades.
7.Conveniencia
"¿Esta la casa nueva cerca del campo de golf, o para ir de compras y a restaurantes? ¿Tiene usted servicios a poca distancia caminando? ¡Eso puede añadir al valor de la casa!
¿Qué tan cerca está usted de sus hijos y nietos? ¿Mudarse a un área nueva haría que las visitas con la familia sean más fáciles y más frecuentes? Mas allá de estar cerca de sus tiendas y restaurantes favoritos, hay un montón de factores que considerar.
En conclusión,
Cuando se trata de su casa para siempre, evaluar la capacidad de su casa actual para adaptarse con usted a medida que envejece puede ser el primer paso para garantizar su comodidad en la jubilación. Si después de considerar todos estos factores usted está curioso en cuanto a sus opciones, ¡póngase en contacto con un profesional de bienes raíces que pueda evaluar su habilidad para vender su casa en el mercado actual y llevarlo a la casa para la jubilación de sus sueños!
---
We believe every family should feel confident when buying & selling a home. KCM helps real estate professionals reach these families & enables the agent to simply & effectively explain a complex housing market. Take a 14-Day Free Trial of our monthly membership to see how we can help you!
---
https://files.keepingcurrentmatters.com/wp-content/uploads/2018/03/09135718/20180314-Share-STM.jpg
410
750
The KCM Crew
https://www.keepingcurrentmatters.com/wp-content/uploads/2017/01/KCMBannerNoWebsiteDarkLarge.png
The KCM Crew
2018-03-14 06:30:54
2018-03-14 18:01:15
7 factores que considerar al elegir una casa para jubilarse