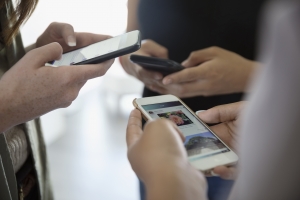 There's no question Instagram is one of the hottest (if not the hottest) social media platforms today. And if you're looking to work with Millennials or compete with the Millennial agents out there, you HAVE to be active on Instagram.
But what are you supposed to post? How often should you post? Is it the same stuff you post on Facebook?
And how in the world are you supposed to squeeze in time to figure out yet another social media platform? If you're like most agents we work with at KCM, you have a million of things on your plate, and it's hard to find time to eat lunch each day, much less figure out what to post on Instagram.
We're here to make it easy for you.
In this article, you'll get 18 samples of super easy Instagram posts you can implement that are also simple to replicate in various ways to quickly fill your feed. You'll also find quick access to tons of images and videos you can share to your page immediately, and we'll show you how to stay active on Instagram without it derailing your entire day or taking up hours on end each week.
Experts recommend posting once or twice each day on your feed and another one to three times on your stories. This article focuses specifically on the feed, but you could also use any of the ideas as stories.
Similar to your overall marketing strategy, the key to posting regularly on Instagram is having a plan. And your plan can be as simple as this:
Decide five types of posts you can share to Instagram on a regular basis.
Create three or four templates of each type of post.
Post, schedule, rinse, and repeat
Let's break this down in more detail.
There are so many things you could post to Instagrams. The options are truly endless. But what do people do when they have too many options? Nothing. And what do people post when they could post anything? Nothing.
Here's a quick list of things you could post. Choose up to five that you feel you'll be able to post about regularly (no less than three):
Listings
Quotes
Market
Updates
Local Community
Personal Life
Holidays
Open Houses
Testimonials
Common questions/objections
Buying/Selling Tips/Process
For the purposes of this article, we're going choose these five types of posts from the list above: Listings, Quotes, Market Updates, Local Community, & Personal Life.
If you follow the best practice of posting once or twice each day, you need 7-14 posts each week.
If we then create three templates for each type of post, you'll have 15 templates to fill your week. (And if you can create four templates for each, you give yourself a total of 20 post templates to choose from.)
When we're done, you'll be able to easily fill up to 3 weeks worth of Instagram posts in just a few minutes each day! It's amazing how simple this can be – you just need a plan and a process.
Let's go through the sample templates for our five post types:
We'll start with the obvious one – listings. Instagram can be a channel for actively promoting your listings to get them sold, and also a tool for showing your audience that you're active in the market (reminding them you're in real estate).
LISTING PHOTOS
If you have active listings, this one is super easy. Pick some highlight photos (it can be just one photo or a gallery, it doesn't really matter), and share them. It really is that easy. Or better yet, share a preview of an upcoming listing before it hits the MLS.
VIDEO TOUR
If you have time, you can share a quick video tour of a listing. You don't have to walk through the entire house to make this work. Just do a brief intro, show off the outside or a couple rooms inside, and that's it. The idea of a video tour is it's a teaser to drum up interest, not showcase the entire house.
CLOSING TIME
Maybe you've already promoted your active listings, but you have a closing coming up. Snap a pic of the happy sellers, or even ask them to record a quick video with you talking about how they enjoying having you sell their house. Mixing in posts of your actual clients (you know, real people) can help your audience connect with you better than photos of houses.
NO LISTINGS? NO PROBLEM
Maybe you're a new agent or maybe you're in a slow spell, but if you don't have any listings, you can still use this type of post. Find an agent in your office who will let you promote their listing (with permission to use their photos and credit to them as the listing agent, of course).
Buyers and sellers want to work with an agent who is an authority on the housing market. You want to establish yourself as the "go-to" agent in your market by keeping your audience up to speed on market conditions. These can be local market updates or broader macroeconomic trends like you get from the KCM Blog.
INFOGRAPHIC OR CHART/GRAPHIC
KCM creates new infographics that are released every Friday.
ON-CAMERA VIDEO
Take the highlights from any of our daily blog posts each week and record a video of yourself covering the basics. This is super easy (you don't have to figure out what to say, just summarize the post) and also gives you the opportunity to add a local spin to the information.
KCM VIDEO
Most KCM videos meet the :60 second criteria Instagram has for videos (at least on your feed, the limit for stories is only :15 seconds). Since the videos are already done for you and personalized with your information out of the box, they're super easy to share. Mixing in a video every week or two gives you a quick and easy post that provides a ton of value to your audience and positions you as an authority on the housing market.
Instagram differs from Facebook in that it's less used as a news source and more frequently used for inspiration. You can provide a source of happiness and motivation by sharing some simple quotes every once in awhile. Some may relate to housing or home life, others may be purely personal. Either way, quotes offer a great opportunity to position yourself as a helpful advisor.
BASIC GRAPHIC
You can create simple quote graphics using a tool like Canva (they even have pre-made templates you can leverage). Just Google "inspirational quotes" and you'll find plenty of lists of famous quotes to choose from. Or you can repost quotes from inspirational Instagram accounts like Elevate Your Mindset or Mindset of Greatness (with credit obviously).
PHOTO BACKGROUND
You can also make beautiful quote images with photo backgrounds using Canva.
SIGNAGE
A creative (and easy) way to incorporate quotes into your Instagram feed is use pictures of real life signs. Find a local shop, or an Etsy store, and share images of their designs that you find inspiring (with credit).
The buying or selling process may be so ingrained in you that you could do it in your sleep, but your prospects and clients usually only go through it every 5-10 years. Instagram is the perfect place to share little tips and tricks to help buyer and sellers who are either actively in the market or thinking about jumping into the market soon. These can be one off, quick hitting thoughts or high level overviews of a process.
KCM VIDEO
In addition to covering market updates as mentioned above, KCM videos often go over quick buying or selling tips, such as '3 Things You'll Need to Get a Home Loan.' It doesn't get any easier than sharing one of these videos.
INFOGRAPHICS
We all know showing is better than telling, so infographics are a great option for conveying buying and selling tips. KCM produces many infographics on tips around the home loan process, staging (or not staging) your house, preparing your home for sale, etc.
ON-CAMERA VIDEO
Similar to the approach on market updates, you can record a quick video with a buying or selling tip based on a daily blog post. Just cover the highlights from the post in your video and you'll provide a ton of value to your audience without a lot of effort.
We don't want to be ALL business ALL the time on Instagram. We want to be human, too. Instagram works best with one account you share across personal and business so it's easy to mix in a few personal posts to keep your feed relatable and offer opportunities to connect with friends and family.
KIDS & PETS
Everyone loves seeing behind-the-scenes action or bloopers in movies, right? Think of sharing posts with your kids or pets as giving your audience a peek behind the curtain into your life so they can get to know you even better. Connecting with others around kids and pets creates an emotional bond that will also help you build trust.
OUT & ABOUT
What are you doing when you're not out selling houses? Introduce your audience to this side of you. Maybe you're trying a new restaurant in town or attending a holiday parade. Whatever it is, share an update about what you're up to!
MILESTONES & BIG EVENTS
Do you have any family birthdays, anniversaries,  or big trips coming up? Share your excitement and celebrate these life milestones/events with your followers!
POST
Make your first post today. Don't overthink your caption or your hashtags. Just pick one of the ideas above, and just get it out there. You'll feel so much better once you just get started. As you get into a rhythm, you can look to improve the details of your posts.
SCHEDULE
Decide what your next two or three posts are going to be, and schedule those or put it on your calendar to post them tomorrow and the next day. You can use a tool like Hootsuite to schedule them automatically to make sure you don't get too busy or forget (we've all been there!). Or here's a list of 6 tools that let you post to Instagram from your desktop computer and schedule posts in advance.
RINSE & REPEAT
If you mix up the same 15 post templates in varying order and frequency, your Instagram feed will feel fresh, authentic, and engaging. And you'll have a solid system in place for staying active every day without reinventing the wheel every time you need a new post.
When you know the basics of what you're going to post and you just have to fill in one of your templates, it should take you no more than 5 minutes a day to create your post.
---
Bottom Line
Instagram is definitely a platform you need to be on right now, but you don't have to overthink it. Just remember, something is better than nothing (unless that something is really bad photos or corny jokes, then you're better off with nothing!).
If you're just getting started with Instagram, here are some quick tips on setting up your account, using hashtags, and other nuanced best practices for the platform.
You can leverage tons of materials from the KCM Membership to fill your Instagram feed and fill in the rest with information you have readily available to you (like listing photos, your personal life, or a quick search on Google for some quotes).