The #1 Way to Grow Your Real Estate Instagram Following
If you're new to Instagram, you've probably figured out one thing: it is a completely different beast than other social media platforms.
What works on Facebook or Twitter doesn't necessarily translate to success on the image-based app. A strategy can be hard to create, especially for real estate agents starting from scratch.
The biggest puzzle, however, is growing a following that not only looks impressive but results in clients.
Luckily, there's one very simple solution to this. Enter, hashtags.
With these tips, you'll be growing your following faster than you can type #. Here's how to do it.
Before we get started, let's walk through what those funny little symbols actually are.
A hashtag is a way to categorize relevant keywords and phrases that people can follow. Therefore, if you have an interest in gardening, you can look up #gardening, follow and get posts related to that in your feed every day.
The reason this becomes helpful for growing a following is because, for example, if you created a caption and used the #realestatemiami, anyone who follows that hashtag would be able to see your post.
Hashtags are a powerful way to get your content in front of more eyes. The way Instagram is set up, only the people who follow you are able to see your posts. Hashtags, however, let this expand to whoever also follows the hashtags you use.
While not everyone who follows a hashtag will see your post, it increases the reach and can also increase your engagement, resulting in better performing posts and more followers.
Plus, you can use up to 30 per post (but 10-15 is best practice), so that reach can take you even further.
Now that we've covered what they are and why you use them, it's time to dive into how to use hashtags the right way that will increase your reach and grow your following.
A good rule of thumb is to include 1-2 hashtags in your post while posting the others in a comment on your post. This helps it look cleaner and less like spam.
You can see what we mean in the example below.
For the hashtags that you put in your post, you should always include your real estate business name. You can also include another topical one. For instance, if your post is a new listing, you could do #justlisted. Pretty simple, right?
What Real Estate Hashtags Should I Use?
Now for the fun part. The hashtags you use can be a powerful ally in your strategy for growing your followers. However, it's important to make sure you're growing a following that also helps to grow your business. To do this, it's important to use the right hashtags.
So, if you're a real estate agent in, say, Los Angeles, some popular options to include with your posts could be:
#losangelesrealestate
#larealestate
#justlistedlosangeles
#losangeles
#losangelesrealty
#larealty
#losangelesrealtor
You can also use tools like Later to help you pick which hashtags to include in your posts. Keep testing until you find a good strategy that works.
Let's take a look at the below post for a great example from an agent:
Growing your real estate Instagram following can be a long process, but hashtags offer an easy solution.
By tapping into the power of this simple strategy, you can expand your reach, increase engagement, and gain a solid following quickly.
Remember, the more you post, the faster your followers will grow. The faster your followers grow, the better chance you have of increasing your client base.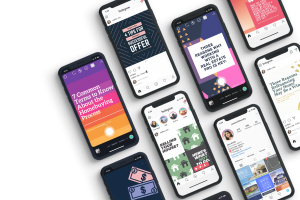 If you're looking for a simple way to increase your posting frequency with graphics that not only look great but educate, KCM content offers an easy way to own your Instagram strategy.
Share charts, graphs, quotes, and more that position you as the trusted real estate advisor and earn the trust of your clients. Plus, with suggested hashtags and captions, your Instagram strategy just got a whole lot simpler.