5 Ways to Crush it on Instagram
&

Bring in Quality Real Estate Leads
As more buyers and sellers take to the internet for their search for the perfect home and real estate agent, a strong social media presence has gone from a nice-have to a must-have.
Instagram is by far one of the biggest areas an agent can do this. The visual-based platform means that it's an agent's best friend when it comes to attracting new clients.
And if you follow these steps, you'll be crushing it on Instagram in no time (and getting some business too).
Is Instagram Worth It for Real Estate Agents?
We get it. On top of the million other tasks on your to-do list, posting on Instagram probably seems like a pretty low priority.
However, data doesn't lie. At 52%, social media reigns as the top lead-generation tech tool used by agents, followed by a CRM (31%) and MLS site (28%) according to a realtor.com survey.
On top of that, only 52% of agents in the U.S. use Instagram for their business. So, if you're looking for a way to gain an edge over your competition, you just found a big one.
Plus, with 97% of all home buyers using the internet in their home search, you know that on top of checking the top real estate apps, they're also checking our social media.
How Real Estate Agents Can Create a Strategy for Success on Instagram
So, we've established why you need an Instagram as part of your marketing plan. Now, let's dive into how to use it to get more business.
These are the 5 biggest ways you can crush it on Instagram and bring in quality real estate leads.
Create an agent-focused profile
The first thing someone sees when they go to your Instagram page is your profile. That makes it one of, if not the, most important part of your strategy.
This is because it not only establishes what you do, but who you are.
Here are some tips on how to build one that will keep someone scrolling:
Choose a name with "real estate," "realtor," or "realty". This seems like a no-brainer but you'd be amazed how many agents make this mistake. This will make it easier for people to find you/confirm it's actually you.
Make sure you include your location. This could be as simple as just saying "Real estate agent located in Lubbock, TX. Let me help you sell your home!" You can also use the "location" emoji or some other sort of visual that describes where you are (see below for inspiration).
Write a brief but bold bio. And don't be afraid to show off your personality! Remember, you are your brand. Your personal assets are sometimes just as important as your professional ones.
Pick the right profile picture. Stale headshots and blurry photos will do more harm than good. Use a photo that shows you're professional but also approachable.
Now that you've got your profile set up, it's time to start posting.
But before you start filling your feed, there are a couple of rules to live by if you want to get the most out of your posting.
DON'T ONLY POST LISTINGS. Instagram is meant to sell you, not just your homes. While you should be updating your followers on "coming soons" and "just listeds," it's not the only thing you should be posting.
If you do post listings, make sure the photos are top-notch. When in doubt, wait for those professional listing photos. Even the most beautiful home can look shotty with the wrong camera, lighting, etc.
Educate your audience. Posting local and national insights is a great way to prove you're a trusted, market expert that knows what's up.
Don't be afraid to get personal. Instagram is a great place to mix up your professional posts with personal ones. Sharing a pic of graduation, family holiday, special occasion or gathering with friends is a great way to show off "the real you" not just the real estate agent you.
Stay Switzerland. Whether it's your feed or your Stories, stay away from anything controversial, political, or opinionated (unless it's marble versus quartz countertops).
Want to know the #1 way to grow your Instagram following? If you said hashtag, you're right. Those simple little symbols can make a world of different when it comes to growing your followers and getting your content in front of the right people.
Here are some easy ways to optimize your hashtag strategy.
Go local. Pulling in the name of your city or territory name will help get your posts in front of the right eyes. For example, #chicagorealestate #chicagorealtor #buysellchicago
Mix it up. Same with caption lengths, mixing up hashtags will give you a good idea of which ones are working and which ones to ditch.
Don't copy & paste. Algorithms don't take too kindly if you copy and paste the same 10 hashtags to your post. Make sure to always put them in manually, no matter how tedious it might seem.
For a more in-depth guide to using hashtags, check out "The #1 Way to Grow Your Social Media Following".
Here's a fun fact: In 2021, 9 out of 10 viewers said that they wanted to see more videos from brands and businesses. Here's another one: 85% of buyers and sellers want to work with an agent who uses video. In fact, there are so many reasons real estate should be creating videos it's hard to keep track of all of them.
But we're not just talking about listing videos. And no, you don't need to buy a drone. All you need is a cell phone, a script, and some on-camera confidence.
Learn how to create easy real estate videos each week with this tutorial. Plus, get easy tips to optimize your mobile video production by watching the video below.
Instagram may be intimidating at first, but it's not as hard as it seems. Once you get into a rhythm, you'll be crushing it on Instagram in no time.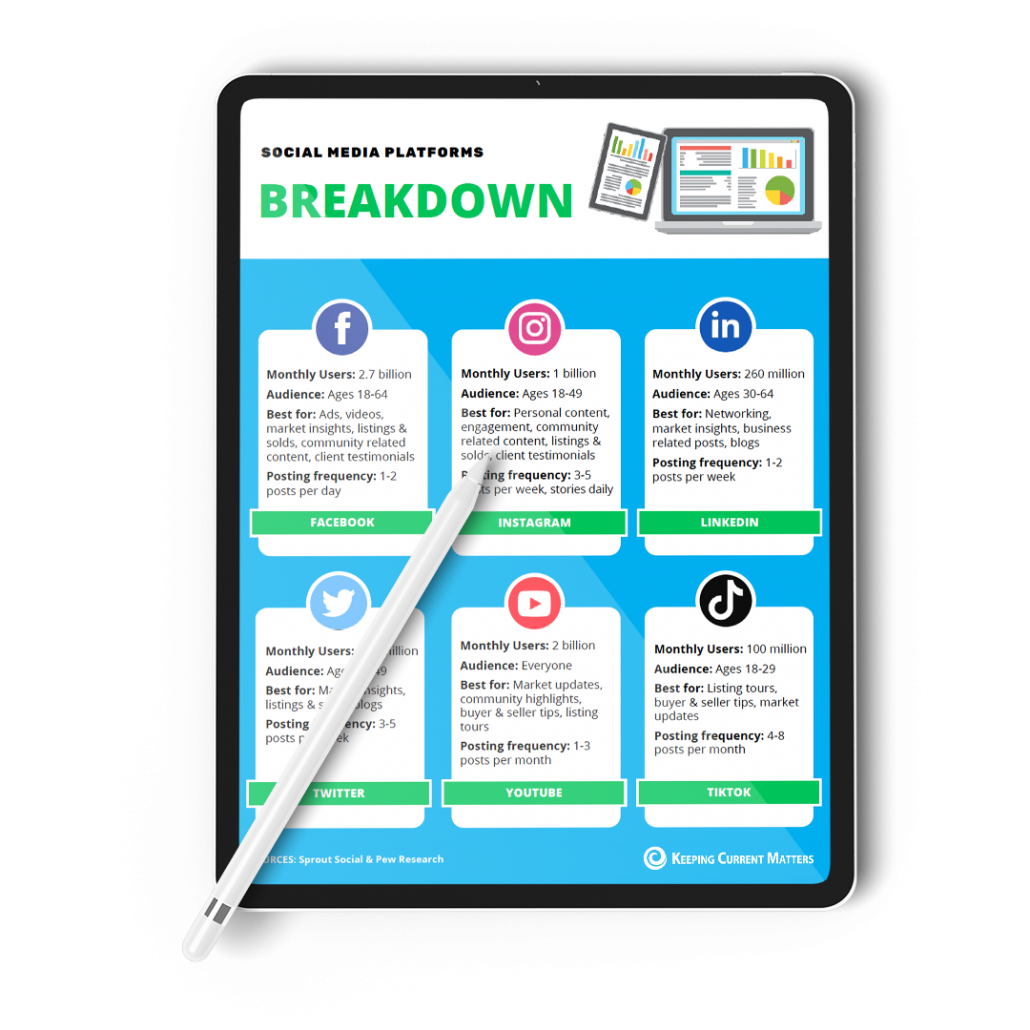 Like most things marketing, all you need is a bit of persistence and patience. The rest will do the work for you.
Looking to take your strategy to the next level?
Download our FREE eGuide, "The Ultimate Guide to Social Media for Real Estate Agents." In it, you'll learn about simple tips and tricks to grow your social media presence, boost your brand and turn likes into listings. Get your copy today.