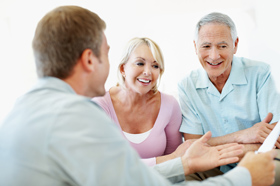 Today we are happy to have Nikki Buckelew back as our guest blogger. Nikki is the Founder and CEO of the Seniors Real Estate Institute. – The KCM Crew
Expanding into the seniors real estate niche: Good business sense for teams
More and more real estate teams – both small and large – are beginning to consider the idea of expanding into the seniors real estate market. Unlike most solo-agents, teams typically have administrative support, consistent marketing campaigns, established branding, and diversity within their team members. This foundational structure can potentially provide the basis for a highly successful seniors real estate division when approached correctly.
What exactly does "correctly" look like?
Naturally, what I am about to share is a matter of opinion and certainly open to scrutiny, however, as a seniors real estate professional, coach, broker, manager, and trainer, I have seen a lot of agents over the past 20 years attempt to master the mature market (75+ segment) and have observed certain key elements that have ultimately lead to either extreme successes or failures.
So, before you hastily rush to post comments to counter any of the points I share below, remember that there are exceptions to every rule and that everyone has a different definition of success. Mine is only one, and since this happens to be my blog post, here goes.
A definition of "success" as it relates to teams serving the seniors real estate market.
Successful seniors real estate teams are those who:
Capture a significant percentage of sales involving downsizing seniors in their market.
Receive a steady stream of mature home buyer and seller referrals from their sphere of influence, aging services providers, senior living communities, and online sources.
Have achieved brand recognition in their market as the icon for seniors real estate (a.k.a. the go-to real estate agent and/or team for seniors real estate).
Are featured regularly by local media sources as reputable real estate agents and community minded advocates for seniors in their city or town.
Attract business opportunities from various influential organizations and leaders who want to better prepare for the Senior Tsunami.
It doesn't happen by accident.
Teams who reach this level of success don't do so without employing an intentional plan of action and a variety of long-term systematic strategies.
The top 10 strategies of successful teams:
Employ a key team member having undergone advanced training and who serves as the point of contact for downsizing senior adult clients.
Conduct ongoing team education concerning the issues facing the older segment, family members, and caregivers – including effective communication skills.
Make necessary modifications of typical real estate systems to address any special needs of older adult clients such as showing policies, paperless contracts and e-signing, home staging, and closing procedures.
Offer concierge services available to older adult clients beyond those included with traditional real estate services.
Collaborate with vetted subject-matter experts and contractors providing non-real estate related specialized services.
Achieve mastery of the local 55+ housing market and retirement community options — both for sale and for lease.
Are involved in networking and activities within the larger aging services community — adding value and volunteering for non-real estate related activities.
Provide community education related to the concerns facing today's seniors and their families.
Create a consistent online presence by sharing relevant web and blog content related to aging and senior housing issues.
Gain media attention through regular news releases and/or advertising.
While these top ten strategies, when effectively employed, may lead to a certain level of success in seniors' real estate, there is one additional key component necessary for those who seek to sustain lasting market share within this segment.
This final ingredient is one that can't be taught in any training program, yet it is the most critical component required for long-term success working within the mature market segment.
It is what sets the average apart from the extraordinary and the short-lived from the life-long.
Motivation
Teams where the leader/rainmaker and the team members share a true passion and appreciation for older adults and their challenges — including the willingness to maintain the fiduciary role, placing the elder's best interests above all else — will rise to the top of the market as agent icons in seniors real estate.
It is these teams (team members) who will change lives, make a positive difference in their communities, and ultimately leave lasting legacies affecting future generations.
And that, my friends, is the definition of true success. 
---
https://files.keepingcurrentmatters.com/wp-content/uploads/2014/02/07192049/Agent-w-Senior-Couple.jpg
186
280
The KCM Crew
https://assets.keepingcurrentmatters.com/wp-content/uploads/2017/01/KCMBannerNoWebsiteDarkLarge.png
The KCM Crew
2014-02-13 07:00:44
2014-02-13 10:04:00
Real Estate Teams Jumping onto the Seniors Real Estate Bandwagon