A considerable number of potential buyers shy away from jumping into the real estate market due to their uncertainties about the buying process. A specific cause for concern tends to be mortgage qualification.
Chances are if you are renting you are spending too much of your income on your monthly housing expense. There is a long-standing 'rule' that a household should not pay more than 28% of their income on their rent or mortgage payment. This percentage allows the household to save money for the future while comfortably covering other expenses.
With home prices on the rise and buyer demand still strong, some sellers may be tempted to try and sell their homes on their own without using the services of a real estate professional.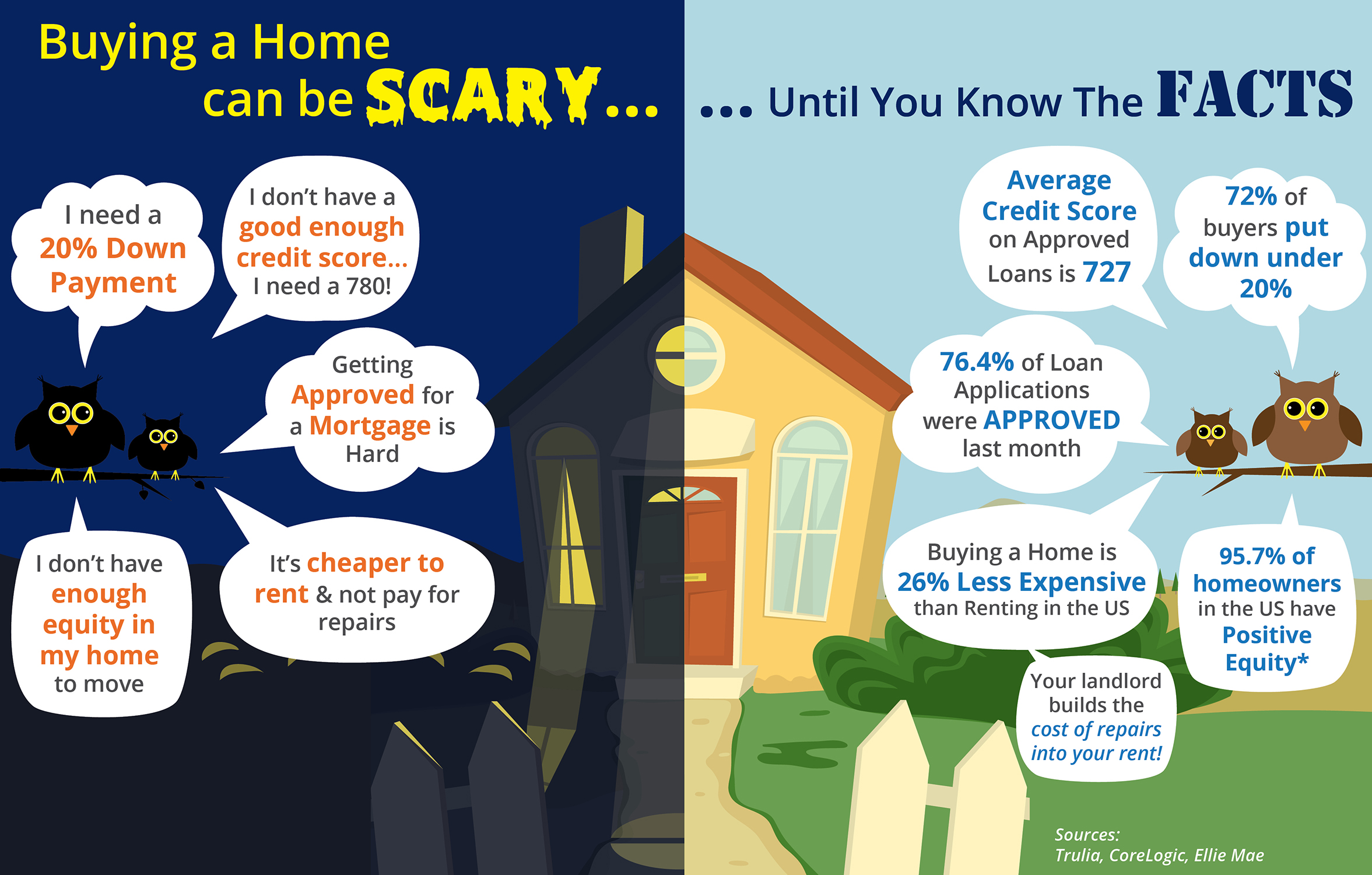 Some Highlights
Many potential homebuyers believe that they need a 20% down payment and a 780 FICO® score to qualify to buy a home which stops many of them from even trying! Here are some facts:
72% of buyers who purchased homes this year have put down less than 20%.
76.4% of loan applications were approved last month.
The average credit score of approved loans was 727 in September.
There are many questions about where home prices will be next year as well as where they may be headed over the next several years to come. We have gathered the most reliable sources to help answer these questions: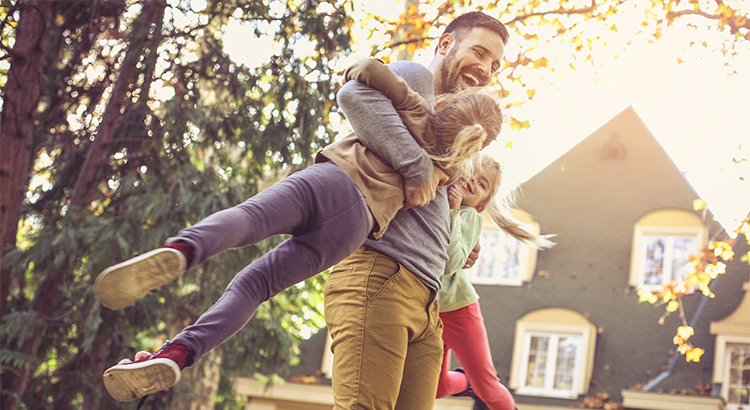 According to a new study from Urban Institute, there are over 19 million millennials in 31 cities who are not only ready and willing to become homeowners, but are able to as well!
Lately, there have been many headlines circulating about whether or not there is an "affordability issue forming in the housing market."
There are many unsubstantiated theories about what is happening with home prices. From those who are worried that prices are falling (data shows this is untrue), to those who are concerned that prices are again approaching boom peaks because of "irrational exuberance" (this is also untrue as prices are not at peak levels when they are adjusted for inflation), there seems to be no shortage of opinion.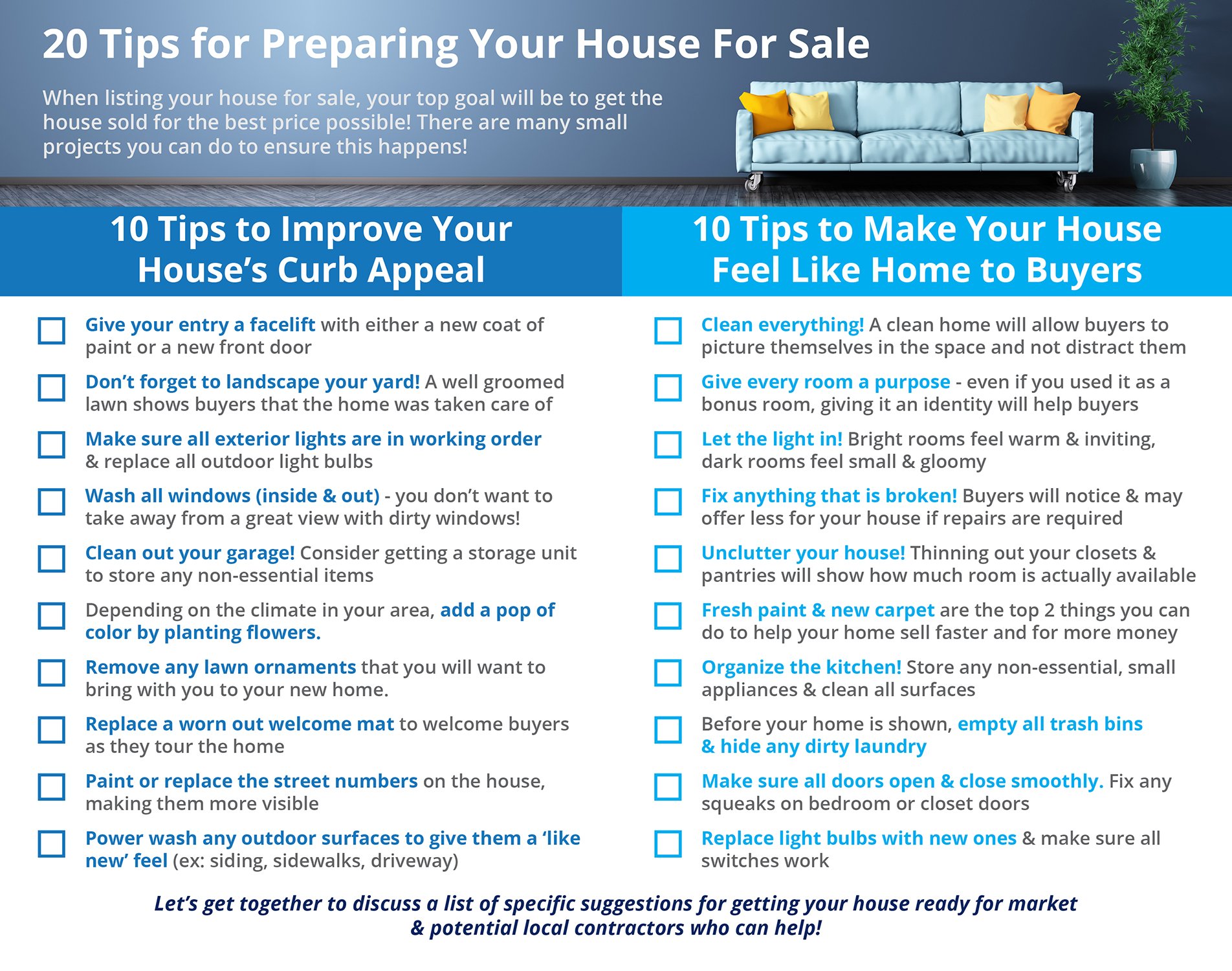 Some Highlights
When listing your house for sale, your top goal will be to get the home sold for the best price possible!
There are many small projects that you can do to ensure this happens!
Let's get together to discuss a list of specific suggestions for getting your house ready for market & potential local contractors who can help!
In a recent article, National Housing Inventory Crisis Reaches Inflection Point, realtor.com reported that:
New listings jumped 8% year-over-year nationally, the largest increase since 2013
Total listings in the 45 largest markets are now up 6% on average over last year
In today's real estate market, with low inventory dominating the conversation in many areas of the country, it can often be frustrating to be a first-time homebuyer if you aren't prepared.
For a while now baby boomers have been blamed for a portion of the housing market's current lack of housing inventory, but should they really be getting the blame?
In many markets across the country, the number of buyers searching for their dream homes outnumbers the number of homes for sale. This has led to a competitive marketplace where buyers often need to stand out. One way to show you are serious about buying your dream home is to get pre-qualified or pre-approved for a mortgage before starting your search.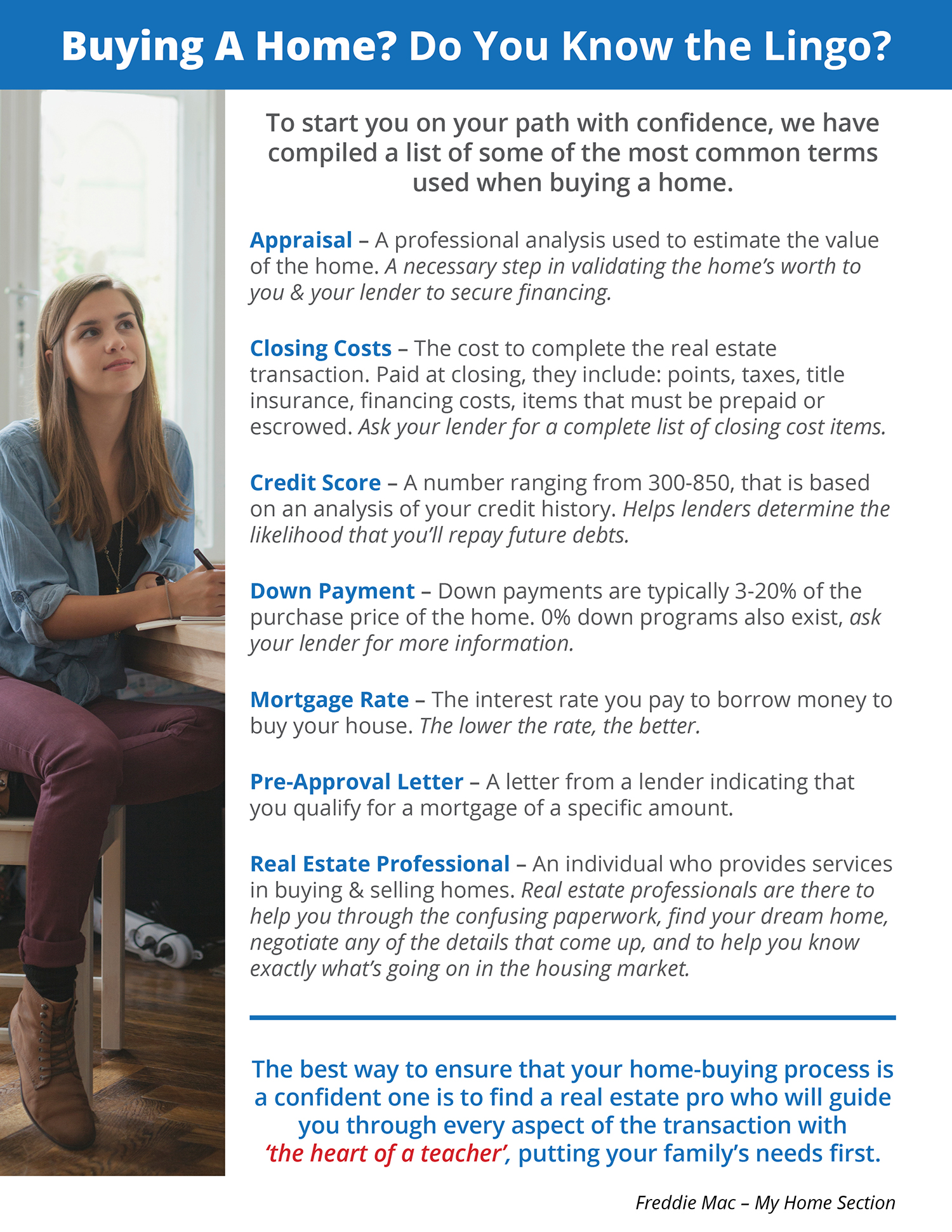 Some Highlights
Buying a home can be intimidating if you are not familiar with the terms used during the process.
To start you on your path with confidence, we have compiled a list of some of the most common terms used when buying a home.
The best way to ensure that your home-buying process is a confident one is to find a real estate professional who not only puts your family's needs first, but will guide you through every aspect of the transaction with 'the heart of a teacher.'
We have all seen the headlines that report that buying a home is less affordable today than it was at any other time in the last ten years, and those headlines are accurate. But, have you ever wondered why the headlines don't say the last 25 years, the last 20 years, or even the last 11 years?
According to the latest New Residential Sales Report from the Census Bureau, new construction sales in August were up 3.5% from July and 12.7% from last year! This marks the second consecutive month with double-digit year-over-year growth (12.8% in July).
According to CoreLogic's latest Home Price Insights Report, national home prices in August were up 5.5% from August 2017. This marks the first time since June 2016 that home prices did not appreciate by at least 6.0% year-over-year. CoreLogic's Chief Economist Frank Nothaft gave some insight into this change,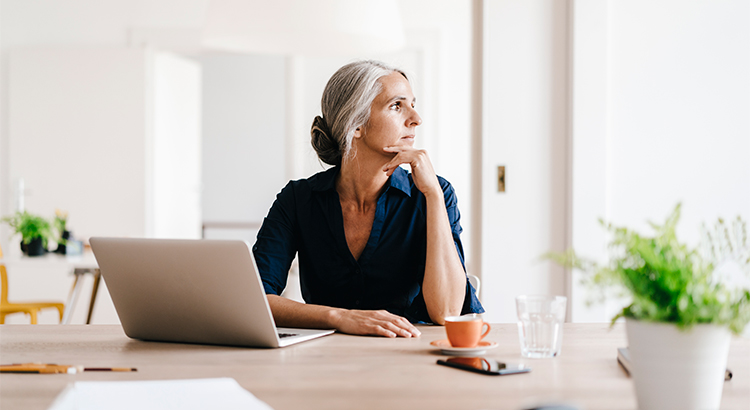 Owning a home has great financial benefits, yet many continue to rent! Today, let's look at the financial reasons why owning a home of your own has been a part of the American Dream for the entirety of America's existence.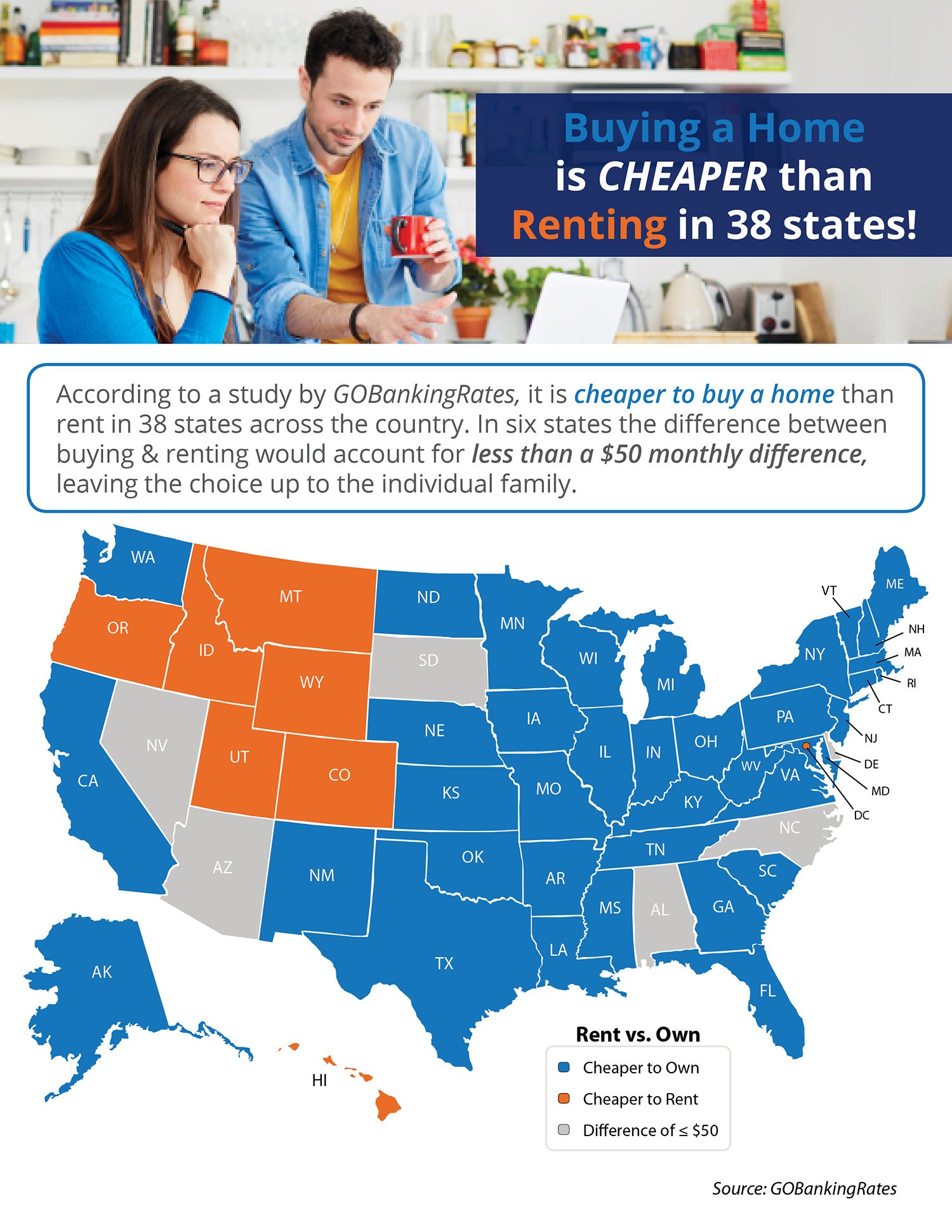 Some Highlights
According to a study by GOBankingRates, it is cheaper to buy a home than rent in 38 states across the country.
In six states the difference between buying & renting would account for less than a $50 monthly difference, leaving the choice up to the individual family.
Nationwide, it is now 26.3% cheaper to buy.
Home sales are below last year's levels, home values are appreciating at a slower pace, and there are reports showing purchasing demand softening. This has some thinking we may be entering a buyers' market after sellers have had the upper hand for the past several years. Is this really happening?
When it comes to buying or selling a home there are many factors you should consider. Where you want to live, why you want to buy or sell, and who will help you along your journey are just some of those factors. When it comes to today's real estate market, though, the top two factors to consider are what's happening with interest rates & inventory.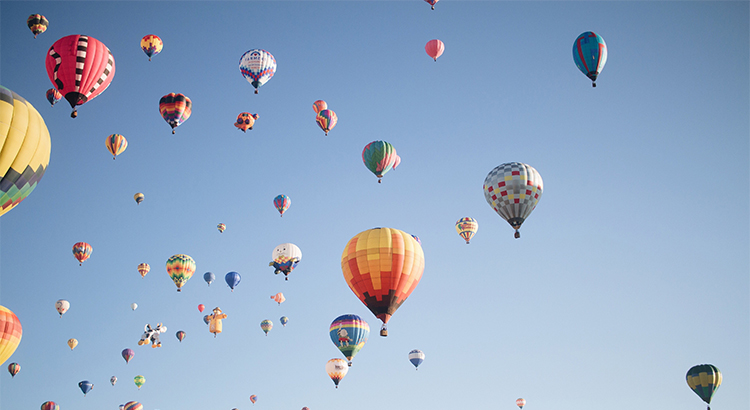 Mortgage interest rates, as reported by Freddie Mac, have increased by close to a quarter of a percent over the last several weeks. Freddie Mac, Fannie Mae, the Mortgage Bankers Association, and the National Association of Realtors are all calling for mortgage rates to rise another quarter of a percent by next year.
The price of any item is determined by the supply of that item, as well as the market's demand for it. The National Association of REALTORS (NAR) surveys "over 50,000 real estate practitioners about their expectations for home sales, prices and market conditions" for their monthly REALTORS Confidence Index.