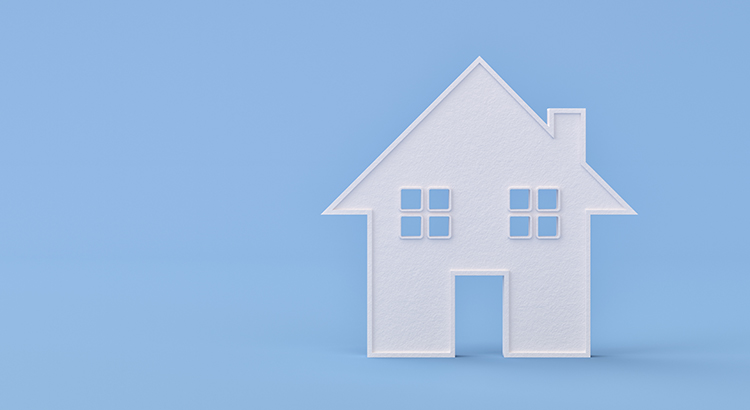 If you're thinking of buying a home, chances are you're paying attention to just about everything you hear about the housing market. And you're getting your information from a variety of channels: the news, social media, your real estate agent, conversations with friends and loved ones, overhearing someone chatting at the local supermarket, the list goes on and on. Most likely, home prices and mortgage rates are coming up a lot.
To help cut through the noise and give you the information you need most, take a look at what the data says. Here are the top two questions you need to ask yourself about home prices and mortgage rates as you make your decision:
1. Where Do I Think Home Prices Are Heading?
One reliable place you can turn to for that information is the Home Price Expectation Survey from Pulsenomics – a survey of a national panel of over one hundred economists, real estate experts, and investment and market strategists.
According to the latest release, the experts surveyed are projecting slight depreciation this year (see the red in the graph below). But here's the context you need most. The worst home price declines are already behind us, and prices are actually appreciating again in many markets. Not to mention, the small 0.37% depreciation HPES is showing for 2023 is far from the crash some people originally said would happen.
Now, let's look to the future. The green in the graph below shows prices have turned a corner and are expected to appreciate in 2024 and beyond. After this year, the HPES is forecasting home price appreciation returning to more normal levels for the next several years.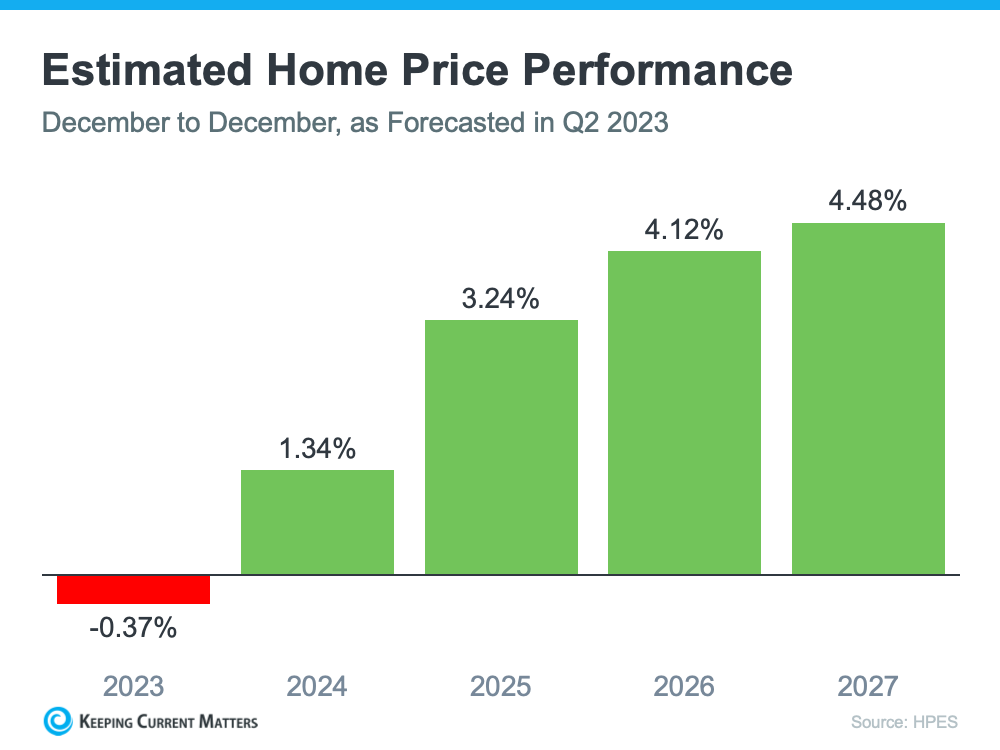 So, why does this matter to you? It means your home will likely grow in value and you should gain home equity in the years ahead, but only if you buy now. If you wait, based on these forecasts, the home will only cost you more later on.
2. Where Do I Think Mortgage Rates Are Heading?
Over the past year, mortgage rates have risen in response to economic uncertainty, inflation, and more. We know based on the latest reports that inflation, while still high, has moderated from its peak. This is an encouraging sign for the market and for mortgage rates. Here's why.
When inflation cools, mortgage rates generally fall in response. This may be why some experts are saying mortgage rates will pull back slightly over the next few quarters and settle somewhere around roughly 5.5 and 6% on average.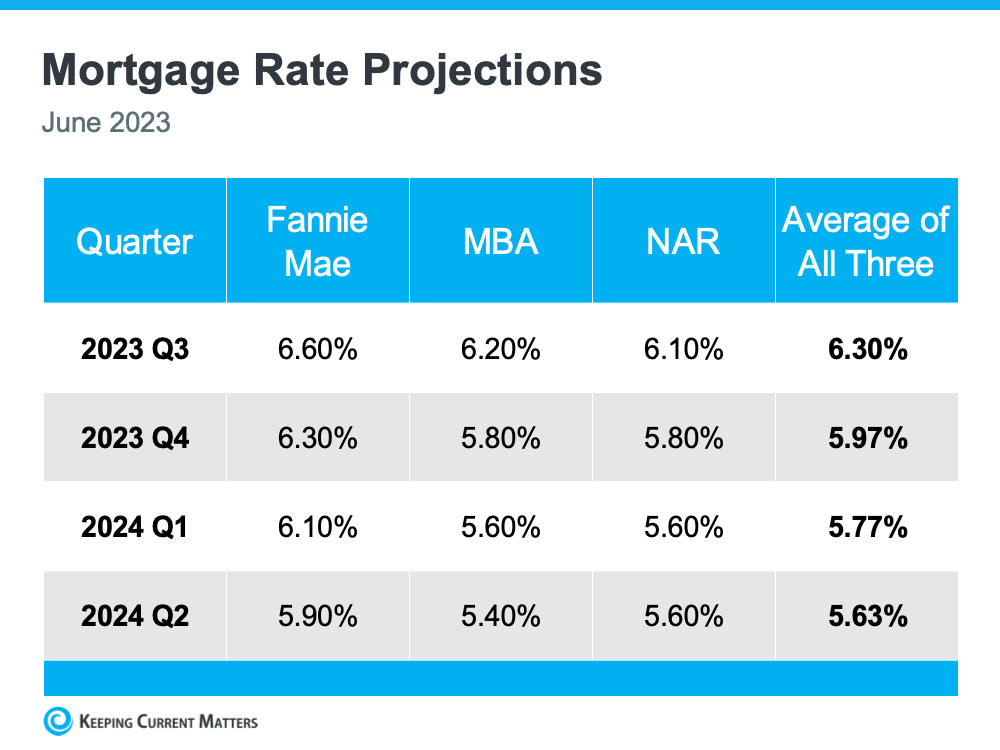 But, not even the experts can say with absolute certainty where mortgage rates will be next year, or even next month. That's because there are so many factors that can impact what happens. So, to give you a lens into the various possible outcomes, here's what you should consider:
If you buy now and mortgage rates don't change: You made a good move since home prices are projected to grow with time, so at least you beat rising prices.
If you buy now and mortgage rates fall (as projected): You probably still made a good decision because you got the house before home prices appreciated more. And, you can always refinance your home later on if rates are lower.
If you buy now and mortgage rates rise: If this happens, you made a great decision because you bought before both the price of the home and the mortgage rate went up.
Bottom Line
If you're thinking about buying a home, you need to know what's expected with home prices and mortgage rates. While no one can say for certain where they'll go, expert projections can give you powerful information to keep you informed. Lean on a trusted real estate professional who can add in an expert opinion on your local market.
---
https://www.keepingcurrentmatters.com/wp-content/uploads/2023/01/KCMLogoFlatForDarkTM-300x39.png
0
0
https://www.keepingcurrentmatters.com/wp-content/uploads/2023/01/KCMLogoFlatForDarkTM-300x39.png