Ask the Agent:
How Are You Using Video in Your Business?
How do you make creating videos a priority?
What types of videos should I make?
We sat down with some heavy hitters at BoomTown! Unite in Charleston, SC and asked them, "How are you using video in your business?"
Featured Guests
Kyle Whissel, #1 agent in San Diego County the last 4 years
Doug Edrington, CEO of Berkshire Hathaway HomeServices J Douglas Properties
Treasure Davis, leads the #1 team for RE/MAX in Colorado the last 2 years
Video is the content your audience is looking for

Our audience, and the general public, are consuming a massive amount of video. With billions of video views every day, as Kyle notes, your clients are used to consuming content in this format and have begun to expect it!.

Here are some statistics about the use of video in real estate from Inman:

– 90% of customers say video helps them make buying decisions
– 85% of buyers and sellers want to work with an agent who uses video
– Video marketers get 66% more qualified leads per year

Craft your message to your audience

Agents are agents – not TV personalities. Doug talks about empowering his team of agents with the equipment, expertise, and coaching they need to tackle creating the right content for their audience.

You don't need to be everything to everyone. Know your audience and make it all about them – focus on what their interests are and what questions they have.

Kyle speaks to how using video to educate clients up front helps you in the long run by saving the time for in-depth explanations – since your videos have already simply and effectively explained the basics of the buying and selling process.

There are many different ways that you can categorize your content. One way is how Treasure Davis breaks down her content – Tips for Sellers, Tips for Buyers, Tips for Agents, and personal brand materials. You can learn more of about that on our recent Facebook Live with her here.

Having her content broken down in this way helps her easily find the right piece of content for each of her clients at the exact time they need it!

Vary your types of videos

Treasure's team focuses on creating different videos for different platforms (ex: Facebook, Instagram) to ensure there's a variety of both content and channels to meet the customer's specific needs.

If the idea of creating your own videos for your marketing and outreach seems daunting, give KCM Personalized Videos a try! We research what's happening in the housing market then compile the most important insights into 60-90 second videos for you to share with your prospects & clients.

Know what metrics to focus on

It's not just about the likes. As Kyle illustrates, shares and comments on your posts show another level of engagement and are the truly impactful metrics to track.

Be sure to respond to these viewers by replying to thank them or ask them a follow-up question. This will develop deeper connections and foster relationships with new clients.
Bottom Line
Consumers are looking for videos that will educate them and help them make decisions. This makes video the most effective tool you can use to nurture your leads. Harness the power of video to increase audience engagement and drive results.
If you've been waiting to use video in your real estate marketing, now's the time. Regardless of your experience and technical abilities, our 5 Keys to Start Creating Real Estate Videos Today eGuide will help you start creating videos that educate, motivate, and build trust with your prospects and clients.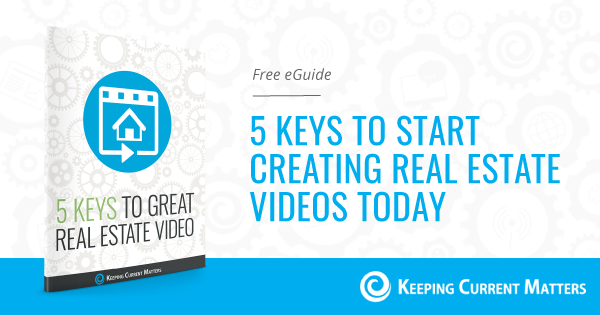 Further Reading