Top 5 Myths About Real Estate Video Marketing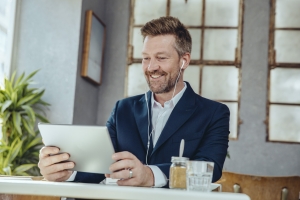 Video is a unique opportunity for you to educate and build trust with buyers and sellers, build your brand, generate leads — and grow your business.
A single minute of video content is estimated to be the equivalent of 1.8 million words. Plus, homes listed with video get four times the inquiries, and 90% of customers today say video helps them make buying decisions.
Many real estate professionals know that incorporating video in to their marketing should be their next step, but don't know where to start.
Today we're going to bust the most common myths about real estate video marketing.
1. I don't have enough time to make videos for my marketing!
Just like anything new, video can take a little time to learn how to do properly. Our advice: start small! Record yourself taking a tour of your newest listing while narrating it for your audience. If the whole house would take too long, or you're too nervous, just narrate one room! Show off the cool farm sink in the kitchen, or that perfect man cave!
Practice makes perfect, but you have to start somewhere… and perfect doesn't have to be the goal either! Think back to the last thing you learned, and how difficult and time consuming it seemed… but now you're a master at it, and it takes no time at all!
If you're looking for a way to incorporate video into your business without the learning curve, there are services available to help, that can be implemented in a matter of minutes!
Take KCM's latest feature, Personalized Videos! We release 4 videos a month and give you access to all of our previously released videos.
2. I Need to Spend $1,000's on Fancy Video Equipment
If your motto regarding video is Hollywood Production or Bust… then, yes, you'll need to spend some money to get a Hollywood quality product. But if you're just starting out with video and want to make a lasting impression without breaking the bank, look no further than your smart phone!
You can easily create videos, whether you star in them or not, with your smart phone.
If you want to kick it up a level, adding a tripod, a good-quality microphone (that works with your smart phone), and some video editing software is all you need.
The most important part of adding video to your marketing is having something to say to your audience, which leads us to our next myth.
3. I need to have Headline Worthy Topics, otherwise why try?
Having a headline worthy topic to cover in your videos is a great goal! But you don't always have to have breaking news in order to make great videos.
Your prospects, clients and audience is looking for information on buying and selling a home. They want to know how the market is in your area. They also need to know about milestones in the buying and selling process that may seem like second nature, but that they may have never encountered before.
If one of your clients asks you a question that you think more people would want to know the answer to, make it a video! You don't even have to star in your video, you could make a presentation in power point and add some music or a voiceover to it.
4. I've never been on camera before… don't I have to be ultra-suave & articulate?
If being on camera is scary to you, or you aren't comfortable with the idea, you do not have to star in your own videos!
There are very easy ways to create videos that educate your clients with charts and graphs. As long as your message is strong, and your video is visually interesting, your clients will appreciate your efforts.
That being said, practice makes perfect! Sometimes the biggest obstacle to any goal is the discomfort in pushing through. Practice what you want to say in the mirror when you're getting ready in the morning, or even in the shower… the more you practice your message the easier it will come to you once you are on camera or recording your voice.
The journey of 1,000 steps starts with one…
5. People don't care about what I have to say
The purpose of video marketing is to position yourself as a local expert who has their finger on the pulse of the real estate market, both nationally, and in your backyard.
If you believe what you're saying is important then position your video that way… Start by asking a question that you know the answer to, but that your prospects might be asking themselves, or may not even know to ask.
Here's an example:
Ask the question: What should your first step be if you want to buy a home this year?
Answer: Your first step when planning to buy a home should be getting pre-approved! Then go in to all the reasons that pre-approval will help with their home search. Then use a call to action at the end of the video to tell any watchers to reach out to you if they have any questions or want to know more!
Bottom Line
Adding video to your marketing may seem like a daunting task, especially if you believe these myths about how difficult it is! If you're interested in more information about best practices, and ideas about where to get started, download our free eGuide, 5 Keys to Start Creating Real Estate Videos Today!