There are many non-financial benefits of buying your own home. However, today's headlines seem to be focusing primarily on the financial aspects of homeownership – specifically affordability. Many articles are making the claim that it's not affordable to buy a home in today's market, but that isn't the case.
There's a common misconception that younger generations aren't interested in homeownership. Many people point to the fact that millennials put off purchasing their first home as a reason for this belief.
According to recent data from realtor.com, median rental prices have reached their highest point ever recorded in many areas across the country. The report found rents rose by 8.1% from the same time last year. As it notes:
For many young or first-time homebuyers, purchasing a home can feel intimidating. A recent survey shows some homebuyers ages 25 to 40 may be unsure about the homebuying process and what they can afford. It found:
Some Highlights
When you rent, you build your landlord's wealth, your monthly payment depends on ever-rising rents, and you don't benefit from home price appreciation.
On the other hand, when you own your home, you build your own wealth, your monthly payment is locked in, and you benefit directly from home price appreciation.
If you're feeling the challenges of a competitive market, remember that homeownership is a long-term game. Persevering today will lead to financial rewards in the future.
The real estate market is soaring today. Residential home values are rising, and that's a big win for homeowners. In 2020, there was a double-digit increase in home values – a trend that's expected to head toward similar levels this year.
Some Highlights
June is National Homeownership Month, and it's a great time to consider the benefits of owning your own home.
If you're thinking of buying a home, it might just help you find the stability, community, and comfort you've been searching for over the past year.
Let's connect today to determine if homeownership is the right next step for you.
Our homes are so much more than the houses we live in. For many, they've also become our workplaces, schools for our children, and safe harbors in which we've weathered the toughest moments of a global pandemic. Today, 65.6% of Americans call their homes their own, a rate that has risen to its highest point in 8 years.
There's a lot of discussion about affordability as home prices continue to appreciate rapidly. Even though the most recent index on affordability from the National Association of Realtors (NAR) shows homes are more affordable today than the historical average, some still have concerns about whether or not it's truly affordable to buy a home right now.
The last year has put emphasis on the importance of one's home. As a result, some renters are making the jump into homeownership while some homeowners are re-evaluating their current house and considering a move to one that better fits their current lifestyle. Understanding how housing affordability works and the main market factors that impact it may help those who are ready to buy a home narrow down the optimal window of time in which to make a purchase.
Homeownership is a foundational part of the American Dream. As we look back on more than a year of sheltering in our homes, having a place of our own is more important than ever. While financial benefits are always a key aspect of homeownership, today, homeowners rank the nonfinancial and personal benefits with even higher value.
Some Highlights
There's no doubt about it: homeowners love their homes, and that feeling has become even more important over the past year.
The vast majority of homeowners say they're emotionally attached to their home and that it has kept them safe during the COVID-19 pandemic.
Owning a home provides a sense of safety, security, and accomplishment. Let's connect to move your homeownership goals forward today.
A recent Survey of Consumer Finances study released by the Federal Reserve reveals the net worth of homeowners is forty times greater than that of renters. If you're wondering if homeownership is a good investment, the study clearly answers that question, and the answer is yes.
A Fannie Mae survey recently revealed some of the most highly-rated benefits of homeownership, which continue to be key drivers in today's power-packed housing market. Here are the top four financial benefits of owning a home according to consumer respondents:
There have been a lot of headlines reporting on how homeowner equity (the difference between the current market value of your home and the amount you owe on your mortgage) has dramatically increased over the past few years. CoreLogic indicated that equity increased for the average homeowner by $17,000 in the last year alone. ATTOM Data Solutions, in their latest U.S. Home Equity Report, revealed that 30.2% of the 59 million mortgaged homes in the United States have at least 50% equity. That doesn't even include the 38% of homes that are owned free and clear, meaning they don't have a mortgage at all.
Over the past year, our homes have become an integral part of our lives more than ever. They're much more than the houses we live in. They're our workplaces, virtual schools, and safe havens that provide shelter, stability, and protection through the evolving health crisis. Today, 65.8% of Americans are fortunate enough to call their homes their own.
In today's housing market, there are clear financial benefits to owning a home: increasing equity, the chance to build your net worth, and appreciating home values, just to name a few. If you're a renter, it's never too early to think about how homeownership can propel you toward a stronger future. Here's a dive into three often-overlooked financial benefits of homeownership and how preparing for them now can steer you in the direction of greater financial security and savings.
If spending more time at home over the past year is making you really think hard about buying a home instead of renting one, you're not alone. You may be wondering, however, if the dollars and cents add up in your favor as home prices continue to rise. According to the experts, in many cases, it's still more affordable to buy a home than rent one. Here's why.
In 1963, Martin Luther King, Jr. inspired a powerful movement with his famous "I Have a Dream" speech. Through his passion and determination, he sparked interest, ambition, and courage in his audience. Today, reflecting on his message encourages many of us to think about our own dreams, goals, beliefs, and aspirations. For many Americans, one of those common goals is owning a home: a piece of land, a roof over our heads, and a place where we can grow and flourish.
Homeownership has always been the first rung on the ladder leading to household wealth. As Freddie Mac recently posted:
We talk a lot about why it makes financial sense to buy a home, but more often than not, we're drawn to the emotional reasons for homeownership.
Over the past year, mortgage rates have fallen more than a full percentage point, hitting a new historic low 15 times. This is a great driver for homeownership, as today's low rates provide consumers with some significant benefits. Here's a look at three of them.
For years, real estate has been considered the best investment you can make. A major reason for this is due to the net worth a household gains through homeownership. In fact, according to the 2019 Survey of Consumer Finance Data from the Federal Reserve, for the average homeowner: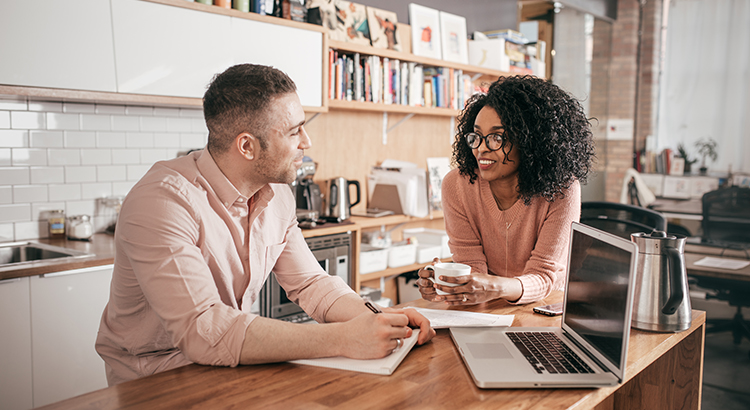 According to the U.S. Census Bureau, median rent continues to rise. With today's low mortgage rates, there's great opportunity for current renters to make a move into homeownership that stretches each dollar a little bit further.
One of the best ways to build your family's financial future is through homeownership. Recent data from the Federal Reserve indicates the net worth of a homeowner is actually over 40 times greater than that of a renter. Maybe it's time to start thinking about buying a home, especially when they're so affordable in today's market.