Aquí hay cuatro buenas razones que considerar al comprar una casa hoy en vez de esperar.
1. Los precios seguirán en aumento
La encuesta The Home Price Expectation sondeo un panel distinguido de más de 100 economistas, estrategas de inversión, y analistas del mercado de la vivienda. Su informe publicado recientemente proyecta una apreciación en el valor de las casas durante los próximos cinco años entre el 9.4% (los más pesimistas) y 30.8% (los más optimistas).
El tocar fondo de los precios de las casas ya pasó. El valor de las casas va a continuar apreciando por años. El esperar ya no tiene sentido.
2. Las tasas de interés hipotecarias están aumentando
Aunque la encuesta Freddie Mac's Primary Mortgage Market demostró que las tasas de interés para una hipoteca a 30 años está actualmente alrededor del 4.2%, Freddie Mac está proyectando que las tasas van a aumentar a 5.2% por primera vez en cinco años.
Un aumento en las tasas va a tener un impacto es SU pago mensual de la hipoteca. Los gastos de vivienda van a ser más dentro de un año si es necesaria una hipoteca para comprar su próxima casa.
3. De cualquier manera, usted está pagando una hipoteca
Como recientemente explico un documento por the Joint Center for Housing Studies de la Universidad de Harvard:
"Los hogares deben gastar en vivienda sea que son dueños o alquilan. Ni siquiera contando con el más favorable tratamiento fiscal de ser propietario, los propietarios pagan servicio de la deuda para pagar su propio principal mientras que los hogares que pagan alquiler pagan el principal de un arrendador más una tasa de regreso. Esa es otra razón por la que ser propietario a menudo – como los estadounidenses intuyen – termina teniendo más sentido financiero que alquilar."
4. Es tiempo que continuar con su vida
El 'costo' de una casa se determina por dos componentes mayores: el precio de la casa y la tasa hipotecaria actual. Al parecer justos están subiendo.
Pero, ¿Qué pasa si no? ¿Puede usted esperar?
Vea la razón real por la que usted está comprando y decida si vale la pena esperar. Sea que usted quiere tener un buen lugar para que sus hijos crezcan, usted quiere que su familia este más segura o usted simplemente quiere tener control sobre las renovaciones, tal vez sea tiempo de comprar.
Si lo correcto para usted y su familia es comprar una casa este año, el comprar más temprano que tarde puede llevarlo a ahorros sustanciales.
_____________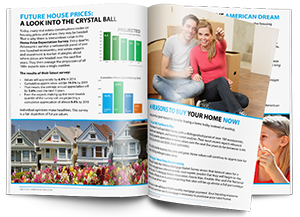 ATENCION: Si usted es un agente de bienes raíces buscando por más información que simple y efectivamente explique a sus compradores porque ahora es un buen momento para comprar, regístrese para recibir su prueba gratis de KCM por 14 días y descargue la edición del verano de nuestra eguia de 11 páginas "Things to Consider When Buying A Home" disponible también en español.
We believe every family should feel confident when buying & selling a home. KCM helps real estate professionals reach these families & enables the agent to simply & effectively explain a complex housing market. Take a 14-Day Free Trial of our monthly membership to see how we can help you!
---
https://files.keepingcurrentmatters.com/wp-content/uploads/2014/07/07190645/piggy-banks.jpg
315
600
The KCM Crew
https://assets.keepingcurrentmatters.com/wp-content/uploads/2017/01/KCMBannerNoWebsiteDarkLarge.png
The KCM Crew
2014-07-28 07:00:37
2014-07-28 11:04:17
¿Comprando una casa? 4 razones para HACERLO AHORA