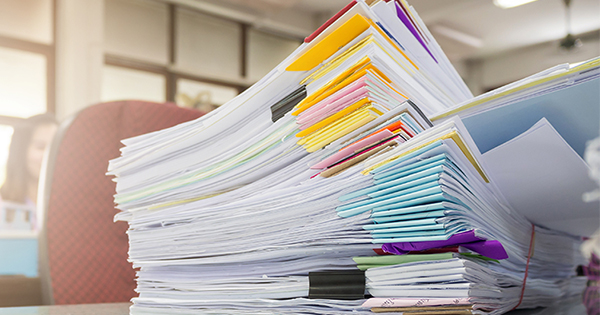 Muchas veces nos preguntan ¿Por qué hay tanto papeleo impuesto por el banco para la aplicación de un préstamo hipotecario al comprar una casa hoy día? Al parecer el banco necesita saber todo sobre nosotros y requiere tres distintas fuentes para validar cada inscripción en el formulario de solicitud.
A muchos compradores sus amigos y familiares les han dicho que el proceso fue más fácil cuando ellos compraron su casa hace diez o veinte años atrás.
Hay dos muy buenas razones por las que el proceso del préstamo es mucho más oneroso para el comprador de hoy que quizás en cualquier otro momento en la historia.
1.El gobierno ha establecido nuevas directrices que ahora demandan que el banco pruebe más allá de cualquier duda que usted en efecto está en capacidad de pagar la hipoteca.
Durante el periodo previo en el mercado de la vivienda, mucha gente 'califico' para una hipoteca que nunca pudieron pagar. Esto condujo a que millones de familias perdieran sus casas. El gobierno quiere asegurarse que esto no vuelva a ocurrir.
2.Los bancos no quieren estar en el negocio de bienes raíces.
Durante los últimos siete años, los bancos fueron forzados a tomar la responsabilidad de liquidar millones de ejecuciones hipotecarias y también de negociar otro millón y más de ventas por menos de la deuda hipotecaria. Al igual que el gobierno, ellos no quieren más ejecuciones hipotecarias. Por esa razón, ellos tienen que doblar (o tal vez triplicar) la comprobación de todo lo relacionado con la aplicación.
Sin embargo, hay una buena noticia en esta situación.
La crisis de la vivienda que mandó que los bancos fueran extremadamente estrictos en los requisitos del papeleo, también permitió que usted pueda obtener una tasa de interés hipotecario tan baja como el 3.43%, la última tasa reportada por Freddie Mac.
Los amigos y familiares que compraron casas diez o veinte años atrás experimentaron un proceso de aplicación más simple pero también pagaron tasas de interés más altas (el promedio de la tasa hipotecaria fija a 30 años fue de 8.12 % en los 1990 y 6.29 % en los 2000.) Si usted va al banco y ofrece pagar 7 % en vez de menos del 4 %, probablemente ellos harán lo posible para que el proceso sea más fácil.
En conclusión
En vez de concentrarse en el papeleo adicional requerido, seamos agradecidos que podemos comprar una casa con las tasas más bajas históricamente.
---
We believe every family should feel confident when buying & selling a home. KCM helps real estate professionals reach these families & enables the agent to simply & effectively explain a complex housing market. Take a 14-Day Free Trial of our monthly membership to see how we can help you!
---
https://files.keepingcurrentmatters.com/wp-content/uploads/2016/08/07161845/20160830-Share-KCM.jpg
315
600
The KCM Crew
https://assets.keepingcurrentmatters.com/wp-content/uploads/2017/01/KCMBannerNoWebsiteDarkLarge.png
The KCM Crew
2016-08-30 06:30:53
2016-08-30 15:21:10
¿Porque hay que firmar tanto papeleo para obtener una hipoteca?