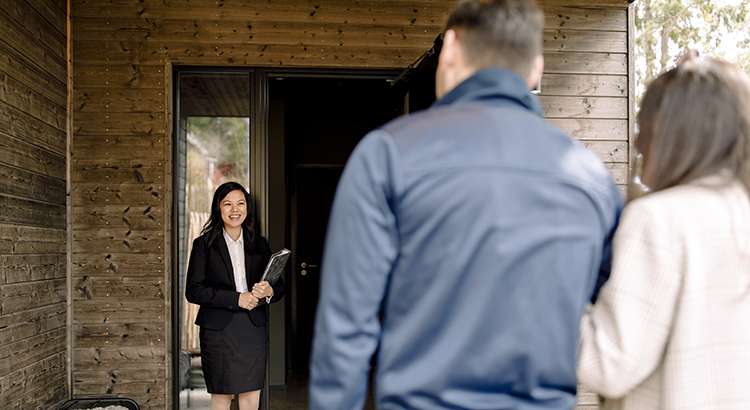 If you're a young adult, you may be thinking about your goals and priorities for the months and years ahead. And if homeownership ranks high on your goal sheet, you're in good company. Many of your peers are also pursuing their dream of owning a home. The 2022 Millennial & Gen Z Borrower Sentiment Report from Maxwell says: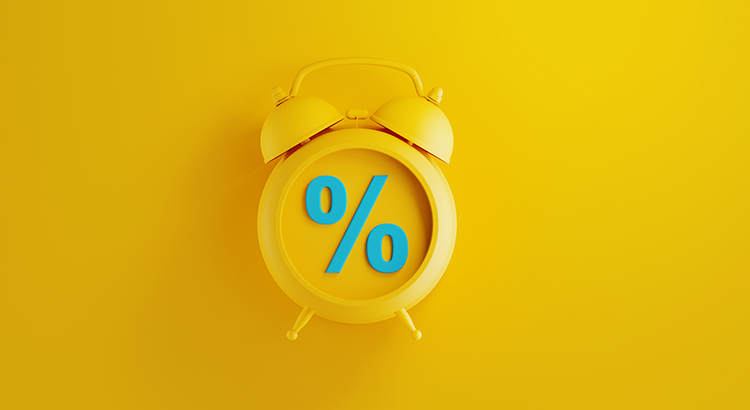 This past year, rising mortgage rates have slowed the red-hot housing market. Over the past nine months, we've seen fewer homes sold than the previous month as home price growth has slowed. All of this is due to the fact that the average 30-year fixed mortgage rate has doubled this year, severely limiting homebuying power for consumers. And, this month, the average rate for financing a home briefly rose over 7% before coming back down into the high 6% range. But we're starting to see a hint of what mortgage interest rates could look like next year.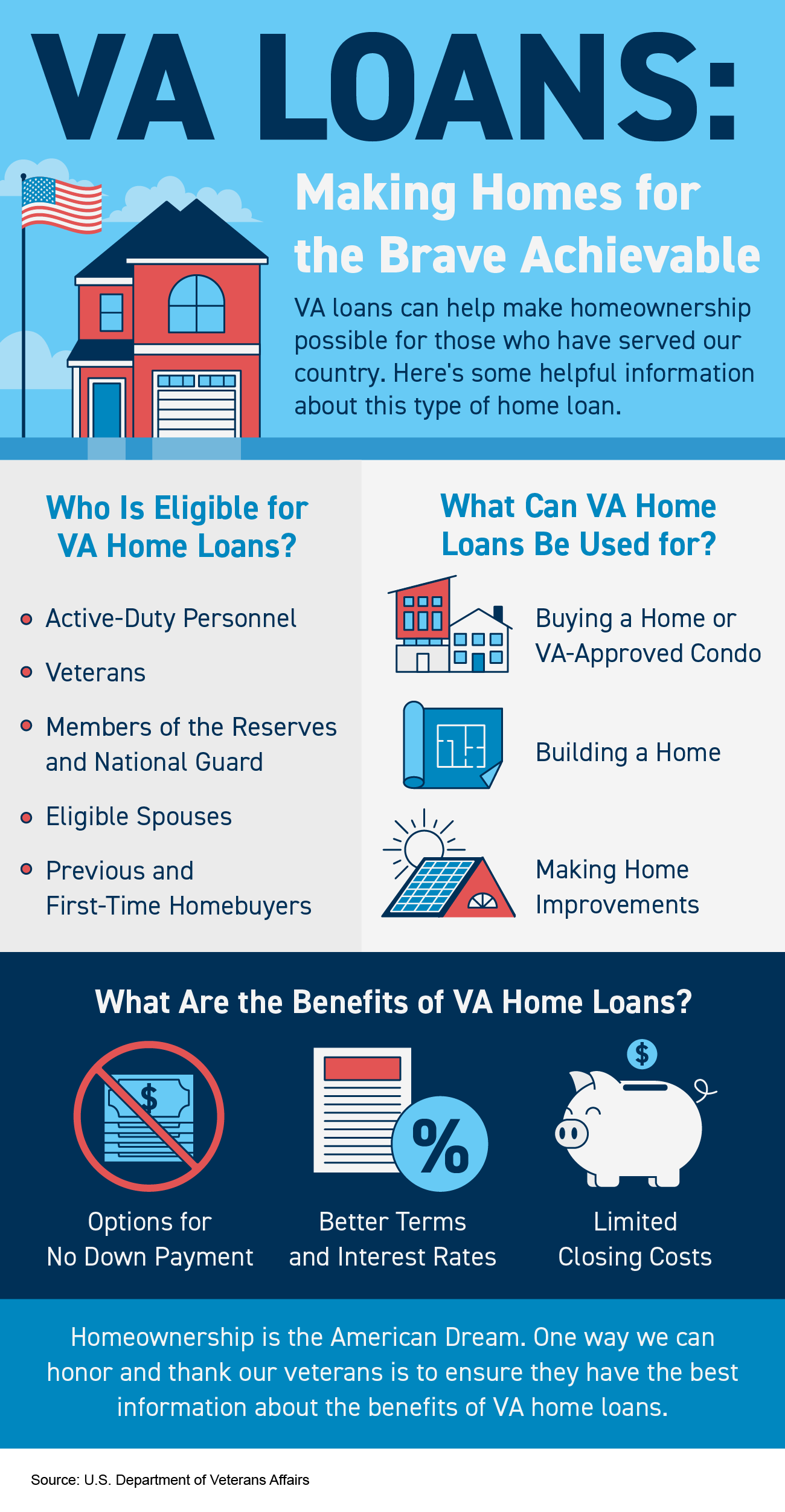 Some Highlights
VA Loans can help make homeownership possible for those who have served our country.
These loans offer great benefits for eligible individuals and can help them buy a VA-approved house or condo, build a new home, or make improvements to their house.
Homeownership is the American Dream. One way we can honor and thank our veterans is to ensure they have the best information about the benefits of VA home loans.
For over 78 years, Veterans Affairs (VA) home loans have provided millions of veterans with the opportunity to purchase homes of their own. If you or a loved one have served, it's important to understand this program and its benefits.
If you're planning to buy a home, knowing what to budget for and how to save may sound scary at first. But it doesn't have to be. One way to take the fear out of budgeting is understanding some of the costs you might encounter. And to do that, turn to trusted real estate professionals. They can help you plan your finances and prepare your budget.
As you set out to buy a home, saving for a down payment is likely top of mind. But you may still have questions about the process, including how much to save and where to start.
Whether or not you owned a home in 2008, you likely remember the housing crash that took place back then. And news about an economic slowdown happening today may bring all those concerns back to the surface. While those feelings are understandable, data can help reassure you the situation today is nothing like it was in 2008.
If you put off your home search at any point over the past two years, you may want to consider picking it back up based on today's housing market conditions. Recent data shows the supply of homes for sale is increasing, giving buyers like you additional options.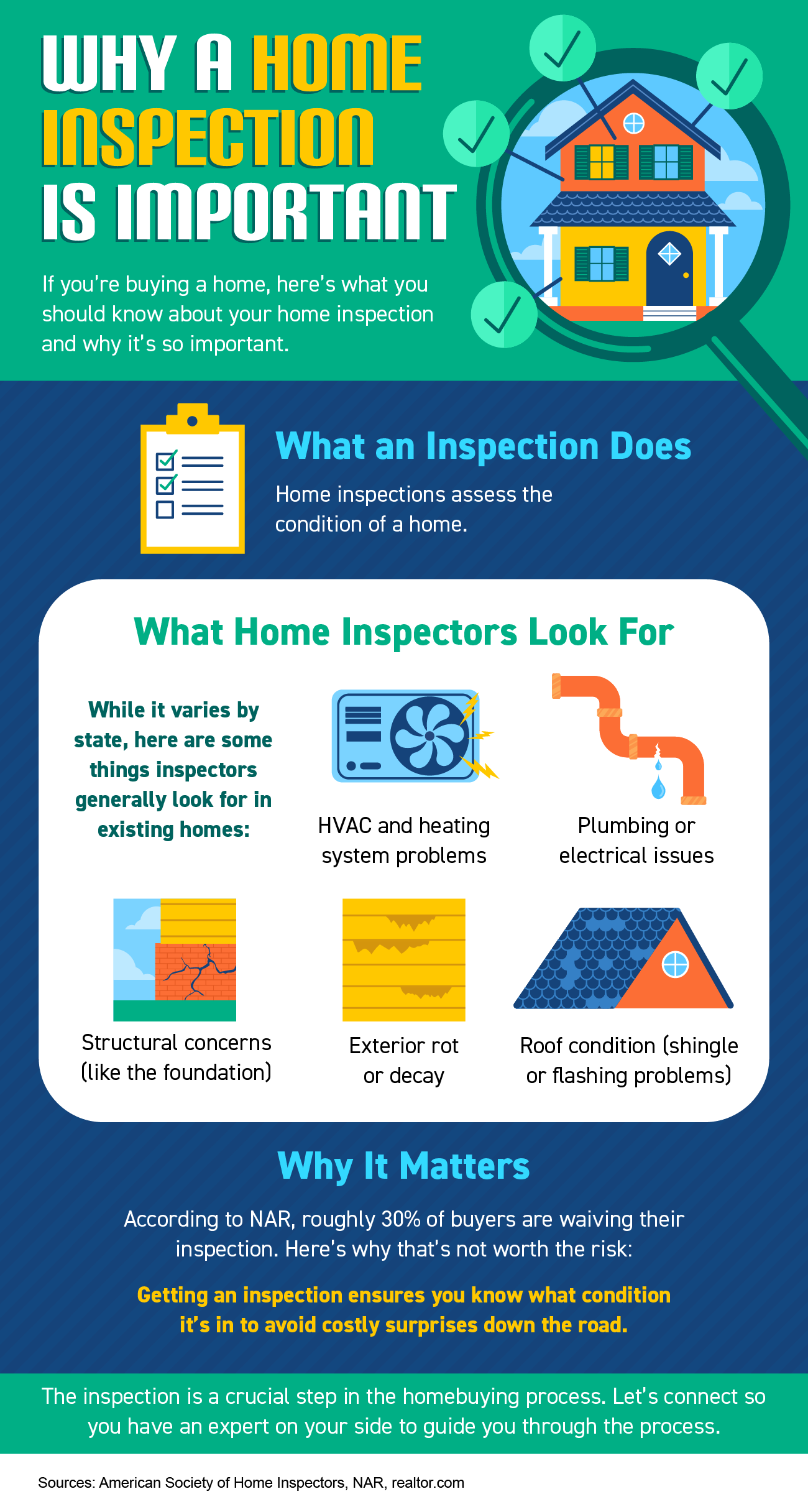 Some Highlights
If you're buying a home, here's what you should know about your home inspection and why it's so important.
A home inspection is a crucial step in the homebuying process. It assesses the condition of the home you plan to purchase so you can avoid costly surprises down the road.
Let's connect so you have an expert on your side to guide you through the process.
If you're following the news, chances are you've seen or heard some headlines about the housing market that don't give the full picture. The real estate market is shifting, and when that happens, it can be hard to separate fact from fiction. That's where a trusted real estate professional comes in. They can help debunk the headlines so you can really understand today's market and what it means for you.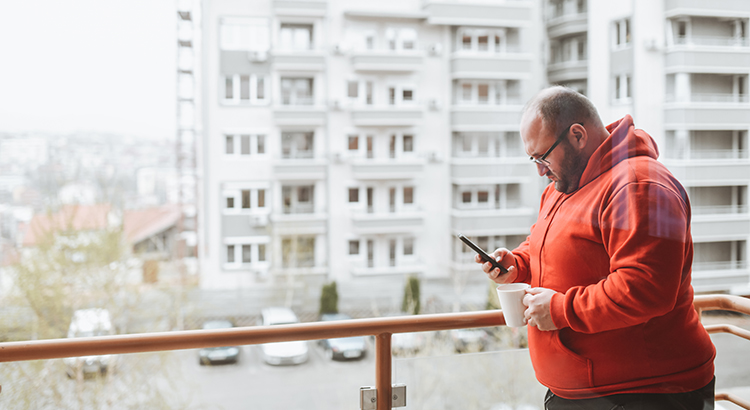 While the Federal Reserve is working hard to bring down inflation, the latest data shows the inflation rate is still going up. You no doubt are feeling the pinch on your wallet at the gas pump or the grocery store, but that news may also leave you wondering: should I still buy a home right now?
A recent survey from Bankrate asks prospective buyers to identify the biggest obstacles in their homebuying journey. It found that 36% of those polled said saving for a down payment is one of their primary hurdles to buying a home.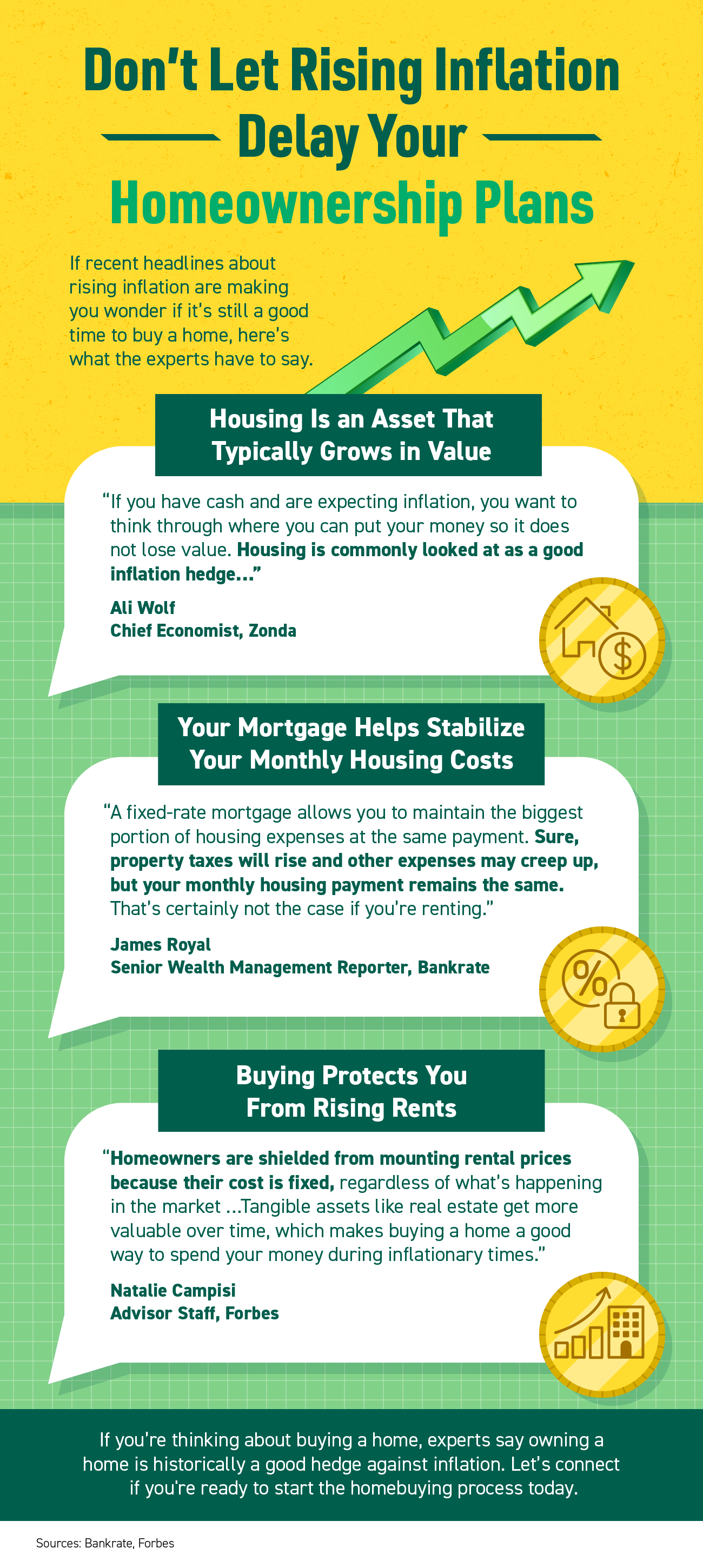 Some Highlights
If recent headlines about rising inflation are making you wonder if it's still a good time to buy, here's what experts have to say.
Housing is an asset that typically grows in value. Plus, your mortgage helps stabilize your monthly housing costs, and buying protects you from rising rents.
Experts say owning a home is historically a good hedge against inflation. Let's connect if you're ready to start the homebuying process today.
If you're thinking about buying a home, you've probably heard mortgage rates are rising and have wondered what that means for you. Since mortgage rates have increased over two percentage points this year, it's natural to think about how this will impact your homeownership plans.
Buying your first home is a major decision and an exciting milestone. Even though it can feel daunting at times, it has the power to change your life for the better. If you're looking to purchase your first home, you may be wondering what's happening in the housing market today, how much you need to save, and where to start.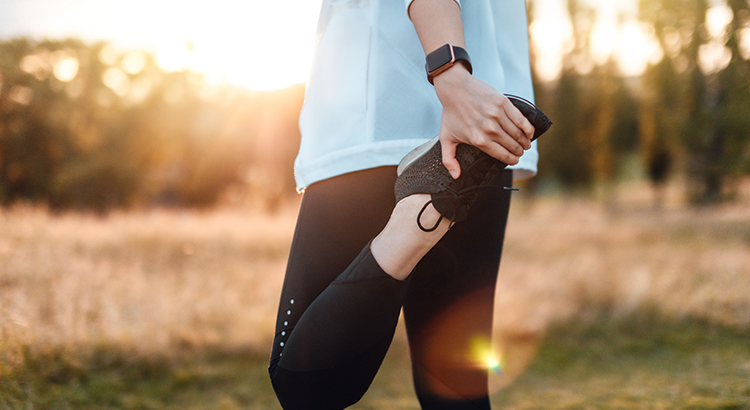 With a limited number of homes for sale today and so many buyers looking to make a purchase before mortgage rates rise further, bidding wars are common. According to the latest report from the National Association of Realtors (NAR), nationwide, homes are getting an average of 4.8 offers per sale. Here's a look at how that breaks down state-by-state (see map below):
If you're following along with the news today, you've likely heard about rising inflation. You're also likely feeling the impact in your day-to-day life as prices go up for gas, groceries, and more. These rising consumer costs can put a pinch on your wallet and make you re-evaluate any big purchases you have planned to ensure they're still worthwhile.
If you're planning to buy a home this season, you're probably thinking about what you'll need to do to get your offer accepted. In previous years, it was common for buyers to try and determine how much less than the asking price they could offer to still get the home. The buyer and seller would then negotiate and typically agree on a revised price that was somewhere between the buyer's bid and the home's initial asking price.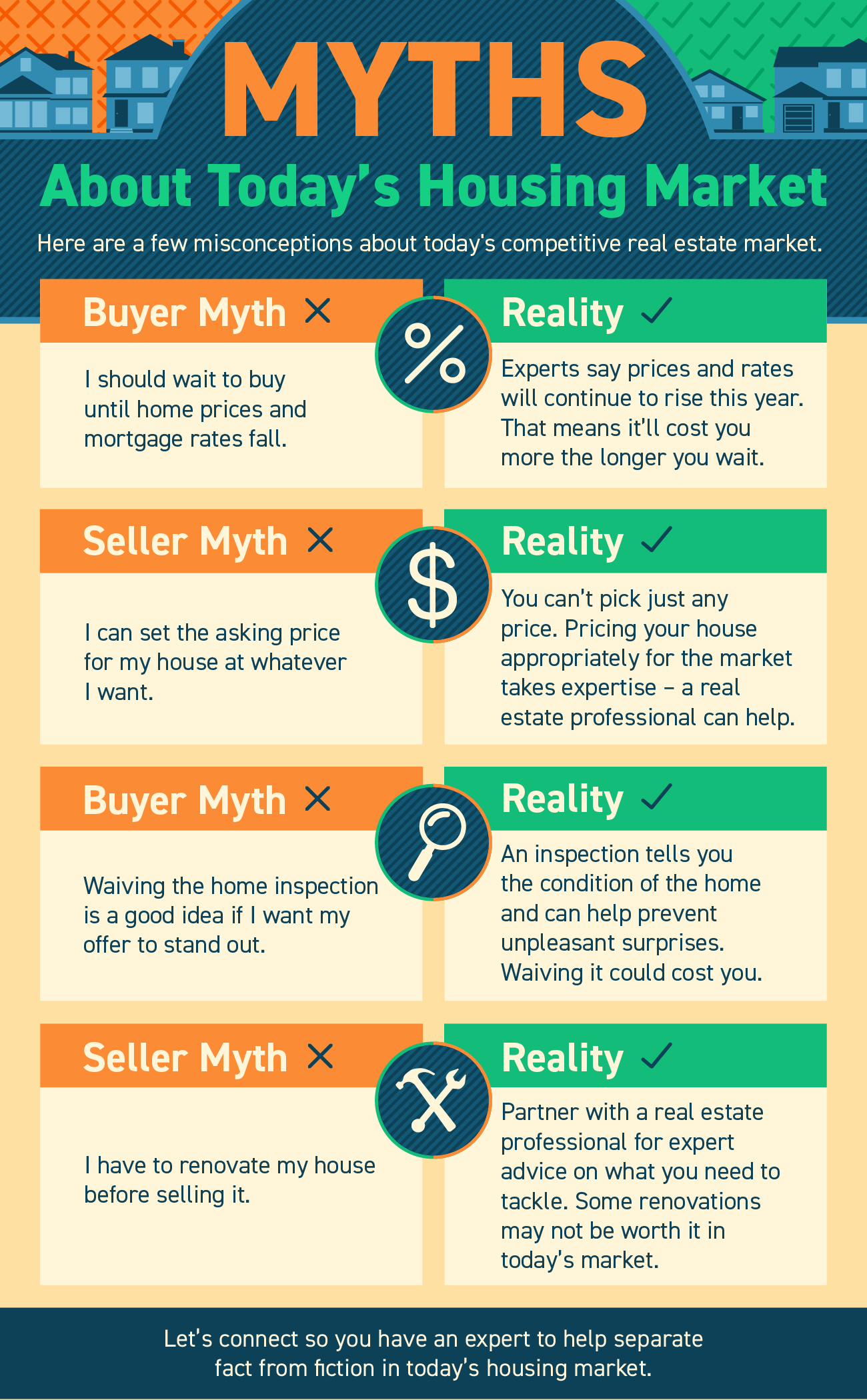 Some Highlights
If you're planning to buy or sell a home today, it's important to be aware of common misconceptions.
Whether it's timing your purchase as a buyer based on home prices and mortgage rates or knowing what to upgrade or repair before listing your house as a seller, it takes a professional to guide you through those decisions.
Let's connect so you have an expert to help separate fact from fiction in today's housing market.
In the last few weeks, the average 30-year fixed mortgage rate from Freddie Mac inched up to 5%. While that news may have you questioning the timing of your home search, the truth is, timing has never been more important. Even though you may be tempted to put your plans on hold in hopes that rates will fall, waiting will only cost you more. Mortgage rates are forecast to continue rising in the year ahead.
Being intentional and competitive are musts when buying a home this season. That's why pre-approval is so important today. Pre-approval from a lender is the only way to know your true price range and how much money you can borrow for your loan. Peter Warden, Editor of The Mortgage Reports, explains: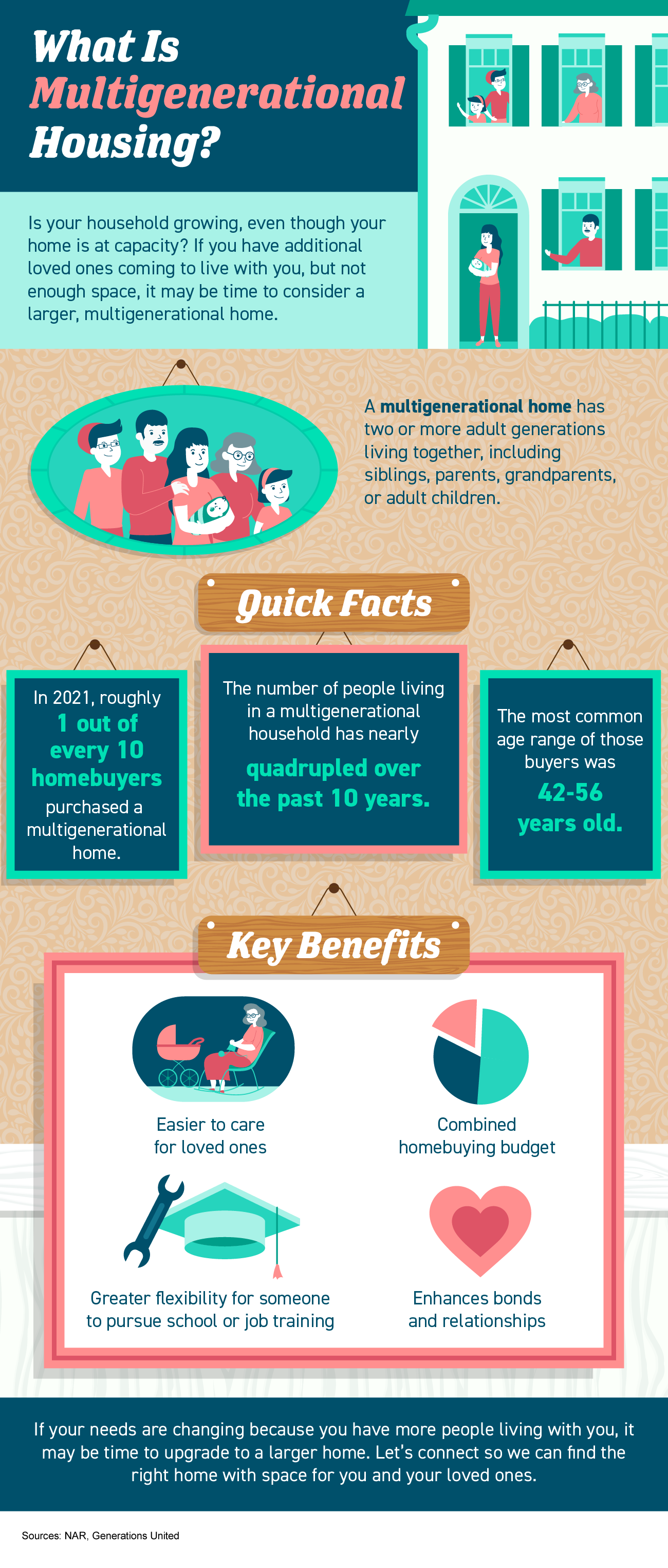 Some Highlights
If you have additional loved ones coming to live with you but don't have enough space, it may be time to consider a larger, multigenerational home.
Some key benefits of multigenerational living include a combined homebuying budget, shared caregiving duties, enhanced relationships, and more. These benefits might be why more people are choosing to live in multigenerational homes today.
Let's connect so you can find a house that meets your changing needs and has plenty of space for you and your loved ones.
When it comes to buying a home, it can feel a bit intimidating to know how much you need to save and where to find that information. But you should know, you're not expected to have all the answers yourself. There are many trusted professionals who can help you understand your finances and what you'll need to budget for throughout the process.

Some Highlights
Knowing key housing terms and how they relate to today's market is important. For example, when mortgage rates and home prices rise, it impacts how much home you can afford.
Terms like appraisal (what lenders rely on to validate a home's value) and the inspection contingency (which gives buyers essential information on a home's condition) directly impact the transaction.
Buying a home can be intimidating if you're not familiar with the terms used throughout the process. Let's connect so you have an expert guide and advice for any questions that may come up.
You can't read an article about residential real estate without the author mentioning the affordability challenges that today's buyers face. There's no doubt homes are less affordable today than they were over the last two years, but that doesn't mean homes are now unaffordable.