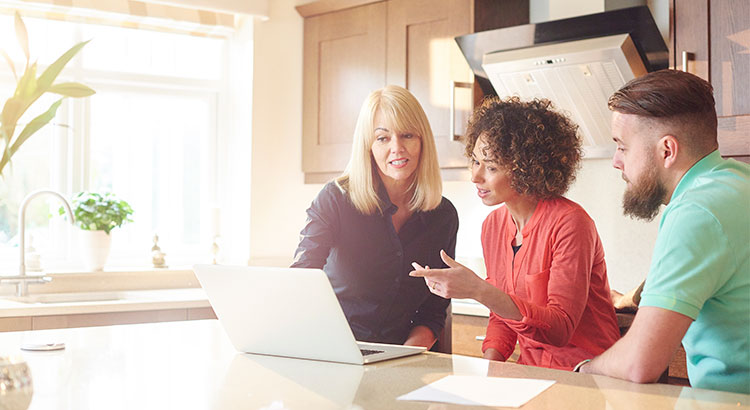 La Asociación nacional de Realtors (NAR por sus siglas en inglés) recientemente publicó su Perfil de compradores y vendedores de casa de 2017, en el que encuestaron a compradores y vendedores de casas recientes sobre sus experiencias. Toda una sección del perfil está dedicada a las experiencias de los compradores con su agente de bienes raíces.
Si usted está buscando para comprar en 2018, aquí están los 5 beneficios principales que los compradores citaron al utilizar un agente de bienes raíces al comprar la casa de sus sueños:
1.Ayudó al comprador a entender en proceso – 60 %
Si usted es nuevo en el proceso de compra de una vivienda, un profesional de bienes raíces experimentado puede explicarle exactamente que esperar durante toda la transacción, así no lo toma por sorpresa.
2.Señaló las características/fallas inadvertidas con la propiedad – 56 %
Sea señalando los posibles usos para un dormitorio/oficina, o utilizando su ojo entrenado para ver los peligros desastrosos potenciales que pueden estar escondidos fuera de lugar, su agente está allí para proteger sus intereses y asegurarse que su experiencia sea buena al comprar una casa.
3.Negoció términos mejores en el contrato de venta – 47 %
Cuando se trata de negociar los términos complejos de su contrato y llegar a un acuerdo con el vendedor, nunca hace daño tener alguien de su lado que ha estado allí antes. Si al principio de su búsqueda encontró un par de características menos deseables en la casa que va a comprar, su agente puede asegurarse que las contingencias estén en lugar para que usted pague el mejor precio. El análisis de comparables en la zona también asegurará que la casa de sus sueños tenga un precio correcto para el mercado.
4.Proporcionó una mejor lista de proveedores de servicios (ej. Inspector de casa) – 46 %
Los agentes de bienes raíces son titanes de interconexiones. Muchos tienen una lista de proveedores preferidos con los que han trabajado en el pasado y en los que ellos confían como parte de su equipo para hacer realidad su sueño. Esta puede incluir profesionales hipotecarios (en la lista como la razón #8 con el 22 %), inspectores de casa, plomeros, contratistas, pintores, jardineros, diseñadores de casas, y ¡muchos más!
5.Mejoró el conocimiento o áreas de búsqueda del comprador – 44 %
Los profesionales de bienes raíces locales son a menudo miembros de las organizaciones comunitarias y generalmente están bien versados con la historia de su área. Sus lazos con la comunidad los convierte en un gran recurso si usted planea mudarse a un área nueva o a través de la ciudad.
En conclusión,
Si sus planes para 2018 incluyen la compra de la casa de sus sueños, empiece su búsqueda de un socio local de bienes raíces que le pueda ayudar a tomar las decisiones más poderosas y seguras para usted y su familia.
---
We believe every family should feel confident when buying & selling a home. KCM helps real estate professionals reach these families & enables the agent to simply & effectively explain a complex housing market. Take a 14-Day Free Trial of our monthly membership to see how we can help you!
https://files.keepingcurrentmatters.com/wp-content/uploads/2017/12/19141804/2017120-Share-STM.jpg
410
750
The KCM Crew
https://www.keepingcurrentmatters.com/wp-content/uploads/2017/01/KCMBannerNoWebsiteDarkLarge.png
The KCM Crew
2017-12-20 06:30:05
2017-12-19 14:54:58
Los 5 beneficios principales de contratar a un agente de bienes raíces