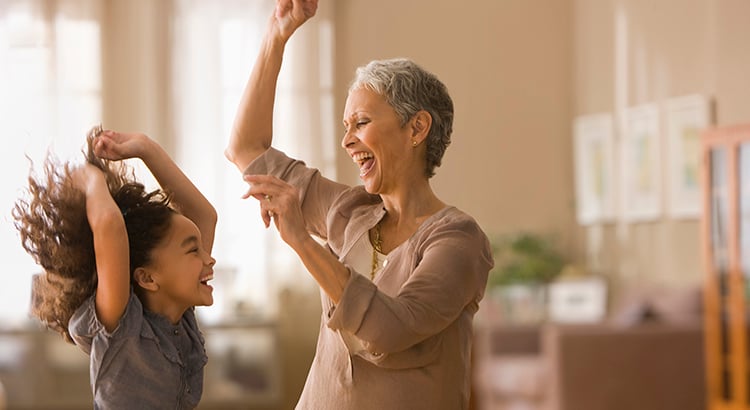 ¿Sabía que 1 de cada 6 estadounidenses vive actualmente en un hogar multigeneracional?
Según Generations United, el número de hogares multigeneracionales aumentó de 42.4 millones en el 2000 a 64 millones en 2016. El Perfil de los compradores y vendedores de casa de 2018 de la Asociación nacional de Realtors muestra que 12 % de todos los compradores tienen un hogar multigeneracional.
¿Por qué muchos estadounidenses eligen vivir en un hogar multigeneracional?
Los beneficios para la vida multigeneracional son significativos. Según Toll Brothers,
"En los últimos años, ha habido un aumento constante en el número de hogares multigeneracionales en los Estados Unidos. Los propietarios de viviendas y sus familias están descubriendo nuevas formas de sacar el máximo provecho de su hogar con opciones que se ajustan a las muchas facetas de sus vidas".
La pieza continúa explicando los 5 beneficios principales de la vida multigeneracional. Aquí está la lista y un pequeño extracto de su artículo:
1.Gastos compartidos
"…mantener dos hogares es innegablemente mas costoso y mas riguroso que compartir las responsabilidades de uno. Al reunir a los miembros de la familia y los recursos bajo un mismo techo, las familias pueden abordar colectivamente sus gastos y asignar las finanzas de forma consecuente".
2. Responsabilidades compartidas
"Distribuir las tareas y las responsabilidades apropiadas para la edad entre los miembros de la familia es una manera tremenda de asegurar que cada uno haga su parte. Para los miembros más jóvenes y con más capacidad, el trabajo físico como cortar el césped o mover muebles es un bien equilibrio para que la generación mayor pueda centrarse en tareas menos exigentes físicamente".
3. Fortalece el vínculo familiar
"Aunque la mayoría de las familias se reúnen en ocasiones especiales, las familias multigeneracionales tienen el lujo de verse todos los días. Al vivir bajo el mismo techo, estas familias desarrollan un alto nivel de apego y cercanía".
4. Garantiza la seguridad de la familia
"Con varias generaciones bajo el mismo techo, la casa rara vez se deja desocupada por mucho tiempo, y vivir con otros miembros de la familia aumenta las posibilidades de que alguien esté presente para ayudar a los miembros de la familia de edad avanzada en caso de que tenga un accidente".
5. Privacidad
"Uno de los temores principales a los que se enfrentan las familias al cambiar su estilo de vida es el miedo a perder la privacidad. Con tantas cabezas bajo un mismo techo, se puede sentir que no hay lugar para ir en busca de aislamiento. Sin embargo, estos estilos de casa están diseñados para garantizar que cada miembro de la familia pueda tener tiempo tranquilo… [y] permitir una separación completa entre las generaciones dentro del hogar".
En conclusión,
La tendencia de la vida multigeneracional está aumentando, y los beneficios para las familias que eligen esta opción son significativos. Si está considerando una casa multigeneracional, comuníquese con un profesional local de bienes raíces para obtener más información sobre las opciones disponibles en su área.

We at The KCM Crew believe every family should feel confident when buying & selling a home. KCM helps real estate professionals reach these families & enables the agent to simply & effectively explain a complex housing market. Take a 14-Day Free Trial of our monthly membership to see how we can help you!
---
https://files.keepingcurrentmatters.com/wp-content/uploads/2019/10/22100620/20191023-KCM-Share.jpg
410
750
The KCM Crew
https://www.keepingcurrentmatters.com/wp-content/uploads/2017/01/KCMBannerNoWebsiteDarkLarge.png
The KCM Crew
2019-10-23 06:30:13
2019-10-22 14:04:48
5 razones para considerar vivir en un hogar multigeneracional