Your children have finally moved out and you and your spouse now live alone in a four-bedroom colonial (or a similar type of house). You have two choices to make:
According to Black Knight Financial Service's Mortgage Monitor Report, 1.5 million Americans have purchased a home with down payments under than 10% over the last 12 months. This is great news for buyers as this marks a 7-year high.
Today, many real estate conversations center on housing prices and where they may be headed. That is why we like the Home Price Expectation Survey.
The results of countless studies have shown that potential home buyers, and even current homeowners, have an inflated view of what is really required to qualify for a mortgage in today's market.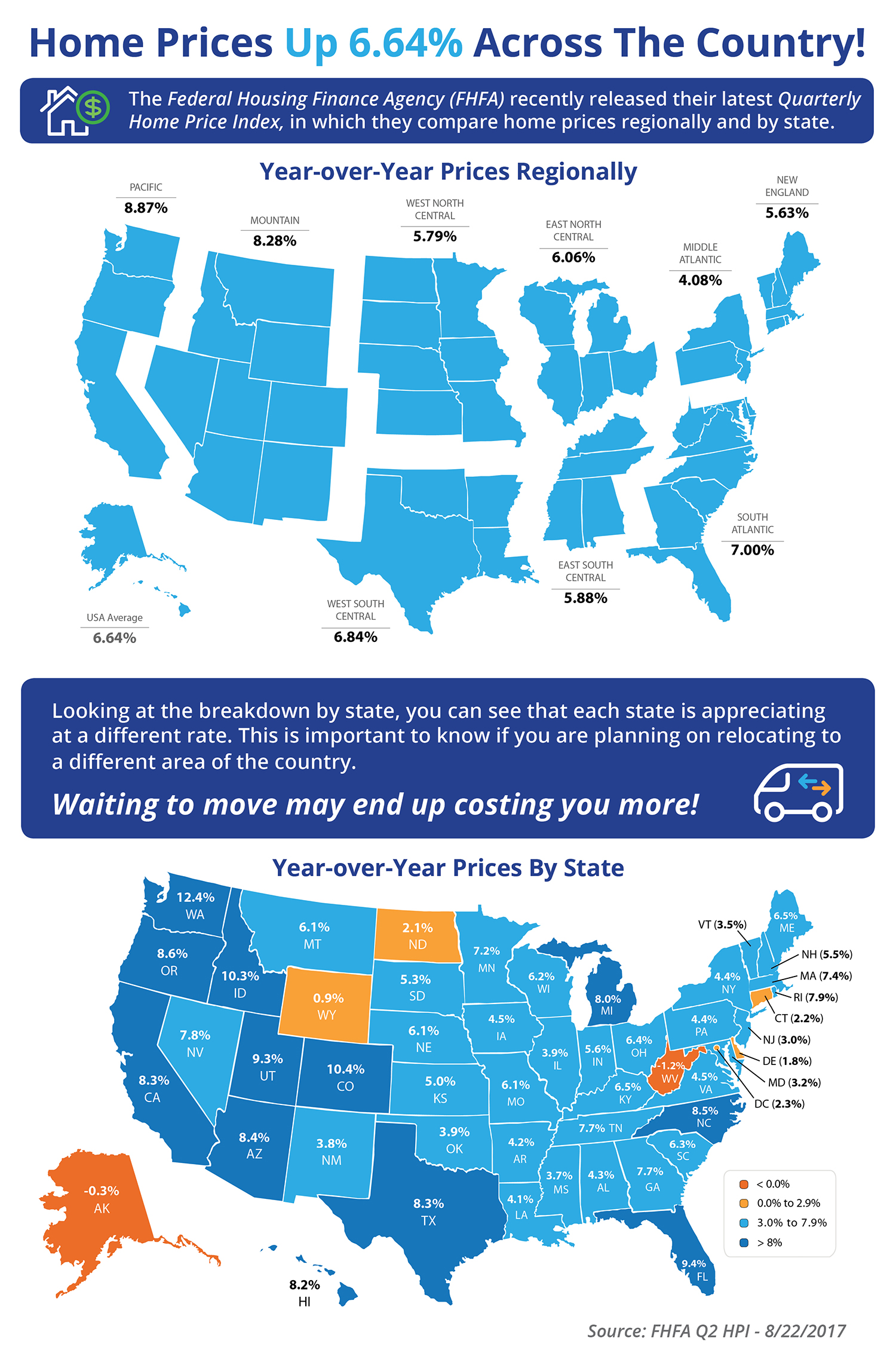 Some Highlights
The Federal Housing Finance Agency (FHFA) recently released their latest Quarterly Home Price Index report.
In the report, home prices are compared both regionally and by state.
Based on the latest numbers, if you plan on relocating to another state, waiting to move may end up costing you more!
Alaska & West Virginia were the only states where home prices are lower than they were last year.
One of the main reasons why For Sale By Owners (FSBOs) don't use a real estate agent is because they believe they will save the commission an agent charges for getting their house on the market and selling it. A new study by Collateral Analytics, however, reveals that FSBOs don't actually save anything, and in some cases may be costing themselves more, by not listing with an agent.
Does your current house fit your needs? Does it seem like everyone else is moving up and moving on to more luxurious surroundings? Are you wondering what it would take to start living your dream life?
We previously informed you about a study conducted by TransUnion titled, "The Bubble, the Burst and Now – What Happened to the Consumer?" The study revealed that 1.5 million homeowners who were negatively impacted by the housing crisis could re-enter the housing market between 2016-2019.
When a homeowner decides to sell their house, they obviously want the best possible price for it with the least amount of hassles along the way. However, for the vast majority of sellers, the most important result is actually getting their homes sold.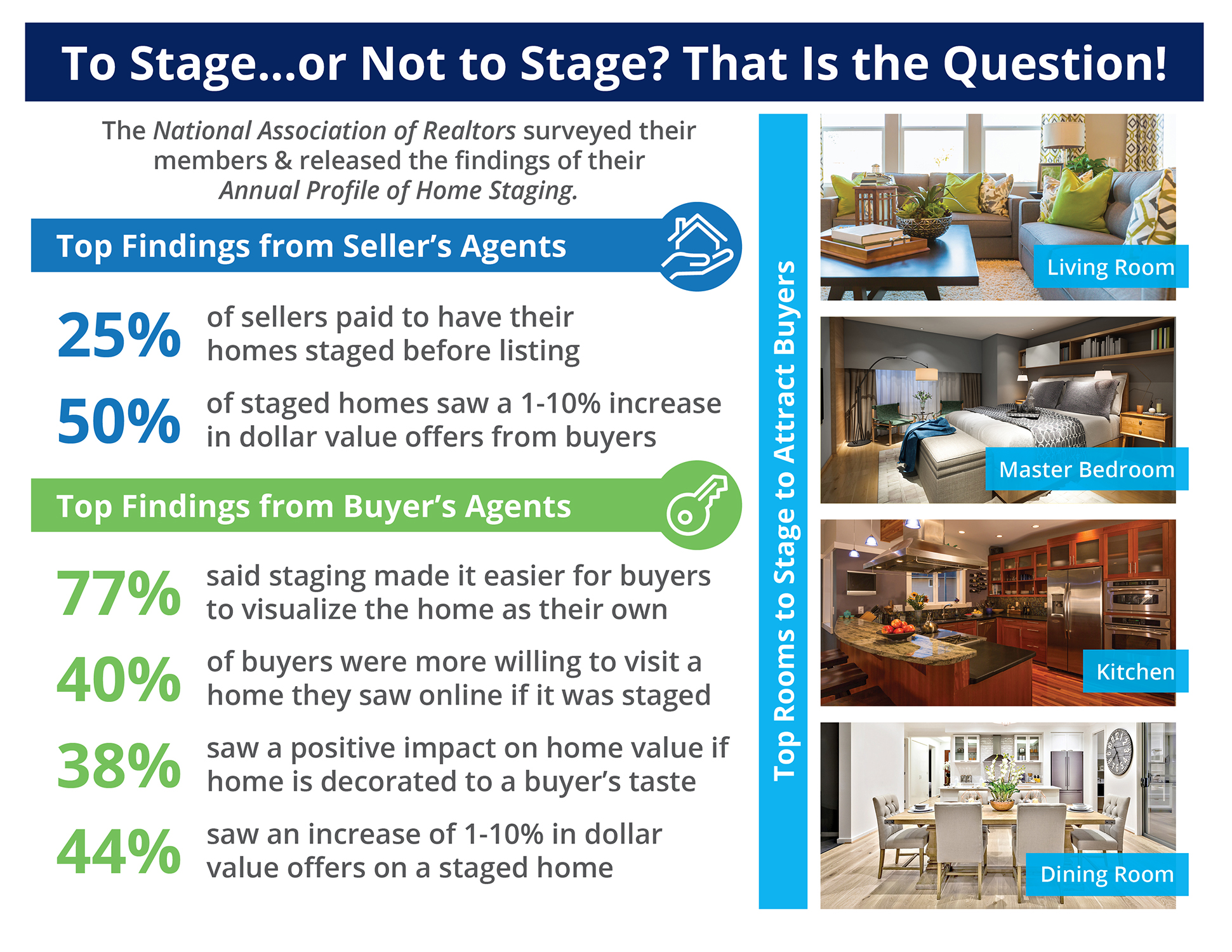 Some Highlights
The National Association of Realtors surveyed their members & released the findings of their Annual Profile of Home Staging.
50% of staged homes saw a 1-10% increase in dollar value offers from buyers.
77% of buyer's agents said staging made it easier for buyers to visualize the home as their own.
The top rooms to stage to attract more buyers are the living room, master bedroom, kitchen, and dining room.
According to the recently released Modern Homebuyer Survey from ValueInsured, 58 percent of homeowners think there will be a "housing bubble and price correction" within the next 2 years.
First-time homebuyers are flocking to the real estate market by the thousands to find their dream homes in order to make their dreams of homeownership a reality. Unfortunately for many, the inventory of starter and trade-up homes in the US has struggled to keep up with demand!
The National Association of Realtors (NAR) recently released their latest Existing Home Sales Report, which revealed that homes were on the market for an average of 28 days in June. This is a slight increase from the 27 days reported in May, but down from 34 days reported a year ago.
Every three years, the Federal Reserve conducts their Survey of Consumer Finances in which they collect data across all economic and social groups. The latest survey, which includes data from 2010-2013, reports that a homeowner's net worth is 36 times greater than that of a renter ($194,500 vs. $5,400).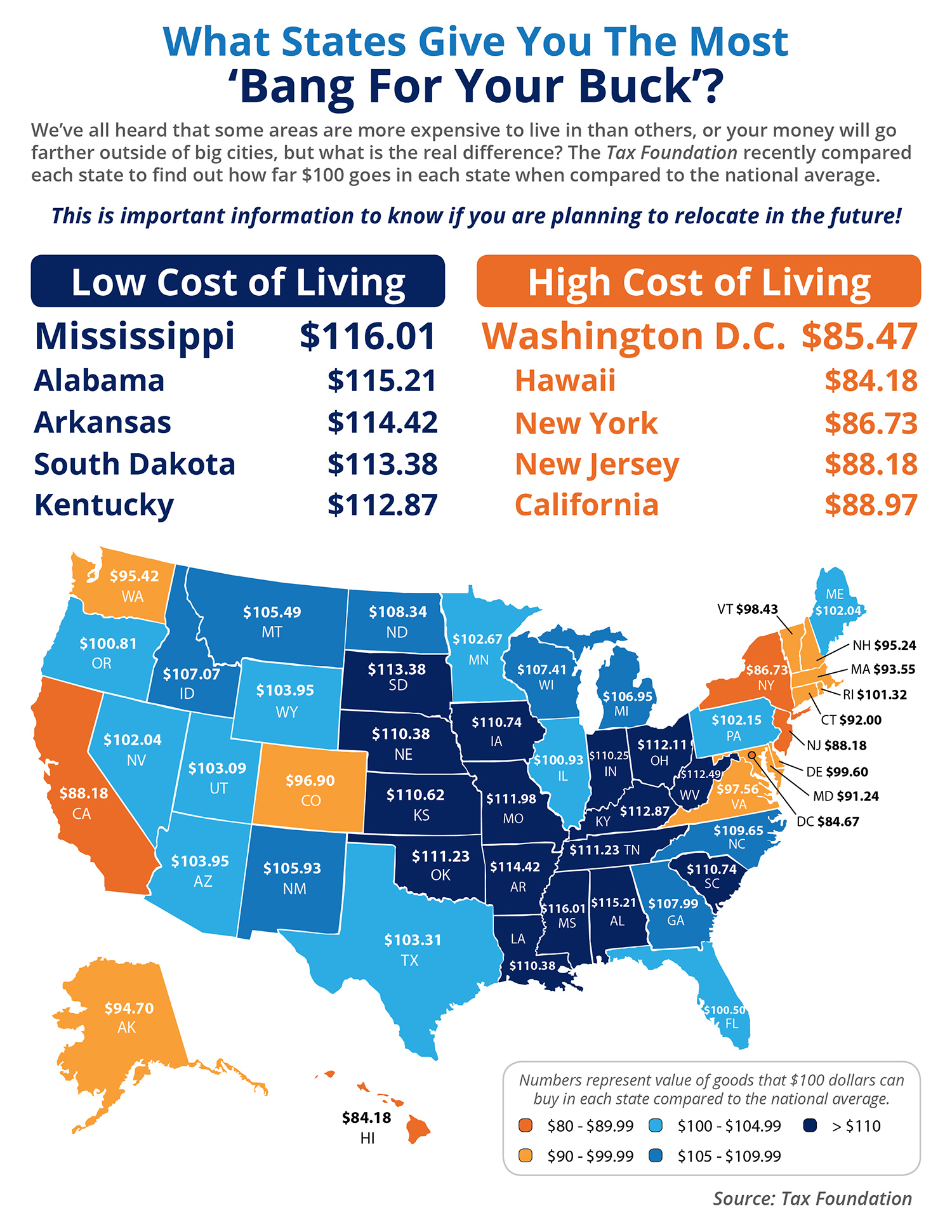 Some Highlights
Thinking of moving across the country? How far will your money take you?
The majority of states in the Midwest and South offer a lower cost of living compared to Northeast and Western states.
The 'Biggest Bang for your Buck' comes in Mississippi where, compared to the national average, you can actually purchase $116.01 worth of goods for $100.
For more information regarding the methodology used to create the map, visit the Tax Foundation.
Contrary to what many believe, Millennials are not the 'renter' generation. Millennials purchased a larger percentage (34%) of homes in the U.S. than any other age group in 2017 and the most recent Census Bureau report shows that the homeownership rate among Millennials is finally on the rise.
Spring is traditionally the busiest season for real estate. Buyers, experiencing cabin fever all winter, emerge like flowers through the snow in search of their dream home. Homeowners, in preparation for the increased demand, are enticed to list their house for sale and move on to the home that will better fit their needs.
CoreLogic's latest Equity Report revealed that ninety-one thousand residential properties regained equity in Q1 2017. The outlook for 2017 remains positive as well, as an additional 600 thousand properties will regain equity if home prices rise another 5% this year.
The National Association of Realtors (NAR) keeps historical data on many aspects of homeownership. One of the data points that has changed dramatically is the median tenure of a family in a home, meaning how long a family stays in a home prior to moving. As the graph below shows, for over twenty years (1985-2008), the median tenure averaged exactly six years. However, since 2008, that average is almost nine years – an increase of almost 50%.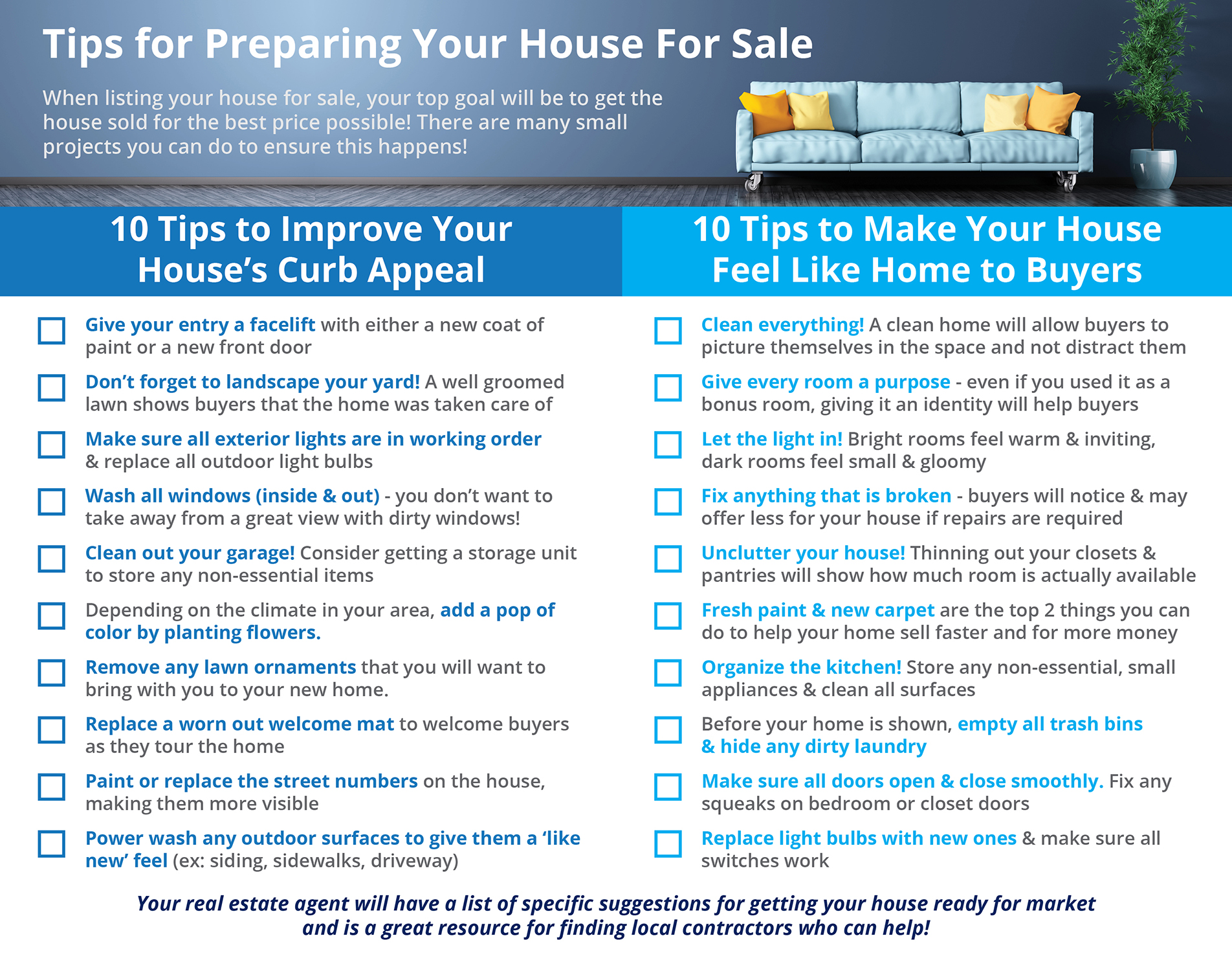 Some Highlights
When listing your house for sale your top goal will be to get the home sold for the best price possible!
There are many small projects that you can do to ensure this happens!
Your real estate agent will have a list of specific suggestions for getting your house ready for market and is a great resource for finding local contractors who can help!
Recent headlines exclaimed the homeownership rate, as reported by the Census Bureau, rose again in the second quarter of 2017. What didn't get much attention in the reports is that the homeownership rate for American households under the age of 35 increased a full percentage point from last quarter's 34.3% to 35.3%. Millennials proved to have the highest increase of any age group.
Are you an empty-nester? Do you want to retire where you are, or does a vacation destination sound more your style? Are you close to retirement and not ready to move yet, but living in a home that is too big in size and maintenance needs?
There are many benefits to homeownership. One of the top benefits is being able to protect yourself from rising rents by locking in your housing cost for the life of your mortgage.