5 Tips for Winning on Instagram
Instagram has quickly become the hottest social media platform, and if you're not leveraging it as an agent, you're missing out on an important part of your marketing strategy.
The thing is that Instagram is, well, different. You can't apply the same methods you do for Facebook and LinkedIn and expect the same rewards. That makes it a tad intimidating for new business users.
This is a good thing.
In a visually fueled industry like real estate, you can use this to your advantage to build a solid following, master your social media strategy and profit from all your hard work.
Here are 5 things you can start doing today to step up your game.
1. Deliver Value
Ever hear of an influencer? Instagram has created its own universe of trailblazers, and if you use it the right way, you could become one too. Sharing your KCM content is not only great for educating your followers but also establishing yourself as a real estate "thought leader."
Being a local expert also ties in with that. To do this, we recommend posting pictures of landmarks and favorite spots around town or creating videos that highlight local businesses you love.
2. Engage Your Community
This is where the hard work comes in. Whether you have five followers or 5,000, engagement is key to keeping the ones you have plus gaining more.
What does "engagement" mean?
Respond to all comments and messages
Initiate conversations by asking questions
Use features like polls, quizzes and countdowns on stories
Highlight your clients and community
This is a great way to make the most of those spare 5 minutes here and there. It will pay off!
3. Hashtag Like a Pro
Instagram has done an incredible job of opening up the world to every user. When we say this, we mean that what you see, or who sees you, is no longer restricted to just your "friends."
A great way to make sure your posts get in front of new eyes is by using hashtags. The limit per post is 30 but if that's too ambitious, we suggest at least 10-15 for each post. Although #realestate may seem like an obvious choice, we recommend throwing in some location-specific ones too (like #sandiegorealestate) since that's your target community. Then, people who follow or visit that hashtag will see your post. It's a win-win.
4. Stories, Stories, Stories
Stories was the feature that helped set Instagram apart. It's also the feature that could set you apart from your competition.
Whether you're sharing your KCM content, highlighting a new property or celebrating a client's home purchase, stories add tremendous value to your Instagram strategy. They're also more likely to be seen or engaged with by your followers. Even if you don't post on your feed every day, you should be posting on your stories.
And remember, it's not all about business. Don't be afraid to share funny videos of your kids, pets (dogs & cats rule IG), vacations, hobbies, etc. Let your personality shine!
5. Follow @KeepingCurrentMatters
The KCM Instagram strategy is equal parts real estate news and member highlights.
You can check out our stories to see frequent success stories or great examples of how our members are using real estate content to engage their followers on Instagram.
Sometimes the question is less about how and more about what. With KCM, we give you great content to share, and all you have to do is share it.
Follow us and see how other top agents are winning with this platform to get inspiration for your next post!
Bottom Line
Strategy for Instagram differs from any of the other social media platforms. However, don't let that intimidate you from using it. It can be a great tool for growing your client-base and establishing yourself as a thought leader.
With millennials making up the majority of the new homebuyer market, you could be missing out on important opportunities to gain new clients, expand your business and expand your influence.
You can learn more helpful tips and strategies about how often you should share to your social media here.
Now that you have the tips, try it out with new content. Grab these 12 FREE Instagram-sized Real Estate Quote Graphics to post to your social channels today! These professionally designed images will engage your audience and diversify your marketing content.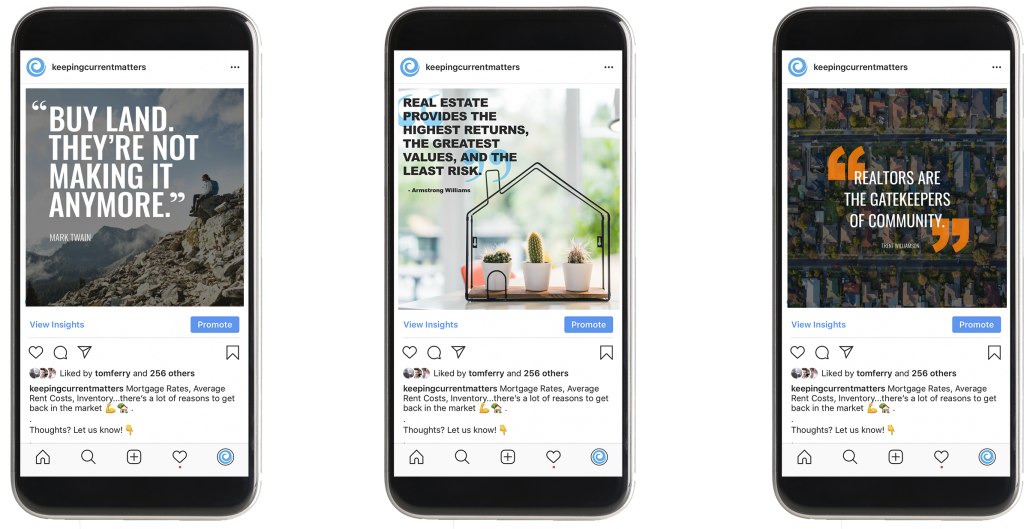 We believe every family should feel confident when buying & selling a home. KCM helps real estate professionals reach these families & enables the agent to simply & effectively explain a complex housing market. Take a 14-Day Free Trial of our monthly membership to see how we can help you!