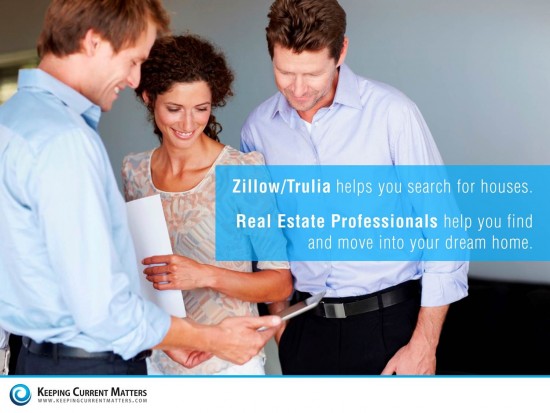 Nuestro fundador, Steve Harney, ocasionalmente pide hacer un post personal en lo que él considera importante para nuestra industria. Hoy es uno de esos días. ¡Disfrute! – El equipo de KCM
Ayer, Zillow anuncio la adquisición de Trulia. Algunos expertos de la industria predicen el final de la actividad de bienes raíces de la forma que nosotros la conocemos. Ellos usan palabras como "Jaque mate"  y "disparar a matar". Aun que estamos de acuerdo en que aspectos de la industria se verán obligados a evolucionar quizás más rápido de lo que ellos esperaban, creemos que esta será la evolución…no revolución. Nadie tiene que morir.
LA EVOLUCION
¿Necesitan las compañías y los agentes suavizar la forma que hacen negocios? Creemos que sí. Marc Davison, Co-fundador de 1000Watt consulting, lo puso de la mejor forma cuando explico que necesitan hacer las compañías:
"…enfóquese en la comercialización de la marca, mercadeo de contenido, propaganda basada en datos y otros medios más inteligentes que conecte con los compradores y vendedores."
Sitios como Zillow/Trulia le da al consumidor los puntos (datos) de bienes raíces. Como Davison, creemos que el consumidor necesita al profesional de bienes raíces que "conecte esos puntos."
No tuve que ir tan lejos para buscar evidencia anecdótica probando esta hipótesis. Solo necesitaba mirar a mi propia familia.
Massapequa, New York
Cinco años atrás, mi hijo mayor y su esposa compraron su primera casa. Ellos encontraron esa casa en Zillow y le dijeron a su agente, "esta es la casa en la que nosotros queremos vivir." La agente les ayudo a decidir un precio objetivo. Ella les ayudo a negociar ese precio con el vendedor. Ella encontró los profesionales en la industria que ellos necesitaron y coordino las inspecciones, ir a mirar la casa y la avaluación.  Ella les ayudo a ellos a trabajar con un abogado y el profesional hipotecario.
Ella fue so agente y los represento a lo largo de todo el proceso de la compra. Ella se aseguró de que ellos se sintieran seguros y cómodos en cada etapa.
Ellos encontraron la casa en internet; esa fue la parte fácil. Ellos necesitaron un agente para ayudarlos can la parte difícil: conseguir realmente la casa sin  dolores de cabeza o estrés. Mi hijo y su esposa verdaderamente creen que valió la pena y creen que ella valía cada centavo de su comisión.
South Beach, Miami
Dos años atrás, mi esposa y yo estábamos pensando en comprar una residencia para el invierno en South Beach. Todos los días, mi esposa buscaba en los portales de casas para la venta, por condominios. Obtuvimos un buen escenario sobre South Beach y hasta escogimos unos edificios que nos gustaron. Sin embargo, aunque he estado en la industria de bienes raíces por más de 30 años, llamamos a una agente de bienes raíces que se especializa en South Beach.
Ella nos explicó como la responsabilidad fiscal de la junta directiva de cada edificio puede tener un impacto en el futuro "Special Assessment" (algo que nosotros no habíamos considerado). Nos explicó cómo las propuestas para nuevas construcciones pueden tener un impacto en la vista al océano de algunas propiedades. Ella nos ayudó a encontrar el lugar perfecto y nos guio a través de todo el proceso de compra.
La noche que mi esposa y yo pasamos comiendo la cena en nuestro balcón mirando el océano no hubiera sido posible sin nuestra agente.
Meadville, Pennsylvania
Solo este mes, mi hijo menor obtuvo el trabajo de sus sueños; entrenando un equipo de baloncesto femenino a nivel universitario que requería reubicación fuera del estado. El necesitaba un alquiler por 12 meses. Busco en Zillow, Trulia y Craig's List y obtuvo una idea de los estilos de unidades disponibles y el costo del alquiler. Pero cuando llego el momento, un agente local llamado Vic Kress encontró un buen lugar para mi hijo en un edificio sensacional con una ubicación perfecta. Mi hijo está firmando el contrato hoy.
El otro día, cuando alguien cuestiono a mi hijo sobre qué tan difícil  fue encontrar un lugar tan lejos en un periodo tan corto de tiempo, el contesto:
"Yo tengo un tipo ahí que me está cuidando."
Eso es lo que un profesional de bienes raíces hace. Ellos "cuidan" sus consumidores y les ayudan a través del proceso.
EN CONCLUSION
La tecnología definitivamente está dando al consumidor acceso más fácil a la información acerca de la industria de la vivienda.
Sin embargo, creemos que los compradores y vendedores necesitan más que simple información. Ellos necesitan el análisis de como esa información tendrá impacto en sus familias. Cada familia debe sentirse segura al comprar o vender una casa. Los agentes de bienes raíces deben llegar a esas familias y simple y efectivamente explicar le complejo mercado de la vivienda a ellos.
Eso es lo que garantizara su existencia.
Para más información en cuanto al concepto de cómo está evolucionando bienes raíces, descargue nuestra eguia Unlocking the Secrets of Real Estate's New Market Reality.
We believe every family should feel confident when buying & selling a home. KCM helps real estate professionals reach these families & enables the agent to simply & effectively explain a complex housing market. Take a 14-Day Free Trial of our monthly membership to see how we can help you!
---
https://files.keepingcurrentmatters.com/wp-content/uploads/2014/07/07190444/Importance-of-Realtors-e1406579415690.jpg
413
550
The KCM Crew
https://assets.keepingcurrentmatters.com/wp-content/uploads/2017/01/KCMBannerNoWebsiteDarkLarge.png
The KCM Crew
2014-07-29 07:00:02
2015-02-19 12:05:57
Zillow + Trulia: Porque este NO es el fin para los agentes